---
Saturday, November 1st, 2008 | by Michael Joly
What's the difference between various inexpensive made-in-China ribbon mics? There are so many styles, makes and models!
Importers and "rebranders" of made-in-China mics often specify different body, headbasket and color schemes to differentiate their microphones from other brands. But just as the capsule is the heart of a condenser microphone, the "motor" is the heart of a ribbon mic.
As it turns out, there are really just a small number of ribbon motor types hiding within the headbaskets of all these mics. Once recordists know which ribbon motor lives within a particular microphone, they can predict how a mic will sound — and how it compares to others in the inexpensive-ribbon-mic category.
Editor's Note, 2010

This article was written to "lift the hood" from Chinese ribbon microphones, to reveal that just three basic ribbon motor designs — and three characteristic sound profiles — underlie the dozens of different makes and models of imported ribbon microphones.

In that context, Michael Joly's original simplification of "long ribbon" vs "short ribbon" was descriptive and useful.

In the broader historical context of older, European ribbon-microphone designs, though, the terminology we selected caused some confusion, because numerous older microphones employ ribbon elements significantly shorter than the so-called "short ribbon" designs presented here. See, for example, the Beyerdynamic M-130.

For this reason, we have updated the article with new terminology. The ribbon motor designs formerly described here as "short ribbon" have been renamed "medium ribbon."

Technically-minded readers will notice that the "short path" ribbon motor design illustrated below is actually a variable-length path, due to the hourglass shape of the housing. The audio effects of this structure are complex, and are beyond the scope of this introductory article. With an apology to readers who correctly point out this oversimplification, we have left the "short path" terminology in place.
Over the past several years, every type of made-in-China ribbon mic has come across my bench for modification. Here are my notes about the similarities and differences between the ribbon motors found inside.
"Long Ribbon / Short path" Ribbon Motor Mics
Representative mics include:
These models, the first made-in-China mics available in the West, are essentially the same mic with different cosmetic finishes. The ribbon motor bears an uncanny resemblance to the motor found in the $1000 AEA R84.
This motor features a long (55mm) aluminum ribbon suspended between two thin Neodymium magnets attached to an hourglass-shaped yoke. The yoke tapers to minimum width at the center of the magnets to allow the shortest front-to-back acoustic path length possible. The distance audio would travel from the front of the ribbon around the magnets and yoke to the back determines the on-axis, downward shelving frequency (high-frequency rolloff point) in these ribbon microphones. As noted in the BBC Engineering Division's Monograph 4, The Design of a Ribbon Type Pressure Gradient Microphone (D.E.L. Shorter and H.D. Harwood, December, 1955):
Shorter & Harwood

[T]he acoustic obstruction created by the permanent magnet and its junction with the pole-pieces produced some deterioration in frequency response… There are in effect two external paths between front and back of ribbon, namely, the short distance around the pole pieces and the long distance round the magnet. The length of the latter path … [gives] a low cut-off frequency; above this frequency … the microphone response falls to a level which depends on the distance around the pole pieces.
Ribbon length affects frequency response as well. All other factors being equal, the longer a ribbon is, the sooner the vertical off-axis response will fall off. In other words, a longer ribbon has less extended HF response in the vertical off-axis compared to a shorter ribbon.
I have taken to calling the motor type described above as a "long ribbon / short path" design, as a shorthand way of describing its construction and frequency response characteristics.
These first-to-market Chinese ribbon mics have a very shallow and wide ribbon corrugation pattern. This corrugation pattern tends to provide less than ideal ribbon movement control, and has been observed to lose tension over time, resulting in lowered resonant frequency. The ribbon corrugation pattern was improved in subsequent models (described below).
The large headbasket on these first-generation mics is certainly visually impressive. It reminds me of the early days of radio, with Frank Sinatra or Bing Crosby crooning coast-to-coast in front of an RCA-44BX. Unlike the 44BX, the large headbaskets on these inexpensive imports have severe mechanical resonance modes — when tapped or excited by percussive sounds, they ring. This headbasket-induced resonance can lend a metallic or ringing haze to otherwise pure audio.
Another distinguishing feature of these large headbasket mics is the use of a nylon-covered wire mesh box for wind blast protection. While the mesh is very successful at protecting the ribbon from strong gusts of wind, there is a downside: the fabric/wire box is actually a bandpass filter. Like all analog bandpass filters, this blast filter imparts phase shifts in the audio band. Most noticeably, the high pass portion of the filter imparts a phase shift in the bass region. The result is a degradation of time alignment across the lower audio band.
The second effect of this mesh is a low-pass function caused by layers of fabric — an attenuation of high frequency audio.
The Second Generation
Representative mics include:
These second-generation models use the same ribbon motor design ("long ribbon / short path") as the mics above, but feature improved headbaskets with reduced mechanical resonance.
The smaller headbasket necessitated the elimination of the fabric-and-wire-box wind blast filter found in the larger models. However, both the large- and small-headbasket mics make use of fabric-covered, perforated "waffle plates" as a combined wind blast filter and high frequency resonator. While these plates do provide protection from wind gusts, and offer a couple dB of high frequency boost, they also create a parallel reflection zone that degrades time-domain performance of the ribbon motor and imparts high frequency comb filter effects.
A final difference between the first and second-generation ribbon mics described here is that the newer mics' ribbon corrugation pattern is both narrow and deeper, which leads to greater control of ribbon movement.
So here we have eight mics, all with the same "long ribbon / short path" ribbon motor! These mics all exhibit extended high-frequency response on-axis (usable to 16 kHz), extended high frequency response off-axis in the horizontal plane and somewhat diminished high frequency response off-axis in the vertical plane. For these reasons, the "long ribbon / short path" mics are popular where wide, smooth frequency response is desired: vocals, acoustic guitar or piano, for example.
"Medium Ribbon / Long Path" Ribbon Motor Mics
Representative mics include:
A couple of years after the original made-in-China ribbon mics began to lose some of their luster, the vendors began to offer a second category of ribbon motor that allowed rebranders to introduce more compact mic designs. Compared to the "long ribbon / short path" mics, the microphone models named above all feature a shorter (45mm) aluminum ribbon suspended between two somewhat thicker Neodymium magnets attached to a yoke with straight sides.
The thicker magnets allow greater magnetic force to be concentrated on the ribbon, and thus make up for some sensitivity loss due to the shorter length of ribbon exposed to the magnet flux. However, the thicker magnets and straight-sided yokes increased the critical front-to-back acoustic path length and thus move the downward shelf to a lower frequency (8 kHz) than what is found in the "long ribbon / short path" motors described above.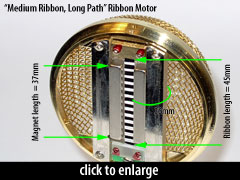 These mics also typically exhibit a mild "peak-before-cut" frequency response shape in the upper midrange. Subjectively, these mics have greater upper midrange presence and reduced apparent high frequency extension than the "long ribbon / short path" mics. For this reason, the "medium ribbon / long path" mics are popular as guitar cab and drum overhead applications where the recordist wants to attenuate high frequency energy that can become unpleasant, such as bad-sounding electric guitar distortion or cymbal hash, yet still allow the important midrange source material to cut through.
"Dual Medium Ribbon" Mics
One of the challenges of recording with ribbon mics is their lower sensitivity when compared to condenser types. In an effort to get a bit more "umph" out of ribbon mics, the Chinese vendors turned to an old technique — the dual-ribbon motor. Two ribbons are used, each suspended in its own magnetic gap. All things being equal, output level is increased; quieter sources can be recorded without needing quite as much preamp gain.
The mics mentioned above use the familiar "medium ribbon / long path" motor, but magnets are arranged to create two gaps into which two aluminum ribbons are mounted. Because of slight manufacturing variances, each ribbon is tuned to a slightly different fundamental resonant frequency. When ribbon signals are summed together electrically this produces a complex sum & difference signal that lends these mics a "thicker" but somewhat less true-to-life sound.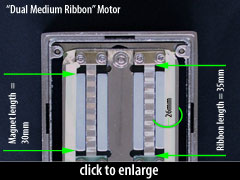 This mic type has the shortest ribbon length of the three Chinese motors and thus has the most extended high frequency response off-axis in the vertical plane.
Headbasket Sizes and Shapes
This article has focused on the similarities and differences between ribbon motors in some of the more common made-in-China ribbon mics. But headbasket shapes and sizes play a role in the sound of ribbon mics as well.
Just cup your hands around your mouth and speak, then open and close the "cup" around your mouth. You'll hear a change in the complex resonance created by the size and shape of your hands cupped around your mouth.
Similarly, but thankfully not as dramatically, the same effect occurs when a wire mesh (or perforated metal) headbasket is installed around a microphone transducer. The particular size and shape of the various reflecting surfaces of the headbasket conspire to create a complex "acoustic signature" that is then transduced into electrical energy by the ribbon motor.
Summary
To review, there are only three basic Chinese ribbon motors:
"Long Ribbon / Short Path"
"Medium Ribbon / Long Path"
"Dual Medium Ribbon / Long Path"
These three ribbon motors yield three basic sound profiles:
flat, extended frequency response
midrange boost with high frequency attenuation
thicker mid boost with high frequency rolloff
The addition of subtly different headbasket shapes and sizes add an element of sonic individuality to each unique made-in-China ribbon mic model.
When building a collection of inexpensive ribbon mics, start by covering all three basic ribbon motor types, then experiment within the three ribbon motor categories by trying out various headbasket designs to explore subtle flavor shadings.
Ribbon motor measurements
| Dimension | Long Ribbon/Short Path | Medium Ribbon/Long Path | Dual Ribbon |
| --- | --- | --- | --- |
| magnet length | 50mm | 37mm | 30mm |
| ribbon length | 66mm | 45mm | 35mm |
| audio path distance around yoke | 18mm | 36mm | 26mm (one way) |
Tags: apex, avant, bbc, cad, cascade, nady, ribbon, shinybox
Posted in Microphones | 39 Comments »
---
---
---