---
Monday, November 28th, 2011 | by George Shilling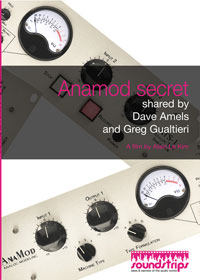 With all the hundreds of TV channels and websites available, you would think that every taste was catered for when it came to visual entertainment. There have been some great 'making of' documentaries about album recording experiences, but necessarily these are geared towards music consumers rather than music professionals. There are pockets of info to be found by digging on the internet, but even when I am pestering my interview subjects on recordproduction.com there is not always time to get into the real nitty-gritty of exactly how things were created. So a DVD like this is potentially a real treat, where something I'm particularly interested in is explored in just about as much depth as anyone could want for.
The AnaMod concept is a unique one, and not something that people necessarily understand immediately. This film tells the story of the meeting of minds, when Gualtieri understood Amels' idea and gave it legs. I was personally blown away when I tested the ATS-1 tape simulator for Resolution Magazine, and similarly the AM670 Fairchild, so much so that I recently bought one. So accurate is the modelling that we learn in the film that reversing the phase of the reference unit to the AnaMod cancels the audio to 65dB. But I'm getting ahead of myself…
This 104 minute long film by Alain le Kim is part of the Soundstrips series which I was previously unaware of. The series is subtitled "tales and secrets of the audio world," and there are currently eight titles. This one, like the rest of the series, is a mere $29 plus $7 shipping through PayPal, and the others certainly tackle some similarly interesting subjects.
The start of the film is immediately intriguing, with the camera panning around a cluttered ramshackle studio session in what looks like a garage studio, with drummer and vintage Baldwin organist readying themselves for a take. Wonderfully, it turns out to be Amels at the organ, doing the music for the film end titles! You can see a little of this on a YouTube taster [scroll down to see the clip –Ed.]. At the outset, I got the feeling this film was going to have something of a homemade quality to it. But this is no home movie, with generally very high production values and exceptionally good editing. The shooting is good, and the sound excellent. There is a proper Chapter menu for locating different sections, and even optional French subtitles.
The film spends more time with Amels than Gualtieri. We get all the background of Amels' upbringing and musical and electronic grounding (no pun intended). But thankfully not all in one go. The story is cleverly interweaved and alternated with other aspects of the AnaMod story, which keeps the film interesting. We hear amusing anecdotes, for example that Amels used to count in binary to send himself to sleep! By the early 80s he was recording his band The Stepford Husbands (great name!) on a Teac tape machine, and not long after that he graduated to working in professional studios.
After about 20 minutes the focus moves to Gualtieri, and we get to see his basement and find out a little more of how the design process works, and what makes him tick. Like Amels, he has a background as a musician. He too developed an electronics expertise, and we hear about the Pendulum Audio philosophies and we see his studio with his own prototypes, and his self-built console originally constructed in the 1970s.
We get invited to Dave's house party, meet his pets and learn about his production and musical tastes. We see his Electronics magazine collection where we learn about his inspiration for the AnaMod idea having come from early ideas for analogue computing. I'd never heard of Chebyshev polynomials before, I must confess.
The film could have turned out very self-conscious and/or rather tedious, but through the skill of the film-maker, and the especially likeable and chilled-out main characters, one is drawn into related areas of their lives. Amels chats to the interviewer (whose voice we never hear) whilst driving across to see his brother-in-law who co-founded Voce, and you feel like you are in the car with him. Le Kim is clearly good at putting his subjects at ease. He also cleverly pulls together relevant interview segments recorded at different times to make sense of the story. There are a few 'in-car' sequences which help give a sense of place.
A real treat for me was seeing Amels show us all kinds of wonderful vintage and rare keyboard instruments like his Optigan, RMI Calliope and Ondes Martenot, even though the latter and many others don't actually get powered on in the film. We also see that Amels has a dismantled work-in-progress Captain Scarlet style wraparound Helios console in the back of his garage, in the process of being rebuilt for Lenny Kravitz.
I thoroughly enjoyed the film, it's something to watch with geeky friends, and having seen it, I know I'll enjoy using my AM670 all the more, knowing the love of music and sense of professionalism which drove the design and manufacture.
matthew mcglynn

George Shilling is a musician, engineer, and producer, whose 25-year career includes work with Slade and Steve Winwood. He teaches master classes in music technology, and writes for Resolution Magazine. Visit George online at www.georgeshilling.com.

Disclosure: George's copy of the AnaMod documentary DVD was a gift.

You can buy one for yourself direct from the filmmaker for $29, via Soundstrips.com.
See the full series of Soundstrips documentary DVD reviews:
Tags: Alain Le Kim, Dave Amels, David Boucher, Greg Gualtieri, Joe Barresi, Michael Belfer
Posted in Interviews, Music Business, Reviews | No Comments »
---
---
---