---
Monday, November 28th, 2011 | by Aaron Lyon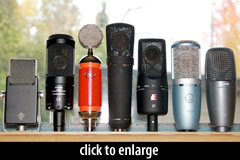 matthew mcglynn

Without question, the quality of inexpensive microphones has skyrocketed in the past 10 years. Most every mic company has a handful of entry-level choices now, and most of them sound pretty damn good. At least some of the time.

But which ones sound the best for the sources you most need to record? We decided to find out.

Aaron Lyon, a multi-instrumentalist, engineer, and producer based in Chico, CA, tested seven sub-$200 condensers on guitar and voice. If you're shopping for your first condenser mic, or an inexpensive workhorse that won't be embarrassed out of your mic locker, read on for Aaron's review.
The Condenders
We strictly enforced a $200 (street price) cutoff. We initially included only large-diaphragm mics, but relaxed this rule to allow the Blue Spark and Audio-Technica AT2035, whose capsules use diaphragms just smaller than the 25mm minimum for the "large-diaphragm" designation.
It is worth noting that all these microphones were made in China.
The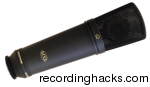 MXL 2003A is a second-generation version of MXL's classic inexpensive LDC. Revised extensively in 2009, the current ("A") version features a flatter frequency response and lower self-noise, thanks to new capsule tuning and updated electronics.

The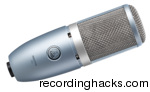 AKG Acoustics Perception 220 is a fixed-Cardioid LDC with a -20dB pad and a high-pass filter.

The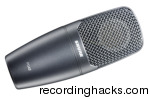 Shure PG42 brings Shure's famous standards for reliability to an inexpensive, imported LDC. It has a pad and filter.

The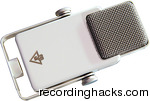 Studio Projects LSM was designed by Brent Casey for Studio Projects. It is unique among this lineup for providing both XLR and USB outputs; the onboard ADC is capable of 16-bit, 48-kHz resolution. This is the smallest mic in the lineup.

The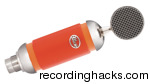 Blue Microphones Spark, uniquely among these microphones, has dual voices. The onboard "Focus" switch incorporates a high-pass filter as well as other tonal changes (which you can hear in the samples below).

The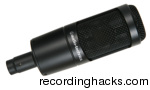 Audio-Technica AT2035, unlike other microphones here, uses an electret capsule with a very thin diaphragm (2 microns). It provides a pad and high-pass filter.

The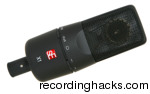 SE Electronics X1 comes in a bare-bones presentation (no shockmount, no case), implying that all the value of the mic is inside the microphone — where, frankly, it should be. Like many mics here, it has a pad and HPF.

Summary of Specifications
(Click the thumbnail photos to see full specifications.)

2003A

AT2035

LSM

Percep. 220

PG42

Spark

X1
Street
$169
$149
$120
$179
$199
$150
$169
Capsule
~34mm
26mm
34mm
~32mm
35mm
25mm
n/a
Sensitivity
7.1
22
25
18
17.8
28
25.1
Self-Noise
11
12
16
16
18
10
16
Pad
no
-10dB
no
-20dB
-15dB
no
-10dB
HPF
yes
yes
no
yes
yes
yes
yes
Shockmount
yes
yes
no
yes
yes
yes
no
Case
no
no
no
yes
yes
wood
no
Gain Settings (in +dB)
Cab
44
19
27
21
26
22
24
Acoustic
53
33
45
33
37
~41
44
Vocals
43
22
30
24
26
25
27
Audio Files
Acoustic Guitar
[Download the 24-bit WAV files from the acoustic session here.]
Electric Guitar (Reamped)
[Editor's note: we've removed the PG42 and 2003A audio samples from the electric guitar test, because I'm not sure they fairly represent the sound of these mics. Perhaps we'll have an opportunity to retest these mics in the future.]
Vocals
The Review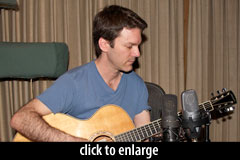 The mischievously named sEX1 is indeed sexy in it's "none more black," rubberized enclosure. It feels good to the touch, like a suede shoe. The mic stand mount presents a bit of a puzzle, because there is obviously only one way to attach it to the base of the microphone, but it's such tight fit, it requires a significant and muscular effort to snap on. However, once installed, the friction fit is an excellent design that allows precise rotation, with a satisfying mechanical feel.
The Blue Spark's orange body is bold and attractive, but our review unit was loose and rattled when manipulated. And its mounting hardware would not thread onto the mic stand, while all the others had no trouble.
The SP Little Square Mic, with its compact rectangular package, is a visual standout, and begs to be dropped in a back pocket. It is the only model with an integrated USB output.
For this shootout, all tracks were recorded via built-in microphone preamps of an MOTU 828 mk3 interface into Digital Performer at 24bit/44.1KHz. Levels were adjusted roughly to peak around -6dB (see spreadsheet for mic-by-mic details). No processing. Exported as uncompressed WAV. [… which we then converted to 320kbps MP3 after gain-matching. –Ed.]
A note for listeners: While the parallel walls in my home studio have been acoustically treated, the ceiling and floor have not, and this causes a boost at 137Hz. I often cut this frequency by 6dB when mixing.
To keep the samples as consistent as possible, I recorded electric guitar once, then played it back for each set of microphones. I played an Agile AL-3000 with stock pickups and Elixir strings, plugged directly into a MOTU mic preamp. This performance was then routed out of the MOTU into a 1983 Marshall JCM 800 2203 head, and into a 2×12 Avatar cabinet with Eminence Man O War and Texas Heat speakers. No effects or reverb were used. Mics were placed three feet away, three feet above floor, and the curtains were left open for added reflections.
Next I played a Lariveé J-05 jumbo acoustic guitar with Elixir strings, finger style (no pick), with mics 12 inches away, pointed at 12th fret.
Finally, for voice, I sang the first verse of Thirst for Romance by Cherry Ghost, 18'' from the microphones.
The most obvious difference in microphones is not a good one. The MXL requires far more gain, and exhibits a much higher noise floor than the other mics. It also sounds congested in the higher frequencies, most noticeable on voice, making this my least-favorite mic.
On voice, the SP seems a little bright, and lacks "chest." The Shure, AT, and SE seem well balanced and otherwise unremarkable. However, on acoustic, the SP does a great job of featuring the top end string shimmer, while preserving the lower end as well. I would choose the SP to feature the acoustic as a "forward" instrument. Alternatively, the AKG was warm and well balanced, and I would choose this mic to push the acoustic back into a supporting role.
On acoustic, the Blue Spark sounds best in my studio with its Focus control engaged. This option scoops the lower mids a bit, helping clear up the bottom end.
For electric guitar, each mic has a different take on the mid frequencies, making the mics easy to distinguish in this area. The AT focuses mids very deliberately, making it the most colored mic, and bringing the guitar much more forward. AKG, again, provides a nice balanced tone. The Blue Spark, with Focus disengaged, sounds the most like what the room actually sounds like to my ears. The Shure captures more of the room ambiance, which might be nice in a mix, but fails to handle the mids well, sounding a bit boxy.
The Best Entry-Level Condensers
With the exception of the MXL 2003A, all of the tested mics deliver acceptable performance given the price point, and qualify as useful studio tools.
Overall, I'd choose the AKG Perception 220 as the best all-around mic. It was consistently mellow and well-balanced, with an honest top end, making it a reliable and flexible tool.
My favorite colored mic is the Studio Projects LSM, which has a brighter, slightly hyped top end, perfect for pushing instruments to the front of a mix, while exhibiting a solid lower end as well.
matthew mcglynn

Six of these microphones were provided by their respective manufacturers for the purposes of this evaluation. We don't get to keep them.

The 7th mic was purchased at full retail price because AKG is annoyingly unresponsive to requests for evaluation loans.

We have no affiliation with AKG, Audio-Technica, Blue, MXL, sE Electronics, Shure, Studio Projects, or MOTU; we received no compensation for this review.
Part I of III

This is the first piece of a 3-part review:

The best $200 condenser

(you are here)

You might also be interested in this followup piece comparing the Rode NT1-A to the sE X1 on acoustic instruments and voices.
Posted in Microphones, Reviews, Shootouts | 45 Comments »
---
---
---