---
Friday, November 11th, 2011 | by matthew mcglynn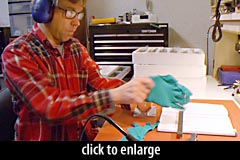 Microphone guru David Bock wears rubber gloves all the time.
Sometimes he's slicing raw fish for one spectacular item in a multicourse gourmet dinner. Sometimes he's doing final assembly and testing on a production run of microphones. Filmmaker Alain Le Kim intercuts scenes from kitchen to workshop to establish the point. The omnipresent rubber gloves stand testimony to Bock's meticulous attention — attention to detail, yes, but also to process, and specifically to processes that yield consistently high-quality results.
Le Kim lived with Bock for two weeks — literally stayed at the house, in a spare bedroom — and with camera in hand takes us on an intimate tour of both David's life and his eponymous microphone company. We meet Sean Fudge, who manages much of the day-to-day operations at Bock Audio. We visit the local Hollywood businesses that provide Bock Audio's metalwork (Avaid Metal Products), finishing (Victory Silk Screen), and assembly/manufacturing (Vinatronic). And we spend time with several of David's friends and colleagues, including audio engineers Steve Kempster, JJ Blair, and Ross Hogarth. Each of them has a passion for high-fidelity microphones and an obvious affinity for David's work.
Steve Kempster

There are "science" microphones… and then there are microphones that somehow find a way to engage the subject matter in a special way. These microphones, when you put them on a singer, you put them on an instrument, there's a magic thing that happens. And they seem to find the best parts of the subject matter.

I've been lucky to participate with David on some of his newer mics, and fortunate enough to also work on his 251, which is one of those microphones that's special. You'll get that with the 507, and with the Bock 50. These are microphones that reach in and get the great parts of stuff.
My favorite clips show David at the workbench with any of a variety of disembowled microphones. We are given a fascinating — at least for mic nerds, and if you're not, I wonder why you're here? — explanation of the origin of the Bock 195, the company's best-selling model.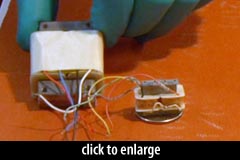 In a nutshell, the Bock Audio 195 is David's interpretation of an improved Neumann U-87. Part of the upgrade process includes an oversized output transformer, which if placed on top of the U87 transformer, would probably crush it.
We are also treated to a bit of the development process and a peek at some of the internal components of the Soundelux/Bock Audio 251, the elliptical-capsule Bock Audio 507, and the Bock Model 50, a reincarnation of the Neumann M50.
David calls Alain's film the "Bocumentary." I call it a kick-ass gift for you and every audio engineer you know. It was literally on my Christmas list when I had the surprise good fortune to meet Alain Le Kim at AES recently, and as I posted to Twitter, Christmas came early.
Le Kim has produced a series of these films, letting us all ride shotgun with David Bock, Dave Hill of Crane Song, Jonathan Little of Little Labs, Eveanna and the crew at Manley Labs, and Dave Amels and Greg Gualtieri of AnaMod. These are the people who are inventing some of the best-sounding, most innovative, pure, and awesome audio gear on the market. Alain Le Kim has done the pro audio industry a fabulous service by letting us get inside these people's heads for a while.
Order your copy of the Bockumentary direct from Le Kim's Soundstrips label, at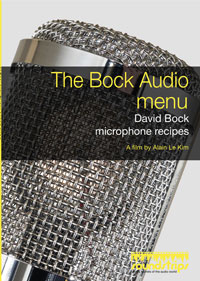 http://www.soundstrips.com/.
See the full series of Soundstrips documentary DVD reviews:
Tags: Alain Le Kim, brad lunde, david bock, Ross Hogarth, Steve Kempster
Posted in Interviews, Reviews | 1 Comment »
---
---
---