---
Tuesday, June 5th, 2012 | by Randy Coppinger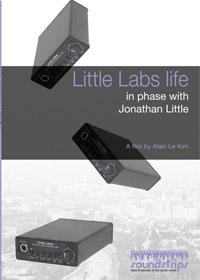 Having met Jonathan Little at the AES Convention a few times, I was intrigued by Alain Le Kim's documentary about the man. "I like to think of myself as a form of an artist, " says Little, "that just enjoys electronics and music. And it's really the music I enjoy more than the electronics. If it wasn't for the music I wouldn't be doing this."
I'd love to have a time machine to take me back to the heyday, when everything was golden and glorious. Instead, Little takes us to some historic Hollywood studios whose most glorious days are arguably behind them. That isn't to say you can't smell the greatness these places still hold, just that the economic conditions that allowed them to flourish are gone. It hurts to hear him say, "Very few of these big studios are left."
A considerable amount of work gets done in home studio environments now, like the one John Paterno runs. The racks and racks of gear crammed in that little space seem kind of claustrophobic, but he's got some great stuff inside, including units from Jonathan. Paterno's show-and-tell with a guitar stomp box using the Little Labs PCP brought a smile to my face.
The film gives us a glimpse into how the Los Angeles studio business has been transformed, as we follow Jonathan around, meeting studio owners, engineers, and producers. Take for example when we meet mixer/producer Peter Mokrin, who describes a typical record label shopping a dozen new bands to a radio exec in order to determine which artist not to drop. Mokrin says to Jonathan, "What I'm doing, that job didn't even exist three years ago."
The Little Labs IBP is described in terms that seem magical, allowing multi-mic recordings to be brought better into "focus." If you were hoping this documentary would demystify the unit, like I was, you'll be disappointed. Little does sit in front of an oscilloscope and demonstrate the IBP, but only with a simple pair of sine waves.
The film ends with David Boucher at Sunset Sound. Similar to Hendrix using the electric guitar in ways Les Paul never intended or imagined, Boucher shows Little some imaginative techniques with Little's preamp, the LMNOPre. It's a treat to see these two Hollywood studio insiders come together from their different perspectives and have a meeting of the minds as Boucher takes Little's ideas to the next level.
This may not be a film to watch with your mother, unless she's a sailor. We visit the real, gritty world of a studio technician turned audio electronics entrepreneur with his Hollywood pals in tow. Little seems as ordinary as you and me with his desire to find a work/life balance. But it's obvious that he dreams of shorter circuit board traces. I'm not sure that I know Little or his products any better for having watched this documentary, but it was a fun ride, for sure.
See the DVD trailer here:

See the full series of Soundstrips documentary DVD reviews, here on RecordingHacks.com:
matthew mcglynn

Randy Coppinger is a microphone-slinging coffee loyalist who lives and listens in Southern California. Visit Randy online at randycoppinger.com.

Disclosure: Randy's copy of the Little Labs documentary DVD was a gift. You can buy one for yourself direct from the filmmaker for $29, via Soundstrips.com.

Warning: watching this DVD will make you want an IBP and an LMNOPre too. Don't say I didn't warn you.
Tags: Alain Le Kim, Buddy Brundo, Dave Amels, John Paterno, Jonathan Little, Michael Belfer, Peter Mokrin
Posted in Music Business, Reviews, Video | No Comments »
---
---
---