---
Wednesday, November 23rd, 2011 | by matthew mcglynn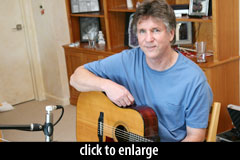 The final session of the $60,000 Ribbon Mic Shootout took place at my home in Sonoma County. The artist is local songwriter and friend Michael Capella, who you might recognize from previous features in this space, such as the recent Oktava MK-012 Figure-8 capsule review or the infamous Black Lion Audio Signature Series Mod for Digi 002 (59 comments and still raging!).
Michael was feeling under the weather on the day of the session, but he came out nonetheless and played like a champion for the two hours it took us to cycle through 18 ribbon microphones. You can hear them all blind, below, including the rear side of the R84, R121, and KSM313.

Setup and Signal Path
Michael sat in the center of a large room with a 12' cathedral ceiling. We positioned the microphones 12–14 inches away, side-by-side (as close together as possible), pointed at the 12th fret. Mic positions were marked with a string jig to ensure consistent placement.
We recorded two microphones per pass, to save time and reduce artist fatigue. All passive ribbons were amplified by a pair of True Systems P-Solo Ribbon preamps (graciously loaned by Tim Spencer and Sennheiser USA). Active ribbons needed much less gain and were therefore not likely to be colored by my built-in DAW preamps (the aforementioned BLA-mod Digi 002-Rack). We tracked this session at 24-bit, 48 kHz.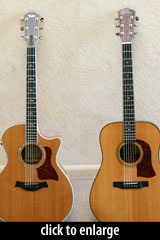 Michael played a short melody on two guitars (erm, one at a time), through each pair of microphones. The first guitar was a Taylor, and the second was a vintage Mossman.
Michael Capella

The guitar on the right is a 1975 "S.L Mossman" Tennessee Flat Top. It has a dreadnought body style, mahogany back and sides, sitka spruce top, and ebony fingerboard. I purchased it new in May of 1976 in Aptos, CA, for $400 and have played it ever since.

The other guitar is a 2000 Taylor 614CE. It has a Grand Auditorium body with cut-away, maple back and sides, sitka spruce top and ebony fingerboard. The Grand Auditorium body is smaller and thinner than a dreadnought. I purchased it new in January, 2001. It has been my main gigging guitar the past 10 years.

I use light gauge (.012 to .054) Elixir polyweb strings on both guitars.
The audio tracks embedded below are from the Taylor. These tracks have been high-pass filtered (-12dB/octave @ 120 Hz) to reduce proximity effect and rumble. I gain-matched the filtered tracks in Pro Tools, output 24/48 WAV files, and converted to 320 kbps MP3s via lame.
Download the full-resolution, unfiltered WAV files for both guitars: 22 mics x 2 guitars = 44 tracks total, here.
Audio Files
Listening Notes
Yes, the chair squeaked. Don't they all?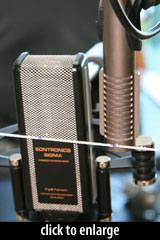 Michael's playing is remarkably consistent in tempo and volume across all these tracks. Yet there are subtle performance differences. Rather than risk attributing these to the relative abilities of the microphones, I first listened to the playback by pairs. In many cases found the pairs of mics to sound much more similar than I expected.
Take the MF65 (#5) vs. KSM353. I had a hard time distinguishing these two. Both sound beautiful, with a balanced tone, very smooth highs, and just enough growl to make the chords authoritative. On the Taylor tracks, I think you could punch one in for the other and not notice the change.
The 4038 and R-121 also sound very similar. I can distinguish these when I solo back and forth, but it's a subtle change. Both of them are brighter than the first pair, and both come across as a little more unrestrained for this reason.
The third pair I tried, the KSM313 (rear) and Cascade Vin-Jet, presents more contrast. The KSM313 sounds mid-forward, and has more definition on top. But the Vin-Jet reaches an octave lower. Which works best depends on all the usual factors: the guitar, the song, the needs of the production.
There is an audible contrast between the R-121 (rear) and Sigma, as well. The latter is a bit veiled, as if the top had been rolled off. The transients are still there, but they're muted. This is the Sigma's characteristic "vintage" sound. The back side of the R-121 is brighter, giving more definition to each string, and a more open sense to the strummed parts.
Comparing the Karma K6 to the Audio-Technica AT4080 isn't really fair, because of the price differential. I have a strong preference for the AT4080. The K6 has a constricted, two-dimensional quality, whereas the AT4080 sounds more natural, more lively, and more real. In fact the AT4080 somehow emphasizes transients, resulting in a surprisingly dynamic track. (I heard this effect in the second drum session too.) Unfortunately, the AT4080 picked up the sound of someone's iPhone at the end of the clip — you'll hear the characteristic distortion. (The Mossman track, in the WAV archive, does not suffer from this problem.)
Listening across pairs, there are some interesting comparisons, like the Vin Jet vs. the Shinybox 46U. These microphones share a basic ribbon geometry, but use different transformers and grilles. The Vin Jet reaches much lower, probably due to the Lundahl transformer, and needs that high-pass filter in a way that the 46U does not. The 46U has a nice chimey top end that complements these guitars, but due to its leaner low end lacks impact on the strummed section.
The Royer R-101 and Cascade Fathead provide another interesting comparison. Both are mid-forward. The R-101, like the 46U, is lean on the low end, producing less proximity effect. And it has an interesting sound that I have a hard time describing: it sounds present, without much ambiance, with a sort of compressed quality that keeps the transients from poking out.
Your Turn
I'd like to know what you hear. Just one request: please don't preface your comment with "I listened to these over my laptop's built-in speakers," because I think everyone will stop reading at that point.
Pair Listing
Cascade Fat Head, Royer R-101
Cloud JRS-34, Samar MF65 #6
Shure KSM353, Samar MF65 #5
Shure KSM313 (rear), Cascade Vin-Jet
Coles 4038, Royer R-121 (front)
AEA R84 (front), Coles 4050
AEA R84 (rear), beyer M-130
Karma K6, Audio-Technica AT4080
Sontronics Delta, Shinybox 46U
Sontronics Sigma, Royer R-121 (rear)
Disclosures and Thanks
We have no affiliation with AEA, Audio-Technica, beyerdynamic, Cascade, Cloud, Coles, Karma, Royer, Samar, Sennheiser USA, Shinybox, Shure, Sontronics, TnC, True Systems, nor their distributors. Most of the microphones in this test, and the P-Solo Ribbon preamps, were loaned to us for evaluation purposes. Unfortunately, we don't get to keep them.
I owe Michael Capella a great deal of gratitude and maybe dinner, too, for donating his time for this session. Thank you, Michael!
Wrapping It Up
Other stories from this series:
Acoustic Guitar Session (YOU ARE HERE)
Tags: michael capella
Posted in Microphones, Reviews, Shootouts | 14 Comments »
---
---
---