---
Thursday, December 2nd, 2010 | by matthew mcglynn
Earthworks' minimalist 3-mic drum-kit bundles have been around for years. At a time when tracks are cheap and "tape" is free, one might expect mic vendors to focus on bigger bundles that attempt to cover every drum — and in fact, there are dozens of 4–8 mic kits on the market. But two new 3-way drum mic kits legitimize the small end of the product category, and inject a surprising amount of variety into the lineup.
What?! Only three mics?
In two words: John Bonham.

If the drummer is good, using fewer mics is a viable way to go. With fewer mics, you need less setup time. You need fewer pre's — potentially critical for mobile recording. You keep mics out of the drummer's way. You avoid all manner of phase problems that result from having close mics all over the kit. You save a ton of time at mixdown because you don't have 5–10 close-mic tracks to be individually EQ'd, gated, time-aligned, etc.
To be sure, the three-mic method brings limitations. With only three mics, you can't easily compress the snare drum to even out dynamics problems in the performance, nor replace individual bad-sounding toms with samples, nor make any of the other surgical repairs that so many audio engineers do for so many under-prepared drummers every day.
So, save the 3-mic approach for the day when you've got a great drummer on a nice kit in a good room.
With that caveat, let's check out the options.
Earthworks DK25/R and DK50/R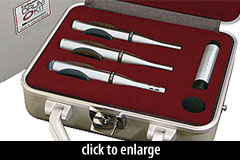 Although even Earthworks has succumbed to the temptation to offer larger mic ensembles, their original 3-mic drum mic kits are still available. Both "recording" kits include two 6mm omnis for overheads and a 9mm cardioid for kick, plus the company's "KickPad" inline passive EQ/pad device. But the kits come in at very different price points (see below for pricing).
The DK25/R is the entry-level recording kit from Earthworks. It contains two TC25s and one SR25, a foam windscreen (in case you want to use the mics on vocals too), and the KickPad. (Read more in the DK25/R Review from Tape Op.)
Its big brother, the DK50/R, upgrades the omnis to Earthworks' top-of-the-line QTC50, and the cardioid to the SR30. This kit also includes a KickPad, as well as additional inline pads (switchable -15/-30) and a pop filter that I think slides onto the end of the mic.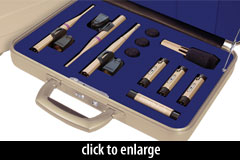 The main specification difference between the two kits is the frequency response of the microphones. The cardioid SR25 is rated at 50–25,000 Hz (±2dB), whereas the SR30 is rated at 30–30,000 Hz (±1.5dB). Sensitivity and self-noise figures are the same (10mV/Pa; 22dBA).
The omnis exhibit significant differences in sensitivity and self-noise, in addition to the high- and low-frequency extension:
| | | |
| --- | --- | --- |
| | TC25 | QTC50 |
| Frequency Response | 9–25,000 Hz | 3–50,000 Hz |
| Self-Noise | 27dBA | 22dBA |
| Sensitivity | 9mV/Pa | 30mV/Pa |
Reviewers invariably comment on the "detail" and "realism" of the DK25/R — characteristics that are, if anything, more pronounced in the DK50/R. If that's even possible.
A comment from MIX reviewer Steve La Cerra seems to sum up the core value of these kits: "The set will undoubtedly appeal to engineers more interested in capturing the sound of drums as opposed to artificially creating that sound."
Blue Microphones Drum Kit Kit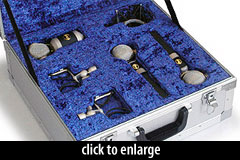 BLUE recently announced their Drum Kit Kit, a 3-mic set comprised of a pair of Dragonfly mics for OH and the Blue Mouse for kick. Rather than design mics specifically for this application, as was true of Earthworks' DK25/R, the Blue Drum Kit Kit appears to be a case of bundling mics that were already popular for these applications in the wild.
The

Dragonfly is a large-diaphragm condenser with a nominally Cardioid response — although the published polar graph shows a pronounced rear lobe across the entire spectrum, and a significant narrowing of response within the mic's highest octave of sensitivity (at 16kHz).
Stephen Langer of Mojo Pie describes the Dragonfly as his "favorite mic on drum overheads." MIX declared the mics "exceptional" as overheads, citing "detailed drum sound with plenty of low-end kick and high-end cymbal character." The reviewer for Electronic Musician claimed, "I liked them in this application as much as any mics I've used."
So, yeah, I want a pair already!
The

Mouse is, like the Dragonfly, a large-diaphragm condenser. Also like the Dragonfly, its nominal Cardioid pattern is closer to Supercardioid, with a pronounced rear lobe at all frequencies.
Reviewers have praised its "reach" and in one case compared it favorably to a Klaus Heyne-modded K87 for male broadcast voice. Although the published frequency graph doesn't show it, at least the transformer-coupled version of the Mouse is designed to capture the "thundering lows" of bass voices and instruments, according to BLUE.
(See below for pricing.)
JZ DMK1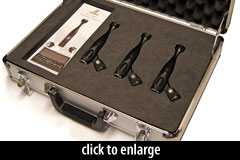 The newest entry into the three-mic drum kits is from JZ, who have packaged three of their BT201 into the DMK1.
This is the least expensive of the 3-mic kits we've seen, and the least varied, by which I specifically mean the nominal kick mic is no different in timbre, polar pattern, or frequency response than the overheads. It might not matter for drum recording, but it makes this kit a little less versatile than the others.
The

BT201 is JZ's pencil mic; four interchangeable capsules (which attach magnetically!) are available: Cardioid, "Open" (Wide) Cardioid, Omni, and an Open Cardioid with a built-in (non-switchable) -20dB pad.
The three included capsules in the DMK1 are all Open Cardioids; the one intended for kick drum has the built-in -20dB pad. Because this capsule starts to gradually roll off the lows below 400Hz, positioning the kick mic so as to take advantage of proximity effect might be worthwhile.
One of the attractions of the DMK1 is that spending a meager ~$90 more nets a Cardioid capsule, opening up these mics to a lot more possible applications around the studio.
Can I have one of each?
It's fascinating that the few products available within this category are so varied — really, the only thing these kits have in common is the number of mics.
It is also gratifying to see the bundle discounts in effect here. All of these kits sell for less than the price you'd pay for the individual mics and accessories.
Earthworks
DK25/R
Earthworks
DK50/R
BLUE Drum Kit Kit
JZ DMK1
Mics
Type
6mm omnis +
9mm cardioid electrets
Large-diaphragm condensers
Small-diaphragm condensers
MSRP
$2299
$5595
$2499
$10001
Street
$1549
$3999
$2399
$1000
Sellers
DR25/R
DK50/R
Blue D.K.K.
n/a2
Notes:
1- $1000 introductory price through 2010-12-05.
2- The DMK1 does not appear to have been made available through US retailers yet.
Over to you!
What's your experience with minimal drum-kit miking? Share your tales of gloom and triumph in the comments!
Posted in Microphones | No Comments »
---
---
---