Blue Microphones Dragonfly
Cardioid Condenser Microphone
Blue's Dragonfly is a fixed-cardioid, large-diaphragm condenser microphone whose capsule is shockmounted within an innovative rotating spherical head.
According to Skipper Wise, the Dragonfly was designed for female vocals. Reviewers have liked the mic for sources as diverse as acoustic guitar, drum overheads, and guitar cabinet.
MIX, 2004

The Dragonfly is not entirely transparent — there is a definite coloration to its sound. The mic delivers a very full, rich bottom end with a high end that borders on the bright side. There's a low-end bump around 90 Hz and another bump about 14 kHz. The midrange, while not bland, is not as emphasized as the high- and low-frequency ranges.
The rotating head allows for easier mic placement; the microphone can function as an end-address or side-address design, or anything in between.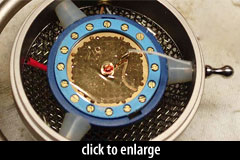 The large-diaphragm capsule uses a single 6-micron Mylar membrane sputtered with a mixture of aluminum and gold. Although at one time described by BLUE as using the company's B0 edge-terminated capsule, the Dragonfly microphones we've seen use what appears to be a 34mm K67 capsule, such as in the photo at right. (Note: the photo shows a damaged capsule; we do not intend to imply that Blue ships capsules with wrinkled diaphragms.)
The mic's amplifier circuit is transformerless. According to Recording Magazine, the mic uses a 40V polarization voltage for the capsule, allowing the circuit to be simplified, as no DC-DC converter is needed to create a more-typical 60V polarization voltage.
The Dragonfly won both the 2001 TEC Award and an Electronic Musician's 2001 Editor's Choice award.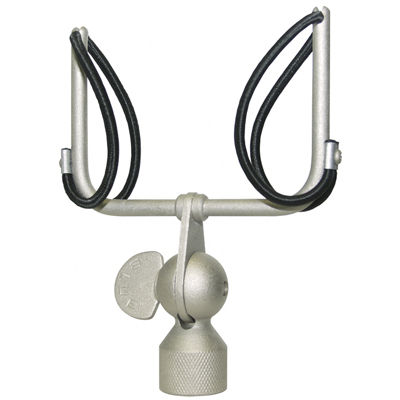 The Dragonfly includes Blue's "Series 2," aka S2 shockmount (which is also compatible with the Blueberry and Cactus microphones). The mic and shockmount ship in a wooden storage box.
Mojo Pie

I set impossibly high standards for guitar sounds. I like a shimmery steel-stringed acoustic sound. The Dragonfly puts across this sound perhaps better than any other mic I've used. Yet, with some positioning changes, it can also put across a woodsy sound. In getting the mic into position, the integrated shockmount along with the pivoting mic head make it easy to get fast mic placements.
Electronic Musician, 2000

To draw a closer bead on the Dragonfly's sonic predisposition… I compared the Dragonfly to a well-regarded, cardioid-only condenser in the same price range: the Neumann TLM 103. Overall, the Dragonfly sounded very similar to the TLM 103, but with less presence boosting in the 5 kHz region. On vocals, for example, the TLM 103 had that characteristic Neumann "sizzle"; the Dragonfly, in comparison, sounded flatter and "plainer." And while neither mic took well to a high-F diatonic harmonica (both sounded shrill in this application), the Dragonfly produced slightly smoother, more agreeable highs… [I]n the bigger picture, the two mics sounded very similar and of equivalent quality, each capturing a tight, very present, and well-defined sound with good depth of field.
The Dragonfly Deluxe shares the Dragonfly's design, but differs in several respects:
The Deluxe had gold trim and a deep-green hand-lacquered finish.
The Deluxe used different electronic components, a different capsule backplate — similar to the KIWI backplate — and different capsule tuning (according to Recording Magazine and BLUE).
The Deluxe shipped in a cherry wood box.
The Dragonfly Deluxe was limited to a run of just 275 units, accompanied by a numbered certificate of authenticity, and is no longer in production.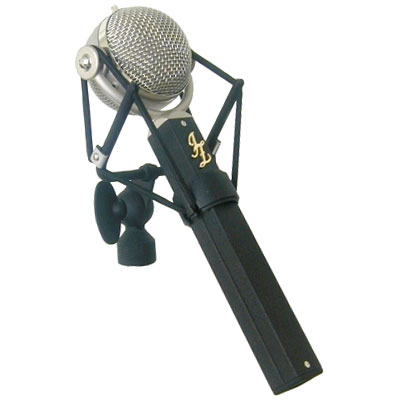 The Dragonfly, like several of Blue's early products, was the subject of an intellectual property dispute in 2006, when the original manufacturer, SIA Scruples/Violet Design, attempted to register a lookalike microphone with the EU's "Office for the Harmonization of the Internal Markets" — essentially the EU's trademark office. The OHIM called Scruples' registration invalid, awarding the IP rights to Martin Saulespurens of BLUE. For a time, this mic was known as the Violet JZ-4 or JZ4.
Stereo Times, 2000

It has a sound all its own… which, in this case, is fantastic… The Dragonfly floats like a hummingbird and stings like a howitzer.

The Dragonfly is an awesome microphone. It is not a panacea for all recording problems. Aside from the glorious DPA 4003 and its mystical kins, what microphone can solve every difficult task a recording person faces? But the littlest, least expensive of the microphones in the BLUE line-up carries a long sonic reach… and it packs a musical punch that is up to any well-chosen placement that a recording cat with good ears and astute experience can toss at it.
Dragonfly Capsule Photo by Paul McCloud
The Blue Microphones Dragonfly is also known as: JZ4, JZ-4.
The mic was released in 1999.
Specifications
Frequency Response - Cardioid

Click Graph to Compare!
| Pickup Patterns | Pads & Filters |
| --- | --- |
| Cardioid (21 mV/Pa; 20 - 20,000 Hz) | |
Capsule Dimensions
Impedance
SPL/Noise
Diaphragm diameter: 26mm
Capsule diameter: 34mm

50 Ohms (Low)
Max SPL: 132 dB
Self-noise: 8.0 dB(A)
| Weight | Length | Max Diameter | Interface(s) |
| --- | --- | --- | --- |
| 630g (22.22oz) | 235mm (9.25'') | 45mm (1.77'') | |
Power Specifications
Requires phantom power
Phantom voltage: 35-48v
Did we get anything wrong on this page? Please let us know!