Ningbo Alctron Electronics Co., Ltd. HST-11A
Multi-Pattern Tube Condenser Microphone
The Alctron HST-11A is a Chinese tube mic that has been rebranded and sold as the Apex 460, Carvin CTM-100, BadAax T11-A, Nady TCM1150, and probably others.
It is often referred to, incorrectly, as a "clone" of the AKG C12. But in fact it differs in nearly every way from the C12: it has a 32mm K67 rather than 34mm CK12 capsule, a CCDA (dual triode) circuit rather than single triode, and often a 12AX7 tube instead of a 6072.
See also the ShuaiYin SYT-1200 (see link in sidebar), which shares a basic circuit design and body style, but adds switches for HPF and pad.
The performance of these microphones depends largely on component quality, which varies. Some capsules are bright and thin. Some, less frequently, are more balanced. Some of the transformers work as expected, while some have very high distortion.
Due to the generally poor quality of components, these microphones tend to respond well to aftermarket upgrades, although mic owners must be wary of combining "upgrade" suggestions culled from the Internet, as there are many mod recipes that are incompatible with others. One key distinction is that some upgrade ideas retain the series-triode CCDA topology, while some disable the second triode in favor of restoring the mic to a true C12 style circuit. Regardless of one's favored topology, superior results require that the entire circuit be designed toward a single design.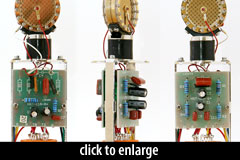 Special caution should be used when replacing the mic's transformer, both because that's rarely the biggest problem in the mic, and because the most commonly recommended aftermarket part has entirely the wrong turns ratio for the stock circuit. (The stock circuit works best with a 6-7:1 ratio, whereas the popular "upgrade" transformer has a 10-11:1 ratio; that component reduces circuit output unnecessarily.)
The Ningbo Alctron Electronics Co., Ltd. HST-11A is also known as: T11A, T-11A, HST11, HST11A.
Specifications
Frequency Response - Omnidirectional

Click Graph to Compare!
Frequency Response - Cardioid

Click Graph to Compare!
Frequency Response - Bidirectional

Click Graph to Compare!
Pickup Patterns
Pads & Filters
Omnidirectional (25 mV/Pa; 20 - 20,000 Hz)
Cardioid (25 mV/Pa; 20 - 20,000 Hz)
Bidirectional (25 mV/Pa; 20 - 20,000 Hz)

Capsule Dimensions
Impedance
SPL/Noise
Diaphragm diameter: 26mm
Capsule diameter: 32mm

200 Ohms (Low)
Max SPL: 120 dB
Self-noise: 20.0 dB(A)
| Weight | Length | Max Diameter | Interface(s) |
| --- | --- | --- | --- |
| 824g (29.07oz) | 240mm (9.45'') | 46mm (1.81'') | |
Power Specifications
Includes tube power supply
Did we get anything wrong on this page? Please let us know!