Apex Electronics 460
Multi-Pattern Tube Condenser Microphone
The Apex 460 is a Chinese-made tube condenser microphone, usually considered by the audio community to be a rebadged Alctron HST-11A. Lookalike mics vary in capsule and component details; see, for example, the ShuaiYin SYT-1200.
The mic's large-diaphragm capsule is a 32mm Chinese K67 copy, advertised as having 5-micron membranes although in reality this specification varies without notice.
The mic supports 9 polar patterns, switchable from the power supply.
MIX

At $229, the Apex 460 is a phenomenal buy.
This is one of many AKG C12 lookalikes, and is possibly one of the best-known and most widely available; as a result, much work has been done by hobbyists to mod this mic, such as replacing the capsule and transformer and some components on the circuit board.
The Apex 460's early claim to fame was its appearance in a teardown analysis by StudioReviews.com, proving that the mic was identical to the original and short-lived 2005 edition of the R-F-T M16 — a mic costing (at the time) significantly more, and which was subsequently replaced by a significantly nicer product at the same price.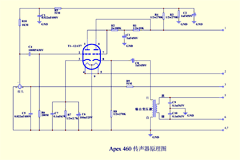 DIY enthusiasts often modify the 460 by replacing the capsule, tube, transformer, or even individual components on the circuit board. However, no such piecemeal approach is likely to correct all the known deficiencies of the mic, such as:
Peaky-sounding capsule without corresponding corrective EQ in the circuit
Oversized EMI caps that cause an unwanted 2-3dB boost in the high frequencies
Insufficient QC of transformers allows significant variation in low-frequency distortion from one mic to the next
Capsule voltage is too high
Power filtering is insufficient
Tube gain is too high
Transformer ratio is incorrect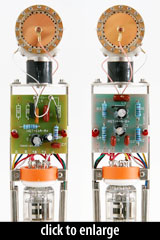 Although piecemeal component replacement can yield some improvement in the mic's performance, it will very likely fall short of one of the full circuit replacement options described in the sidebar.
Permalink: Apex Electronics 460
The mic was released in 2003.
Specifications
Frequency Response - Omnidirectional

Click Graph to Compare!
Frequency Response - Cardioid

Click Graph to Compare!
Frequency Response - Bidirectional

Click Graph to Compare!
Pickup Patterns
Pads & Filters
Omnidirectional (14 mV/Pa; 20 - 20,000 Hz)
Cardioid (14 mV/Pa; 20 - 20,000 Hz)
Bidirectional (14 mV/Pa; 20 - 20,000 Hz)

Capsule Dimensions
Impedance
SPL/Noise
Diaphragm diameter: 25mm
Capsule diameter: 32mm
Diaphragm gauge: 5 microns
200 Ohms (Low)
Max SPL: 125 dB

| Weight | Length | Max Diameter | Interface(s) |
| --- | --- | --- | --- |
| 824g (29.07oz) | 240mm (9.45'') | 46mm (1.81'') | |
Power Specifications
Includes tube power supply
Did we get anything wrong on this page? Please let us know!