AKG Acoustics C 12 VR
Multi-Pattern Tube Condenser Microphone
AKG presents the C12VR as a nearly exact replica of the original C12 tube microphone. Yet, the mic is seen by high-end pro audio experts as, at best, a pretender to the throne.
Terry Manning

The AKG C12VR was the biggest disappointment of any microphone I ever bought, and totally turned my off of ever buying any NEW AKG products again.
The VR uses a 6072A vacuum tube. AKG states that minor circuitry changes have been made to the original design to reduce self-noise.
The power supply provides nine polar patterns, from omnidirectional to figure-of-8.
The C12VR comes complete with an aluminum carrying case, power supply, cable, windscreen, and spider type shock mount.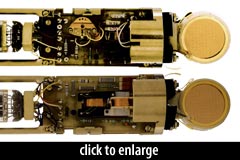 JJ Blair/EQ Magazine

The AKG C12VR was hyped as the revival of the venerable C12, but the only thing these mics share in common is probably the shape and the 6072 tube. AKG abandoned the original CK12 capsule decades ago because of the difficulty and expense involved with manufacturing these gorgeous-sounding capsules…

The C12VR is a dark-sounding mic. I wouldn't say that it's wooly, but it definitely has no sparkle. What it does have however, is a nice even tone and a velvety warmth. It really sounded good on everything we recorded with it, but it did leave me wanting to EQ in some high end.
Klaus Heyne

The VR is a [seamless] successor to "The Tube", with identical electronics, slightly changed cosmetics and a TLII capsule replacing the original Teflon/414P48 caspule of "The Tube".
A long thread on PSW describes Oliver Archut's C12VR mod for Terry Manning, in which a new grille, capsule (a real CK12), and circuit (an original Archut design) replace the stock parts, with excellent results. (See sidebar link.)
The AKG Acoustics C 12 VR is also known as: C-12, C 12 VR, C12VR.
The mic was released in 1994.
Specifications
Frequency Response - Omnidirectional

Click Graph to Compare!
Frequency Response - Cardioid

Click Graph to Compare!
Frequency Response - Bidirectional

Click Graph to Compare!
Pickup Patterns
Pads & Filters
Omnidirectional (10 mV/Pa; 30 - 20.000 Hz)
Cardioid (10 mV/Pa; 30 - 20.000 Hz)
Bidirectional (10 mV/Pa; 30 - 20.000 Hz)


Pad: -10 dB (Via Switch)
Pad: -20 dB (Via Switch)
Filter: 6 dB/octave at 100 Hz (Via Switch)
Filter: 12 dB/octave at 130 Hz (Via Switch)
Capsule Dimensions
Impedance
SPL/Noise
Diaphragm diameter: 25mm

200 Ohms (Low)
Max SPL: 128 dB
Self-noise: 22.0 dB(A)
Weight
Length
Max Diameter
Interface(s)
680g (23.99oz)
225mm (8.86'')
42mm (1.65'')

3-pin XLR male (1)
3-pin XLR male (1)
Power Specifications
Includes tube power supply
Did we get anything wrong on this page? Please let us know!