---
Thursday, April 12th, 2012 | by Slau Halatyn
Late one evening last year during the 131st AES convention in New York City, I found myself doing what any responsible attendee would be doing: having way too many drinks in a midtown bar.
I met up with Matt McGlynn of RecordingHacks earlier that evening for some Thai food and he informed me that we would later be joined by Mark Fouxman of Samar Audio Design. I mentioned that I knew Mark from several online audio forums, and that we had communicated through email at one time regarding a potential project. Mark was a first-time exhibitor at the convention, introducing his debut product, a premium ribbon microphone called the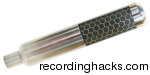 MF65.
I had learned a bit about the MF65 initially through the $60,000 Ribbon Mic Shootout, and was certainly intrigued by the new kid on the block. I was looking forward to meeting Mark in person and talking about what all engineers eventually discuss after hours in bars: sex. Well, OK, the subject of microphones did come up at some point too and, in all fairness, microphones can be sexy objects.
At some point, Matt had suggested to Mark that he should send me a pair of his new MF65s for review. I was more than happy to have been volunteered but quickly pointed out the fact that my studio was in the middle of a major renovation and that I couldn't possibly do anything until that was completed. I thought for sure that they would probably find somebody else in the mean time. I pretty much forgot about the whole thing until Matt contacted me a couple of months later asking when would be a good time for Mark to ship the mics. Of course, any time is a good time to receive new mics, right? Actually, the timing was perfect as the studio renovation was nearing completion. Matt must be psychic — either that or he was just paying attention to my Twitter feed…
As it turned out, I didn't even have to wait long for the mics to arrive at the studio. In fact, they were delivered in no time at all — but not by the usual red, white and blue or brown truck but rather a vehicle driven by Joel Morowitz of Ecstatic Electric, a Brooklyn-based company specializing in sales and rental of vintage gear, specifically microphones. I had rented stuff from Joel before and was happy to learn that Ecstatic Electric had become a retailer for Samar Audio Design. I remember Joel mentioning that he was a fan of RecordingHacks.com so it was with a certain degree of coincidence and pride that I was able to accept Joel's demo mics on behalf of RecordingHacks for this review. Ah, I love these connections — this whole industry is like 6 dB of separation.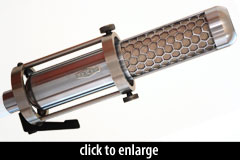 I had seen the MF65 at the Samar Audio Design booth at the AES show so I was already familiar with the quality of the build. In fact, that's the first thing that is apparent when handling this microphone — the incredible attention to detail. There is no doubt this is a precision instrument. One is hard-pressed to detect any seams in the body. In fact, the main body tube is machined from a solid piece of steel using state-of-the-art CNC machines. Taking it a step further, the ribbon motor, rather than being a separate part, is actually an extension of the body, requiring extremely tight tolerances in manufacturing. The only way to achieve such accuracy is through the kind of machining found in the medical and aerospace industries so it should be no surprise that this is exactly what Samar Audio design did. Parts for the MF65 are machined in Utah and assembled individually by hand. At a time when many of the biggest manufacturers are sourcing parts off shore (and by "off shore" I don't mean Germany), it's becoming harder to find hand-made products, much less microphones made in the United States.
A few months earlier, I had a chance to hear the MF65 at the Samar booth during the AES show. As one might imagine, it was just through a pair of headphones on the show floor with no meaningful point of reference in a less than optimal environment, to put it mildly. While I don't personally regard a vocal through a ribbon mic as any real test of its capabilities, the very first thing I did was put up the mic in the live room and just stepped up to it for a little audition on my voice. The first thing that struck me was that the MF65 had the most incredible high-frequency response I had ever heard in a ribbon mic. The second thing that occurred to me was that, although it had the extra proximity effect typical of most ribbon mics, the bottom end seemed to be a little less pronounced.
Now, to me, among the pros and cons of ribbon mics are their heavy bottom end and rolled off top end. Again, it's both a good thing and a bad thing. Naturally, one can equalize to compensate and ribbons generally take EQ quite well. That said, I always end up heavily equalizing most ribbons I use, not so much because I want to but because I have to. Here I was, listening to this mic thinking it was just about the most balanced-sounding ribbon microphone I had ever heard. I located some press info about the MF65 and noticed that the upper frequency response was apparently better than 25 kHz which is unbelievably high for a ribbon mic. Also, the low frequency was said to be ruler flat. According to Mark Fouxman, this balanced frequency response, along with the mic's unique design, was something that took him about eight years to achieve.
Vocals
As I mentioned earlier, I don't regard the human voice as any big test of a ribbon mic but, for what it's worth, here's an audio clip of the MF65 on vocal recorded from 28 inches away. For the sake of comparison, I've included a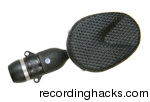 Coles Electroacoustics 4038 capturing the same performance.
[Slau told me, when I asked what song that was, that he composed it on the spot for this demo. I'm floored. What he sang isn't a song, but it should be. –Ed.]
Piano
During our initial discussions about a review (the one over one too many… alright, two too many pints of beer), Mark had inquired whether I could include samples of a piano. I excitedly informed him that the studio has a beautiful Yamaha C3 and that it's my pride and joy — next to my microphone collection, of course. Mark clearly didn't share my excitement over the C3 and graciously tried to hide the fact that he was somewhat less than impressed. What I quickly learned was that Mark is an accomplished classical concert pianist himself and was hoping for something more along the lines of a 9-foot concert grand. I made a mental note that, if I ever did end up doing a review of the MF65, a concert grand would be a must.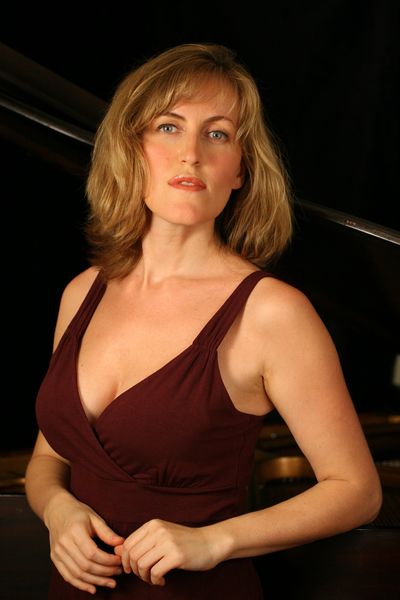 I knew precisely where I would need to go for such an instrument — only my favorite studio in the world: Systems Two in Brooklyn. This was the place where the whole fascination and love of the recording process began for me so it holds a truly special place in my heart. Systems Two has a marvelous Steinway D (originally from Carnegie Hall) and a live room roughly 30' × 50' with a 20' ceiling. It was exactly what I needed for a nice recording of some classical piano. The wonderfully talented Russian pianist, Olga Vinokur, was generous enough to come to the studio for a couple of hours to perform several pieces for the recording.
For this session, I recorded the piano in stereo. I had assembled both MF65s within the custom Blumlein mount offered as an accessory from Samar. Everyone at the studio was instantly impressed with the look and feel of the mics. I kept telling them, "Just wait until you hear them!" Again, for the sake of comparison, I put up a Blumlein pair of Coles 4038s. Both sets of mics were approximately six feet from the piano, just to the right of the stick at a height of around six feet. Each mic was going through a channel on a Millennia HV3D directly into Pro Tools HD. To be honest, once we got levels and started recording, rather than listening critically to the mics (which I knew I'd be doing later anyway), I took the opportunity to catch up with Joe & Nancy Marciano, owners of the studio. While it's clear that people come to Systems Two for the facility as well as their spectacular piano, the staff there are the nicest people in the world and take tremendous pride in their studio and work. Thanks to Max Ross who assisted during the session.
When I got back to BeSharp (that studio with only a 6' Yamaha C3), I brought up the session and listened back more closely. Again, it was apparent how balanced and unexaggerated the low end was on the MF65s and how clear the top end was. In all fairness, I liked the way the 4038s sounded as well but they were clearly much darker (even though I generally consider them not to be so dark). To me, there was no question that the MF65s would be my choice, that is, if I had to make a choice. In this case, I'm off the hook and will let Ms. Vinokur (the pianist) decide. I know, what a copout, eh? 😉
Here are two clips from the piano session at Systems Two:
I tried the MF65 on several sources including violin, electric guitar, acoustic guitar, mandolin, banjo and drums. In each case, it sounded fabulous. Unfortunately, while the mics were in my possession, I had no sessions scheduled with any horns. I wish I had. I'm a huge proponent of ribbon mics on all kinds of horns. Frankly, I don't think I'd use anything else but ribbons on instruments like trumpet, trombone and sax, especially in an ensemble. Anyway, given what I experienced with the other sources, I have no doubt that the MF65 would have excelled in that application. For what it's worth, one can at least hear the MF65 on sax here as part of that $60K ribbon mic shootout.
Drums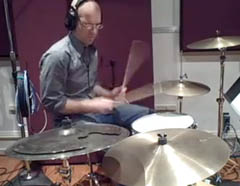 Another area in which ribbons, to me, are virtually indispensable is in drum overhead miking and occasionally room miking. I asked the inimitable George Hrab to stop by the studio to do a little playing while I gave the MF65 a whirl on the kit. I first tried an old traditional single ribbon positioned 4 feet directly above the snare and then another about 5 feet in front of the kit. This time, rather than going through the HV3d, I decided to use an API 3124+. My impressions of the MF65 were consistent throughout all of the recordings and the drums were no exception. The lows seemed a little more balanced, less exaggerated and the highs were clean and extended way beyond what I was used to for a ribbon mic. I found myself using less EQ on the MF65s because they just sounded great as is. Undoubtedly, I'd probably use some EQ in a mixing situation but decidedly less than usual and, wherever I can get away with less equalization, the better.
Here are a couple of examples on drums (without any EQ, of course):
Drums – Overheads
Drums – Room
Acoustic Guitar
I knew I'd most definitely try the MF65 on electric guitar but I thought I'd try a bit of acoustic guitar first. Acoustic guitar is not one of those instruments for which I'd normally think "ribbon" unless it were pretty much a solo instrument and I was going for a slightly softer, slightly thicker sound. I think the MF65 does a nice job on acoustic guitar but even with its extended highs and consistent lows, however, I'm personally still not a fan of it on acoustic guitar. To me, it's an instrument that doesn't have the qualities that would benefit from a ribbon. That said, it might be just the ticket for some people so I needn't say anything more except here are a couple of clips:
Electric Guitar – Small Amp
OK, let's talk electric guitar. This is another case where I'll pretty much reach for a ribbon every single time. If it's a cleaner sounding guitar, it'll be a toss-up between a Coles 4038 and a Royer Labs R-121. I should also mention that those mics have a ribbon length somewhat shorter than the MF65. I generally favor longer ribbons for cleaner sounds and shorter ribbons for percussive or distorted sounds.
Because I had compared the MF65 to the 4038 several times at his point, I decided to bring out the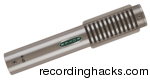 Royer Labs R-121. I sometimes take advantage of a ribbons proximity effect to beef up smaller amps. It works better for more overdriven sounds, but I just figured I'd try it with a cleaner sound. I recorded my Aslin Dane Jazz King 75 arch top through a little Epiphone Valve Jr. I positioned the mics as close as possible to each other about 12'' from the grill, and re-amped some rhythm guitar using the HV3D pres. Since the MF65 clearly had it going on in the high end, I decided to flip the R-121 around to use its brighter side.
As it turned out, there was nothing particularly impressive about either mic in this situation. That probably says much more about the guitar/amp combination but, what struck me was that, while I usually flip between tracks in solo, I inadvertently found myself hearing both channels at once and, because the polarity of the R-121 was reversed, the two signals were canceling each other out. What remained was obviously only the null of the signal, thus it almost sounds like the difference between the two mics which is apparently only enough to sound oddly like just the acoustic sound of the guitar minus the amp. If you import the two files below into a DAW and line them up, playing them at the same time in mono will demonstrate what I've described above. To me it's a bit of a testament to the similarity of these two great mics.
Small amp audio samples
Electric Guitar – Clean Vintage Sound
I then brought out a Fender Super 60 tube combo and a Strat, again, re-amping with the MF65 and R-121 (but this time through the 3124 with polarity inverted) and recorded a few things with a similar setup except for moving the mics back to around 24'' from the grill — a little more typical of what I'd normally do for electric guitar. I thought the MF65 sounded amazing in this case. The R-121 sounds great as well but, between the two, the MF65 is fuller and has just that little extra sparkle on the top. In a mix situation, again, I might equalize a bit and we're splitting hairs about the differences but, in all fairness, I'm simply doing a direct comparison between something I'm quite familiar with and a newcomer that brings a little something extra to the table.
Clean Electric Guitar Audio Samples
Electric Guitar – Crunchy
Perhaps one of the most revealing sources when comparing ribbon mics is a crunchy electric guitar. There are so many complex things going on and many frequencies are being pushed to the limit. While many ribbons generally perform adequately, some ribbon mics seem to excel in this area. Price is not a determining factor in this case. For example, I like the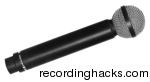 beyerdynamic M 160 ($500) over the Coles 4038 ($1,300).
There is something about the R-121, however, that captures a specific quality that I'll call the "growl" of the amp. I haven't found that in too many ribbons but it's a characteristic I particularly love and I just haven't found it in any mics other than ribbons. To be honest, I didn't expect the MF65 to floor me on this kind of guitar sound. With its 2'' long ribbon, it's not typically the kind of mic one would enlist for such a job. I should also point out that electric guitar is not specifically one of the recommended applications cited by Samar for these mics. Still, why not throw caution to the wind? (…with a wind screen, naturally).
For the crunchy guitar, I miked a small Mesa Boogie Subway Rocket and a 1978 Les Paul Custom. I set up an R-121 next to the MF65 and recorded straight without re-amping. Although in this case, between these two mics, I'd probably have picked the R-121 out of the box, I have to point out that ultimately the MF65 would be a more versatile mic under more circumstances. For example, given its extended high frequency response, one can hear the sound of the picking of the guitar through the MF65 which is barely detectable through the R-121. If I were tracking a jazz guitar I might choose to capture the acoustic sound of the instrument along with the amp signal. I bet the MF65 would do great under those circumstances.
Further, there's a whole lot of high frequency information being captured by the MF65 which the R-121 is just not registering. In this instance, it just so happens that there isn't anything noteworthy going on up there but one can still sense that it's being picked up by the MF65. Personally, I'd probably even roll off some of the MF65's top end — something I never thought I'd consider with a ribbon.
Finally, since ribbons generally take equalization well, I wouldn't be afraid to do a wide parametric boost in the upper midrange to help bring out that growl if necessary. I suppose what I'm saying is that the R-121 just does that particular trick readily while the MF65 probably needs a little coaxing. That said, I don't know whether the R-121 could keep up with the MF65 in all other areas.
Crunchy Electric Guitar Audio Samples
Conclusion
I've met a lot of microphone manufacturers over the years and I often get a kick out of their personalities. A certain degree of craziness is probably a prerequisite for that line of work. I believe, more importantly, that a passion for the craft separates the average from the superb. Having spent three weeks with a pair of the Samar Audio Design MF65 ribbon microphones, I can say with certainty that they are truly superb microphones.
Having spent some time with their creator, Mark Fouxman, I can say that he's crazy — not in a bad way but in the best possible way: crazy about microphones. His passion for the MF65 is apparent as soon as he begins to talk about it — the properties of various metals and magnets, the custom-made toroidal transformer made in-house, each component down to a stainless steel screw. He's constantly thinking of ways to improve the tiniest detail. Indeed, if you ever encounter the mic in person, you'll be keenly aware of the details and, if you're fortunate enough to work with the MF65, all of those details add up, revealing themselves in its marvelous sound.
Posted in Microphones, Reviews | 7 Comments »
---
---
---