---
Thursday, July 28th, 2011 | by matthew mcglynn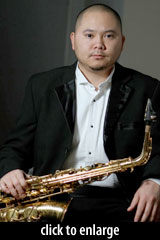 The sax session of the $60,000 Ribbon Microphone Shootout was recorded at Ditch Road Records. The star of the show was a local horn player named Jon Cruz who teaches and performs all around Los Angeles.
Jon came prepared with a beautiful piece of music — what he describes as "an embellished version of George Gershwin's Summertime." I'm pretty sure he'd never been asked to play the exact same lick 20 times in a row before, but he did it admirably here.
His horn is a Yamaha 62 alto, with a Beechler metal 8 mouthpiece and a Vandoren Java size 2 reed.
Test Setup and Signal Path
Having primarily tested with close mic placements thus far, we wanted to move back a bit and capture some of the room. We had Jon stand on a carpet, about 4' back from the mics. We oriented the ribbons vertically, and used a string jig to maintain equal positions for every test.
We recorded the mics in pairs, because we had too many to do them singly. This turned out to be a problem, although we didn't realize it until much later: the two positions sounded different. The difference is actually visible in the waveforms.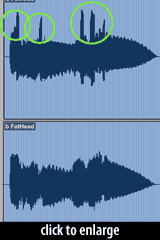 The Cascade Fat Head II (Lundahl) was recorded once in each position. If you listen to the held note at the beginning of the second phrase, you'll hear at least 7dB more at 400Hz in the first compared to the second. The first has about 3dB less at 800Hz too. (Presumably Jon was playing an A, eh?)
Fathead from group 1
Fathead from group 2
The Ditch Road live room is fairly live, so I'm guessing the two mic positions were sitting in a 400Hz standing wave, with the first mic in a peak, and the second in a null. Whatever the explanation, we've separated the samples into "group 1" and "group 2," and although it's disappointing that samples from one can't be fairly compared to samples from the other, there is still a lot to hear.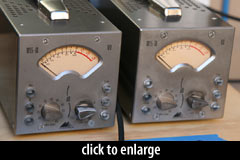 On this test, we used a pair of Martech MSS-10 preamps for all mics. The MSS-10 has plenty of gain, and phantom power, and a stellar reputation for pristine sound — or as Joe Chiccarelli puts it, "hi-fi with soul." (FYI: these things street for $1900/channel.)
Audio Files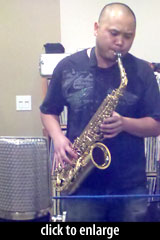 The session was tracked at 24 bit, 48kHz, using Ryan's SSL XLogic Alpha-Link converters. I gain-matched the tracks in Pro Tools, and output them as full-resolution WAV files that you can download here. Or listen below to the 320kbps MP3s.
Group 1
Group 2
Listening Notes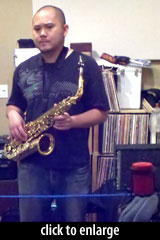 I'm glad we put an SM57 into the first group. It provides an important sonic contrast. I liked all the ribbons better. The SM57 picked up more valve noise, and its midrange sounds a little ragged. All the ribbons are smoother, not to mention less honky.
The standouts in the first group, for me, are the Royer R-122V and Coles 4038. Their combination of warmth and openness is unnerving (in a really good way). The Coles is brighter; maybe because I've been listening to ribbons so much lately, I'm almost tempted to roll off some of its high end.
Randy Coppinger didn't pick favorites, but I'll quote from his notes here:
Randy Coppinger

Coles 4038 – immediate, balanced, thick
Royer R-122V – Smooth, rich, sexy, glassy on top
I like the

AEA R44CX too. It is slightly veiled, but only in comparison to some of these other choices.
Unlike the drum overhead test, I don't find that the brighter-sounding ribbons necessarily score more points here. The brighter mics bring out valve noise and breath, but more than that, the brightness doesn't sound like part of the instrument. Compare the Voodoo mics (which have an enhanced high-frequency response) to the

Sontronics Sigma, whose vintage vibe works in its favor here.
Ryan Canestro

The Royer R-121 and Coles 4038 are my top two mics on sax.

Royer Labs R-121 – This mic is silky and strong. It brings together the two sweet spots of low mid warmth and smooth bright top end usually mutually exclusive to either vintage or modern ribbon microphone designs.

Coles Electroacoustics 4038 – This microphone has a strong vintage character that is instantly recognizable and infinitely usable. I have always liked the way this microphone looked in the catalogs and now I love the way it sounds!

The Samar Audio Design MF65 (#5) had a great balance of modern sound with a hint of that vintage magic. It was very balanced across the frequency spectrum and present on the top end without being exaggerated.

Both Shure microphones KSM313 and KSM 353 were great examples of the modern ribbon sound. They are an excellent compromise for those that expect to hear that condenser sound, but get the added benefits of that great natural ribbon feel.
In the second set, I'm sad to say all the mics sounded a bit "off." Having listened so closely to the first set, the missing information at 400Hz (and multiples) makes these mics sound thin.
Still, a few stand out: the

SE Electronics RNR1 brings that smooth, dark ribbon sound with an extra dose of you-are-there realism.
The

Shure KSM353 sounds good in a different way; I'll agree with Ryan's characterization of it as having a "modern" sound. There's a hardness to it. It is similar to what I would usually call presence, but with more of an edge.
I liked the

AEA KU4 here, too. (Remember, this is a supercardioid mic.) The first time I'd heard this mic on sax, I really missed the liveness of the room — but in that session, the comparison mic (an AEA A840) had its rear lobe pointed at the control-room glass, which was sending high-volume reflections into the back of the mic. In this case, where we'd softened up the back half of the room, there is less apparent difference in the perceived size of the space when comparing the figure-8 mics to this unidirectional mic.
Wrapping up
I am encouraged that a lot of these mics sounded good. One of the important takeaways from this project is that most of these mics sound pretty good on multiple sources.
If you've been listening to all the samples you are probably beginning to get to know what some of these individual mics are good at, and to develop some preferences for what you'd like to use on various sources. I know I have. We'll get more into this in a future installment.
Session Download
The raw audio files for the sax session can be found here. "Enjoy them with someone you love."
Still more…
Other stories from this series:
Saxophone Session (YOU ARE HERE)
Please leave a comment if you're finding these reports useful. Don't be shy about clicking the 'Like' and '+1' buttons in the sidebar; they make a difference!
Posted in Acoustics, Microphones, Reviews, Shootouts | 10 Comments »
---
---
---