---
Monday, July 11th, 2011 | by matthew mcglynn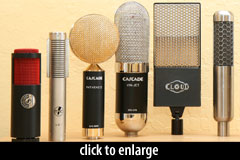 The market has seen a ton of innovation in ribbon microphone design over the past five years: new ribbon materials, high-end transformer implementations, acoustic impedance and passive equalization innovations, plus hundreds of new design ideas that improve frequency response and durability. The result is an inventory of ribbon mic choices that is wider than ever in history.
From a consumer's point of view, this is an excellent problem to have: dozens of different models covering every conceivable application and price point. But of course, having too many choices makes deciding sort of a problem. That's where this guide comes in.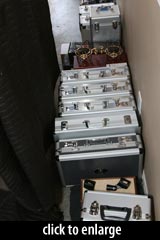 We collected 30 different ribbon mics from 17 different manufacturers, and recorded four five sources with each: electric guitar, drum overheads, saxophone, voiceover, and acoustic guitar. Needless to say, we controlled environmental factors such as placement, gain staging, and performance as much as possible. The result is the biggest, most comprehensive ribbon microphone listening test in history.
We're calling it a "shootout," because that's the best single-word description for this project. But our goal was not to crown a single winner. Between all these different microphones, ranging in price from sub-$100 to $4700 to priceless, we found lots of great-sounding choices for each of the four five wildly different sources we tracked.
Table of Contents
The Talent
The best microphone in the world is just a fancy paperweight unless you have something interesting to point it at. Fortunately for us, and for you, we had some amazingly talented and hard-working artists contributing their time and expertise:
Doug Doppler – Favored Nations recording artist and former Guitar Hero session player. Doug created two guitar clips — one "clean" (Fender) and one "dirty" (Marshall) — for our guitar cab session. Check out Doug's tantalizing new project, Get Killer Tone, which will demo basically every piece of guitar gear on the planet.
Jon Mattox – Drummer, composer, and engineer. John played the drums for our overhead session. Visit John at Bright Orange Studios.
Jonathan Cruz – Woodwind artist and instructor. Jon played the alto sax for our saxophone session. Visit Jon at Jon Cruz Music.
Corey Burton – Voice actor, Announcer, and walking encyclopedia of character voices, actors, and microphones. Corey conjured up four character voices and delivered them all flawlessly through 20 pairs of microphones. Visit Corey at CoreyBurton.com.
Michael Capella – Singer, songwriter, multi-instrumentalist. Michael played two acoustic guitars for the ribbon mic session. Michael at Michael Capella.
The Hosts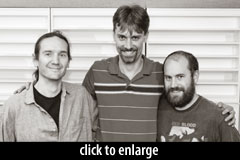 I owe a great deal of thanks to my cohosts and brothers-in-arms, without whom this project could not have happened:
Ryan Canestro – Live sound and studio engineer, sound designer, producer, musician, founder of Ditch Road Records, and host of the Home Recording Show podcast. Ryan's studio was home base for a weekend of ribbon madness.
Randy Coppinger – Voice recording engineer extraordinaire. Randy has been expertly positioning microphones on the best voice actors in the country for over 15 years. Find more at RandyCoppinger.com.
Participating Vendors
Thanks to all the vendors who provided gear for this test: AEA, Audio-Technica, BLUE, Cascade, Cloud, Coles, Royer Labs, Samar Audio, sE Electronics, ShinyBox, Shure, and Sontronics.
Special thanks to:
If you enjoy this project, please link to it, share it on Facebook, +1 it on Google Plus, tweet it, etc. We appreciate your support!
P.S. Sharp-eyed readers will note the caption on the photo above reads "$50,000." We literally added another $10k, or arguably $20k worth of ribbon mics during the course of the weekend.
Posted in Microphones, Shootouts | 7 Comments »
---
---
---