beyerdynamic M 160
Hypercardioid Ribbon Microphone
The M160 is an unusual ribbon microphone, in that it has a hypercardioid pickup pattern.
It is often paired with the M130 for mid-side stereo applications, in which the bidirectional M130 captures the "side" channel, and the M160 captures the "mid."
The M160 has two ribbons, mounted back-to-front just 0.5mm apart. The use of the second ribbon is said to increase the mic's sensitivity, although it still measures at a modest 1.0 mV/Pa.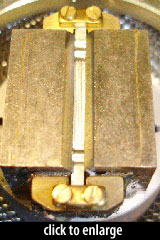 The corrugation pattern is identical to the M130 and M500, but unlike nearly every other ribbon microphone on the market, in that the ribbon is creased vertically as well as corrugated horizontally, making the ribbon somewhat rigid as compared to the ribbon element in other microphones.
The ribbons in the M 130 and M160 measure 0.056'' in width, and approximately 0.6'' in length.
Stephen Sank, 2009

The stock ribbon is only corrugated in the normal sense, meaning in a manner that makes it flexible, at the ends, and [uses] shallow corrugations. The whole middle section is rendered rigid by the lengthwise pleats. This is why:

stock Beyer ribbons have a large amount of overshoot distortion that rises with frequency,
they fatigue with normal sound pressure levels (due to shallow & few corrugations, and…
they have higher output level than with a fully corrugated ribbon, [because] the rigid ribbon moves pistonically, so generates current more uniformly & efficiently than a ribbon that moves naturally with the soundwave.

So, one plus at the expense of two whopping big negatives.
The mic ships with a mic clip (p/n MKV 8). Optional accessories include pop screens (PS 260), foam wind screens (WS 260), stands and cables.
For the mic's 50th anniversary in 2007, Beyerdynamic released a limited edition of 200 M160 microphones in the original chrome finish.
Electronic Musician

The M 160's response was concentrated more in the midrange, with extra energy around 350Hz. But in loudspeaker tests, it too was always a bit muffled, lacking the kind of midrange projection and clarity heard in the Coles 4040 or Royer R-121.
SoundOnSound, 2007

It is easy to hear why the Beyers are so well-known for drums. The lovely smooth lift at around 4kHz has the effect of making snare drums jump out of the wider mix and really punch you in the face…
Resolution, 2007

In comparison to other, more recent offerings, such as the sE R1 and the Royer 121 and [Royer] 122, the dimunitive M160s are slightly darker-sounding… Yet they score highly because of their versatility and ability to command a wonderfully lush sound from such a variety of sources.
Rich Tozzoli, Premier Guitar, 2011

While I've known about this mic for years, I never actually used it until I picked one up a few months back, and its been a go-to mic ever since. The day it arrived, I put it up on my old Magnatone M-10A 1x12 combo, and it was truly magical. I thought, "Ah, no wonder so many people love this mic."
The beyerdynamic M 160 is also known as: M160.
The mic was released in 1957.
Specifications
Frequency Response - Hypercardioid

Click Graph to Compare!
| Pickup Patterns | Pads & Filters |
| --- | --- |
| Hypercardioid (1.0 mV/Pa; 40- 18,000 Hz) | |
| Ribbon Construction | Impedance | SPL/Noise |
| --- | --- | --- |
| Dual aluminum ribbons | 200 Ohms (Low) | |
| Weight | Length | Max Diameter | Interface(s) |
| --- | --- | --- | --- |
| 156g (5.50oz) | 156mm (6.14'') | 23mm (0.91'') | |
Did we get anything wrong on this page? Please let us know!