---
Sunday, April 15th, 2012 | by Paul Strikwerda
Talking about microphones is like writing about food. No matter how elegant and eloquent your prose may be, the proof and the pleasure is always in the eating (or in our case, the listening).
Not so long ago, a group of Dutch voice-over pros got together for a shootout. They had been writing about mics for months. Now it was time to let the technology to do the talking. The goal was not so much to pick a winner, but to get a chance to contrast and compare.
For that purpose they threw about thirty mics into the mix, from shotguns to tube condensers. Among the mics they tried were the Brauner Phanthera, an Audio Technica AT4033, the Neumann M147, TLM103 and U87, the Senhnheiser MKH-416, a Røde NTG3, a Telefunken U47 and an Electro-Voice RE27.
Then there was this very odd looking mic from the United States, an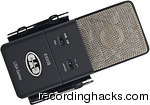 E100S designed by Conneaut Audio Devices or CAD. Very few people in the room had even heard of the brand, let alone seen such a microphone. But when the day was over, several voice actors ended up ordering one. By the end of this review you'll know why.

Its reputation had preceded itself. Prior to the shootout, this rectangular shaped CAD had beaten out the venerable Neumann U87 — regarded by many to be the ultimate voice-over microphone — in a blind test. Not bad for a mic you can buy for less than $400! [See current sale prices on the E100S. –Ed.]
Robust and rectangular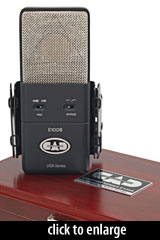 The CAD Equitek E100S as it's officially called, is a side-address, large-diaphragm FET condenser with a nickel-plated 1 inch capsule, an 80 Hz hi-pass filter and a 10 dB pad. It has a fixed supercardioid polar pattern and the lowest self-noise ratings of pretty much any mic: 3.7 dB (measured with the capsule swapped for a fixed capacitor, known as the "capacitor substitution" method).
Coming in at 0.61kg (22oz) it's not exactly light. Made in the USA, this microphone is built like a tank and it feels solid but smooth thanks to a rubbery coating. It arrives in a nice cherry wood box, already resting in a specially designed 'stealth' integral shock mount. You'll find the XLR output at the back of the microphone.
Strong rubber bands tie the microphone to its snug-fitting shock mount. This mount works well, but it's a pain in the neck to remove, so I could place the mic in my Rycote InVision™ shockmount. Most people would only take the mic from its mount to replace the rubber bands, so it's no big deal.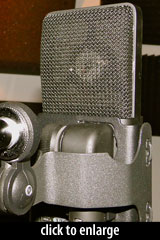 In my recent review of the Gefell M930 Ts, I came up with eight criteria for an ideal voice-over microphone. Now look at the specs for this CAD. Based on my preferences, it comes very close to being perfect — on paper, that is. It is often advertised and reviewed as a versatile, all-purpose mic, so I wondered how well it would work for voice alone.
To find out, I hooked it up to my new Grace Design m101 preamplifier and started talking. After all, that's what I do for a living.
[The following samples are 320kbps mono MP3s, created from 44.1/24-bit WAVs.]
Distance: 2 inches
Distance: 5 inches
Distance: 7 inches
Distance: 10 inches
[Following is a longer sample, a poem called Thinking of Holland by Hendrik Marsman, translation by Paul Vincent.]
Thinking of Holland
Like a laser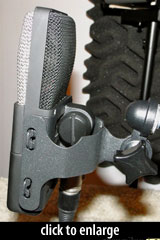 Because of its tight pickup pattern, this is not a microphone for those who like to wobble and wiggle. If close miking is your thing, this CAD is king. Once you have found the sweet spot and you stay there, the mic will hear you loud and clear. It zooms in on your voice like a laser beam, with the accuracy and clarity of a shotgun. Although sonically different, this makes the E100S an alternative to the popular Sennheiser MKH-416, which costs more than twice as much.
Soundproofing a studio can set you back thousands of dollars. If that's out of your range, the next best thing is to find a mic that's not so sensitive to ambient noise. That's another reason why this CAD makes an excellent voice-over investment. Off-axis sound spills are kept to a minimum, and yet this mic never sounds one-dimensional. Like a fine Bordeaux, it has a nice open and full body to it.
By engaging the high-pass filter, you can also minimize low frequency rumble from boilers, pumps, planes, trains and trucks. In other words, under less than ideal recording situations, the E100S can save the day.
Sometimes, outside noise is not the problem. Every microphone produces electrical noise, known as equivalent or intrinsic noise. It can be utterly annoying. As a narrator, I don't want my softer reads to drown in microphone hiss. Of course noise reduction software can come to the rescue, but with this CAD you're not going to need it. This is hands-down the quietest mic I have ever laid ears on.
Most supercardioids suffer from a more pronounced proximity effect, and with a wide open grille, this mic is no exception. But with a pop filter in place, this was easily remedied.
Conclusion
Like most reviewers, I do my very best to find fault with the products I'm evaluating. In that respect, this CAD gave me a hard time. There is one thing I struggle to understand, though.
In my opinion, the E100S has all the characteristics to become a voice-over's secret weapon. Why then, is this microphone a virtual unknown in my line of work? Why do colleagues drool over Sennheisers and Neumanns, calling them "the industry standard," while ignoring the silent quality of CAD craftsmanship from Ohio?
After reading every review ever written and testing it for months, it finally dawned upon me. The CAD E100S has one thing that's both a strength and a weakness: this microphone is an everyman's friend.
It can handle sounds as loud as the engine of an airplane and as soft as a woman's whisper. It loves strings just as much as percussion. Whether it's used to record the subtleties of Baroque music or the unrelenting power of Punk Rock, this uncompromising CAD can capture it all.
In terms of marketing, the more universal the product, the harder it is to come up with a unique selling proposition. Not everyone looking for a voice-over mic will find the label "all-purpose microphone" very appealing. Secondly, because this E100S is relatively affordable, it's easy to equate low price with low quality. Perhaps my colleagues would take this mic more seriously if CAD would double the price.
Before that happens, I recommend you seriously consider this amazing American microphone.
After testing many makes and models, one of Holland's most respected and experienced voice artists summarized it perfectly:
"The E100S is incredibly versatile. If I could only keep one mic in my locker, this one would be at the top of my list. I would gladly part with microphones costing more than eight thousand Euros in order to keep the CAD."
matthew mcglynn

Huge thanks to Paul and the Dutch VO community for creating this wonderful review!

The CAD E100S in question was provided for evaluation purposes, and although we'd normally send it back, I'm keeping it. CAD folks: send me an invoice!

Voice actors might be interested in hearing character voice superstar Corey Burton record 4 classic character voices through 26 ribbon microphones in our VO Ribbon Mic Shootout.
Posted in Microphones, Reviews, voiceover | 36 Comments »
---
---
---