---
Tuesday, January 31st, 2012 | by David Beneke
After 35 years of working in media professionally, I've heard and auditioned many microphones. From cheap to uber-expensive, American, German, Japanese, Chinese, you name it. It has been an interest of mine for many, many, years.
In 1980, I was Production Director and reluctantly, on-air announcer for KATI/KAWY radio. We were given an opportunity to upgrade our microphones, from the Electro-Voice 661 and

Electro-Voice RE16 — which were nicknamed "the nail pounders" because in some old ads for the mics, a guy actually pounds a nail with one, and it kept on going. They were great for field use and disc jockey abuse, but really weren't up to snuff quality-wise, especially for FM radio.
The word went out, and within a week we had audition offers from almost every known company making broadcast mics at the time. We also tried any professional mic that anyone personally had and would lend to us, including some nice old RCA ribbons. I also had, in my personal mic locker, a used Neumann U87, and a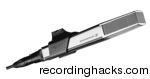 Sennheiser MD 441U, which I bought as a combo from another announcer whose studio had fallen on hard times. I paid $125.00 for the combo.
We needed seven mics total: two for each production room, one for each control room and one for the newsroom. Pricewise, the Neumann mics were out of the question; I think they were going for $1000 each at the time. We had a maximum budget of $300.00 for each mic. That helped narrow down the choices.
We had been loaned two microphones from Shure: the

Shure SM5B and SM7. The SM5B went into AM production, while the SM7 went into FM production. Right away, I fell in love with the sound of the SM5.
The SM7 at the time was a newer design, and had some pad and EQ switches, but its sound was a bit overly bright, especially with female voices. The SM5B had something that made everyone sound great: smooth, rich, unaffected by the over-processing you get coming out of a broadcast signal. I liked the SM5B even over my Neumann and Sennheiser. It was perfect.
The SM5B was a huge mic, a blimp mic, with two large, two-tone gray windscreens. I think it was originally designed to be a boom mic for motion picture sets and field recording. In fact, I later saw a few of these on "boom poles" on motion picture sets. You could not hit the capsule with a plosive even if you tried. When the windscreen was removed, there was another windscreen covering what was really a pretty unimpressive-looking capsule, looking like the raw capsule of an SM57/58, suspended by what almost looked like small surgical tubing (that I later learned was silicone). It also had a humbucking coil, which prevented all the mechanical equipment and speakers in the studio from causing the mic to hum. It was quiet. I think that's why broadcasters picked up these mics. It also was a hotter mic than dynamics are normally, even with the hero-sandwich windscreen. Proximity was never a problem as well, as long as you were in front of the mic; it sounded great, even at 12 inches. Its pickup was more like a shotgun mic.
The only drawback to the mic was the windscreens. If you had a smoker, a liquid lunch indulger or spitter that used the mic before you, well it could be pretty nauseating. The windscreen was not something that an announcer could swap to have his or her own, so as not to spread mono or the flu. Spraying the foam with Lysol was a big no-no.
Surprisingly, the windscreens did not seem to mute the sound of the mic at all. The same was true of the SM7, though it had a smaller foam filter.
Windscreen problems were the reason we didn't buy the Shure mics. The announcers had a tendency to pick at the foam, and poke it with pens and pencils, making me and Shure very unhappy. After many choices were given, and votes were cast, we went with

Sennheiser 421s. They looked and sounded nice, were bullet-proof, and each announcer could use his/her own windscreen. The mics also had an EQ switch in the back, which could give each announcer a more-personalized sound.
Since then, I have used a great number of voice microphones, both dynamics and condensers. But I can't get the old SM5 sound out of my head. A boom operator on a movie set let me listen to one some years back; it still had "that" sound. So I have my eye out for one, but you never know what you are going to get off of Ebay, even at an $800.00 plus price tag.
Postscript
I just auditioned the new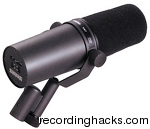 Shure SM7B, an updated version of the old SM7, at the NPR Studios in Culver City, CA. I had a "Beringer Wine" voiceover script on my smartphone [Ed. note: David used this in his Yeti Pro review.] With the SM7b's "presence" switch engaged, the mic had that meaty, mid "oomph" of the SM5b! Eureka!
I knew the SM7 was popular in broadcast applications, but didn't know it was so popular in recording studios as well (e.g., Bruce Swedien used an SM7 for most of Michael Jackson's vocals on "Thriller"). It's just a great-sounding mic, another Shure classic. Listening to both the SM5 and SM7b gives me the feeling of listening to a microphone with the smoothness of a ribbon, the clarity of a condenser and the punch of a very good dynamic. I'm very happy to have once again found that sound. I hope to be adding an SM7b to my mic locker soon.
Posted in Broadcast, Microphones, voiceover | 25 Comments »
---
---
---