---
Friday, April 16th, 2010 | by matthew mcglynn
Voice actor and artist Mark Keller helped us out with another voiceover test recently. He and engineer Mathew Trogner were checking out the MXL Revelation and sE Gemini II tube mics, and put them both into a shootout that would make just about any contemporary microphone cringe: the third mic in the lineup was Keller's personal Telefunken U 47 (made in July, 1953)!
Mathew sent an HD video of Mark recording a VO demo on each mic. Just below that you'll find the original WAV audio files.
The Contenders
Here's a recap of the mics in the lineup:
The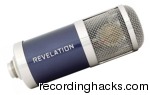 MXL Revelation is a new mic for 2010. Built around a K67-style capsule, a Russian EF86 tube, and a transformer, it's an all-purpose multipattern workhorse mic that I think is a great fit for voice and drum overheads. Find audio samples in our MXL Revelation review.
The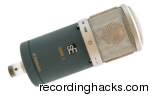 SE Electronics Gemini II is an unusual dual-tube condenser with a fixed Cardioid pattern. It has no transformer, but no lack of warmth, owing to the use of a second tube in the output stage. This is a second generation Gemini mic, with remarkably low self-noise (12dBA). It's not what I'd call a "colorless" or transparent mic, but for sources where it works, it really works.
The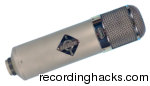 Neumann U 47 is the grandfather of modern tube mics, and the standard by which all are judged — at least, all that aspire to greatness.
U 47 components varied, but all versions were transformer-coupled tube mics, and were quickly famous for their magical sound. The U47 didn't attempt to reproduce a source, so much as improve it.
Signal Path
The mic pre was a Millennia Media HV-3R. The converter was a Digi 192. The tracks presented below were treated with 1-3dB of compression via Waves Renaissance.
Audio Samples
The soundtrack in the above video has been through 3-4 generations of lossy compression, so we have the original 16-bit, 44.1kHz WAVs here:
I think Mark makes all these mics sound incredible.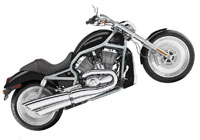 Beyond that, I'm going to withhold our observations about the mics… I'd rather see what you hear. Noise floor? EQ curve? Sibilance? Intimacy? How emotionally compelling is the midrange? Which one most makes you want to buy a V-Rod? Tell us in the comments!
Credits
Special thanks to audio engineer Mathew Trogner, Mark Keller, and the gang at Loudville Studios for making this happen!
Thanks also to MXL and Fingerprint Audio for the Revelation and Gemini II! We'll send them back Real Soon Now. 🙂
More VO stuff
VO peoples might also be interested in Aaron Lyon's recent VO mic shootout, featuring microphones from MXL, Rode, sE, Shure, and Neumann. See also my review of the Portable Vocal Booth and an earlier DIY foam isolation booth experiment.
Now, slip on your headphones and listen closely to those WAVs!
Tags: Loudville, Mark Keller, Mathew Trogner
Posted in Microphones, Reviews, Shootouts, Studios, Video | 11 Comments »
---
---
---