---
Wednesday, March 31st, 2010 | by Aaron Lyon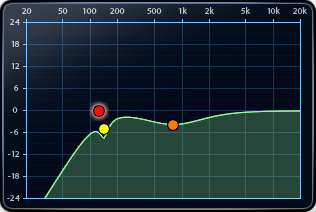 As part of my multimedia design business, I record voiceover for podcasts, videos, and animations. I was curious how a selection of condenser microphones would compare to the Rode NT2 I've been using for the past few years. I typically have to use EQ to remove a little mud and let the highs shine through. I wanted to see if a different mic would sound good with no EQ.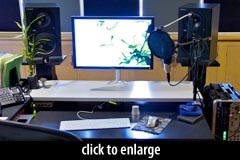 My studio is in a large room of my house, with cork flooring, 8.5-foot ceiling, and four-inch, mineral wool absorbers strategically placed on walls, which largely hide the sound of the room from my voice recordings.
I plugged each microphone into a Focusrite Platinum VoiceMaster Pro, with all of its effects bypassed, so it was acting only as a preamp. Audio then went into a MOTU 828 mk3 interface, and was recorded at 44.1KHz and 16-bits using MOTU Digital Performer. I read a paragraph from Hunter S. Thompson's Fear and Loathing in Elko, plus a short tongue twister to test sibilance. A small amount of gain matching (except in the case of the SM58, which required a lot) was applied to even out the volume of all seven samples.
I found it difficult to identify differences in the playback on my Mackie HR 824 monitors. But with AKG K240S headphones, the differences were easy to discern. [The MP3 samples to follow were created by Bias Inc.'s Peak, at 320 kbps, using Peak's highest-quality conversion algorithm. See the end of the review for 16-bit, 44.1kHz WAV files. –Ed.]
Rode NT2
[audio:http://recordinghacks.com/wp-content/uploads/2010/03/rode_nt2.mp3]
[For comparison purposes, here is a sample from Aaron's go-to VO mic, the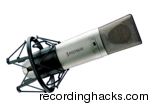 RØDE NT2. The original NT2 was designed by Jim Williams with handpicked high-grade components, married to a K67-style large-diaphragm capsule that was likely of Chinese origin. –Ed.]
Electro-Voice Cardinal
[audio:http://recordinghacks.com/wp-content/uploads/2010/03/electrovoice_cardinal.mp3]
As I was hooking up the microphones, I noticed the wide variety of body styles and attention to detail. The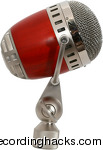 Electro-Voice Cardinal has a very attractive, stained hardwood body and feels great to the fingers — a design contribution from Blue Microphones. The mounting hardware, however, is trash. The two nuts that secure the armature come loose every time you swivel the body, and the larger joint that connects to your stand has a fiber washer that slips out of place, requiring a lot of fuss every time you want to make an adjustment.
This mic was the most mid-rangy of the bunch (excepting the SM58), and didn't flatter my voice. Perhaps it would be better suited to other applications. But it's the cheapest condenser of the bunch, and it makes a great desk ornament.
sE Electronics 4400a
[audio:http://recordinghacks.com/wp-content/uploads/2010/03/se_4400a.mp3]
The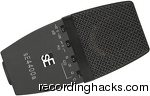 SE Electronics 4400a strikes me as highly competent and versatile, with its four polar patterns and three-way rolloff and pad switches. It's idiosyncratic body design owes a debt to the rectangular AKG 414 family. The body is rubberized, and the basket is loosely woven, making it easy to see the diaphragm.
While I liked the looks of the 4400a, I didn't feel it significantly improved the sound of my voice. I would certainly consider it for other jobs.
Rode NT3
[audio:http://recordinghacks.com/wp-content/uploads/2010/03/rode_nt3.mp3]
The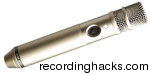 RØDE NT3 is too bright for my voice. I could have predicted this based on the smaller, three-quarter-inch diameter diaphragm. It's nice on acoustic guitar, though. And it's the only condenser in this test that can be powered by an internal 9v battery — great for mobile recording. [Find more battery-powered condensers in the mic database! –Ed.]
Shure SM58
[audio:http://recordinghacks.com/wp-content/uploads/2010/03/shure_sm58.mp3]
I slipped in a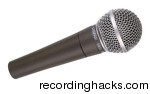 Shure SM58 dynamic microphone, just out of curiosity. It sounds mid-heavy and a little boxy. Surprise. But it's really not bad, for an inexpensive dynamic microphone. And it's the mic for putting an unruly bar patron back in his place.
MXL V89
[audio:http://recordinghacks.com/wp-content/uploads/2010/03/mxl_v89.mp3]
The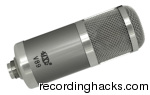 MXL V89 is huge for a non-tube condenser, with most of it's weight in the lower cap, as if it needs ballast to keep it from floating away like a hot air balloon. It certainly imposes itself on your studio, and might strain lesser mic stands. Attaching the shock mount to the microphone was troublesome — the machining feels grainy, and it was tough to get the threads to mesh. Also, the XLR connector required a lot of force to seat and unseat. But the good news is, the sound of the V89 is very good, with a hyped high end that puts a nice gloss on my voice. My second choice.
Neumann TLM 102
[audio:http://recordinghacks.com/wp-content/uploads/2010/03/neumann_tlm102.mp3]
The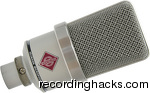 Neumann TLM 102 is really natural sounding. Really, really natural sounding. This is the only mic that does not have sharp, unpleasant content in the 4–6KHz range, and sounds very nicely balanced.
The TLM 102 features an impressively tiny body and excellent fit and finish. And it comes in black. What else do you need to know? The TLM 102 is my pick in this shootout.
[Here are Aaron's original 16-bit, 44.1kHz WAVs: Electro-Voice Cardinal, MXL V89, Neumann TLM 102, Rode NT2, Rode NT3, sE 4400a, Shure SM58
Listening through headphones, I can hear the brightness of the NT3. That mic is prone to popping, as well.
I expected to hear more noise from the Cardinal (24dBA) — it sounds better in that respect than I would have guessed. But this sample sounds thin and lacking in body. So does the SM58.
The sibilance test at the end of each sample is revealing. The two mics with K67 capsules — the NT2 and V89 — have an over-the-top high-frequency response that makes the esses jump out and poke me. The 4400a and TLM 102 seem to be more controlled in their HF response.
A couple of these mics sound good to me, but the TLM 102 is the only one that made me say "Wow!" during playback.
What do you hear? The comments are open! –Ed.]
Posted in Microphones, Reviews, Shootouts | 19 Comments »
---
---
---