---
Thursday, June 2nd, 2011 | by matthew mcglynn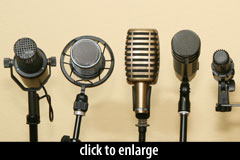 Two weeks ago I published my claim that podcasting is just another form of broadcasting, and therefore anyone looking for a great podcasting mic should consider first the greatest radio microphones of all time.
Then I used all those great radio microphones to record a short narration, and published the unlabeled sound clips. My idea was that you, the readers, would choose which mic is best for me.
We're ready to share the results. But there's more, much much more…
Related: RecordingHacks Editors' Choice: Podcasting Gear
Dynamic Podcast Microphones
The most popular microphones used in broadcast today, the grandaddy dynamics without which any such shootout would be fatally flawed, are the Electro-Voice RE-20, the Sennheiser MD-421, and the Shure SM7B.
The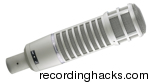 Electro-Voice RE20 is perhaps the best-known broadcast microphone, but it is equally commonly used inside kick drums and on bass cabinets. It is praised for its unhyped sound, controlled proximity effect, and its uncolored off-axis response.
The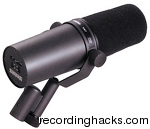 Shure SM7B is a surprisingly versatile microphone. From broadcast to voiceover to sung vocals, kick drum to snare to guitar cab, you really can't go wrong with this mic. It's usable everywhere, and great in most of those places.
The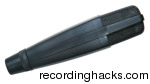 Sennheiser MD 421-II is another studio standard, showing up on drums, cabs, and brass, and of course throughout the broadcast industry.
To these three, I added four newer dynamics that promise to give the old guard a good fight for the title:
The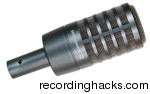 beyerdynamic M 99 is a hypercardioid mic with three EQ positions, making it potentially useful for numerous instrument and voice applications. The M99 was the only mic of the bunch to include a shockmount.
The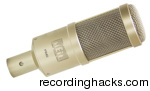 Heil PR-40 is a cardioid dynamic known for its extended frequency response and excellent rear rejection. It has won many fans in the broadcast industry, notably including Leo Laporte.
The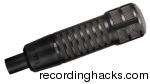 Electro-Voice RE320 is the newest mic of the bunch, having been released at this year's NAMM show. Although presented more as an instrument mic, its obvious design debt to the RE-20 made it worth consideration.
It has two passive EQ circuits that were carefully contoured through 12 months of testing and development. The mic's "kick drum" mode, which we termed "scoop" for the shape of the icon on the EQ switch, introduces a broad low-mid cut and 3dB more presence around 3kHz. These two changes dramatically affect the tone of the mic, especially on instruments (but more on that next week).
The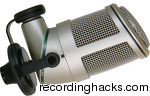 Neumann BCM 705 is a purpose-built broadcast dynamic from Neumann. (What? Neumann makes dynamic microphones?!) Like the M-99, it is a hypercardioid design.
Finally, I rounded out the test with a few mics from my own locker. These are not necessarily broadcast mics, but I included them all for a reason.
The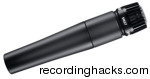 Shure SM57 needs no introduction; it's a Swiss Army mic (assuming the Swiss Army ever needed to close-mic drums, guitar cabs, cajon, or just about anything else).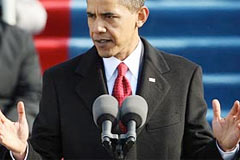 To those who say the SM57 isn't a vocal mic, I'd point you at any Presidential inauguration from the past 40 years. That's not a pair of U47s you're looking at!
Also, consider the cost. The SM57 can be had for about $75, making it the least expensive mic in this test. If the SM57 makes a great podcasting mic, every podcaster on a budget would want to know.
The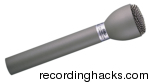 Electro-Voice 635A has a history in broadcasting, although more in the field than the studio. It's an omni mic, which means it is more forgiving of sounds (mouths) that move off-axis. Also it means the mic has less bass boost (proximity effect) for close sources, which works to the recordist's advantage for extreme close-miking applications. These mics are also inexpensive, about $99.
The last mic in the list is a cult mic, the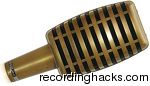 beyerdynamic M380. I did not expect this mic to perform well due to its generally dark sound. But it provided some entertaining sonic contrast to the other mics in the lineup.
Why only dynamics?
Dynamic microphones tend to be less sensitive than condensers, so they "hear" mostly what's in front of the mic rather than whatever is going on in the next room. For recordings made in non-optimal spaces — like, say, 99% of podcasts — this is a huge benefit.
Further, all the great radio microphones are dynamics.
Does this mean condensers can't be used for podcasts? Of course not. Any mic can be used for anything. Just be careful to avoid anything with a crispy, sibilant, hyped high-frequency response. Had I included condenser mics, my first picks for the lineup would have been the CharterOak S700, the Kel HM-2D, and the Audio-Technica AT4047. But I digress.
Signal Path
Dynamic microphones tend to have low output. Advertised sensitivities for the microphones in this test range from 1.1 to 5 mV/Pa (as compared to condensers, which typically range from 10–20 mV/Pa). Because a single speaking voice is relatively quiet, clean preamp gain is required to get the most out of any of these mics.
As noted in the survey, I used a Cloudlifter CL-1 to boost the output of all these mics by about 20dB, allowing me to use moderate gain on my BLA Digi-002 preamp. (See updated section on inexpensive USB preamps that work well with these dynamic mics.)
Note: to listen to these blind, go back to the survey.
Audio Samples
There are three audio tracks for most mics. The first is the narration from the survey (recorded at ~3 inches). The second is a sibilance and plosive test (recorded at ~3 inches). The third is a test of proximity effect. All these were RMS gain-matched across mics in PT.
(Download 24-bit WAVs here: [narration, sibilance, proximity])
Why do some mics appear twice? I started with every mic in its flattest EQ position. This worked well for the RE20 and MD421, but not for the M99, which was intolerably bassy at my ~3-inch working distance. The mics that seemed to benefit from alternative EQ settings were tested a second time in the alternate configuration.
#01 – beyerdynamic M 99 (flat EQ)
01.mp3

(M 99/flat sibilance audio not available)

#02 – Electro-Voice 635a
02.mp3
ev635.mp3
ev635.mp3
#03 – beyerdynamic M380
03.mp3
m380.mp3
m380.mp3
#04 – Heil Sound PR-40
04.mp3
pr40.mp3
pr40.mp3
#05 – Electro-Voice RE320 (flat EQ)
05.mp3
re320.mp3
re320.mp3
#06 – Neumann BCM 705
06.mp3
bcm705.mp3
bcm705.mp3
#07 – Electro-Voice RE20 (flat EQ)
07.mp3
re20.mp3
re20.mp3
#08 – Shure SM7B (flat EQ)
08.mp3
sm7b.mp3
sm7b.mp3
#09 – Electro-Voice RE320 (scoop EQ)
09.mp3

(RE320/scoop sibilance audio not available)

#10 – beyerdynamic M 99 (presence EQ)
10.mp3
m99pe.mp3
m99pe.mp3
#11 – Sennheiser MD 421-II ("M" mode)
11.mp3
md421.mp3
md421.mp3
#12 – Shure SM57
12.mp3
sm57.mp3
sm57.mp3
The third audio sample for each mic is revealing. Not only does this demonstrate each mic's degree of proximity effect, it also helps identify each mic's "sweet spot." Compare the two M99 samples (#1 and #10). With flat EQ, the M99 is far too bassy at 2 inches. In PE mode, the mic sounds great at 2 inches. That is in fact what the PE switch is for — counteracting proximity effect for close-miked sources.
Comparing Frequency Responses
Pictured at right is an overlay of the frequency graphs for the brightest and darkest mics in this test — the PR-40 and M380. Check out the 13dB difference from 5kHz–12kHz!
The Mic Database allows you to compare any two mics this way; just click the frequency graph on any mic profile page to get started.
Rear/Side Rejection
A mic's "rear rejection" is its ability to attenuate sounds coming from behind the microphone. On stage, this is critical for preventing feedback from the wedge monitors at the singer's feet. In a studio, rear rejection can reduce ugly bleed from other instruments in the room. In a bedroom podcast studio, microphones with good off-axis rejection can cut out room reflections (from walls, windows, flatscreen displays) that would otherwise muddy the sound of the recording.
Cardioid microphones are least sensitive at 180° — meaning, behind the microphone. Hypercardioid microphones have two so-called null points, at ±~135°. But the degree of attentuation varies by microphone model. Furthermore, few directional microphones are uniformly directional across the frequency spectrum; for example, many Cardioid mics become nearly omnidirectional at low frequencies.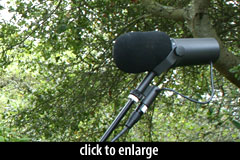 I tested all these mics' ability to attenuate off-axis sounds. I used a sample of pink noise, and I recorded the mics at 0°, 90°, 135°, and 180°. The test was conducted outdoors to eliminate standing waves and other room reflections. Gain was matched at 0° to within 0.3dB across mics; the numbers in the table below represent the difference in signal level (in dB) between 0° and whatever angle is being reported.
| | | | | |
| --- | --- | --- | --- | --- |
| Mic | Pattern | 90° | 135° | 180° |
| beyerdynamic M-99 | Hypercardioid | -13.5 dB | -11.5 dB | -7.7 dB |
| Electro-Voice RE-20 | Cardioid | -6.1 dB | | -13.5 dB |
| Electro-Voice RE-320 | Cardioid | -6.6 dB | -16.2 dB | -15.8 dB |
| Heil PR-40 | Cardioid | -9.8 dB | -14.2 dB | -12.2 dB |
| Neumann BCM-705 | Hypercardioid | -9.7 dB | -13.7 dB | -7.5 dB |
| Sennheiser MD-421 II | Cardioid | -7 dB | -11.9 dB | -13.3 dB |
| Shure SM57 | Cardioid | -7.1 dB | | -16.2 dB |
| Shure SM7B | Cardioid | -6.5 dB | | -19.1 dB |
How is this information useful?
If you need maximum rear or side rejection, this table identifies the mics that are least sensitive to off-axis sound (the M-99 at 90°, and the SM7B at 180°).
For all the mics tested, this table identifies their null points. This tells you where each mic is least sensitive, so you know how to position it to minimize bleed from noise sources in your room.
The 180° test reveals the hypercardioid mics clearly; they are more sensitive behind the mic (180°) than are Cardioid models. They also tend to have better attenuation at 90° due to a narrower pickup pattern.
The SM7B is the rear-rejection champion here, with 19.1dB of attenuation at 180°. But then this mic is remarkable for other reasons, too, such as its Cardioid pattern control — which essentially means that off-axis sources do not sound as if they've been weirdly EQ'd.
The M99's rear lobe of sensitivity is larger than the "hypercardioid" designation suggests; it's more like a baby figure-8. Its true null points are closer to ±105° than 135°; tested there, its rejection would have likely been significantly larger than at 135°.
The PR40 behaves more like a Supercardioid than a Cardioid mic; its rejection at 135° is 2dB greater than at 180°. (This effect was even more pronounced with a 1kHz tone; the PR40 turned in an impressive 18.9dB of attenuation at 135°.) It has better-than-average side rejection, but at 180° it is more sensitive than every other Cardioid mic. Curiously, the mic used to be described by Heil as a Supercardioid design, and that seems to be a more accurate description of its polar pattern.
Listener Comments
The survey gathered some great comments from people who took the time to listen to all the samples and vote without preconceived notions of what should sound good.
Frank Adrian

It was a close call between the [RE320] and [RE20] but, in the end I chose [RE320] because it seemed just a bit smoother.
Steve Faul

The [M99-PE] gets my highest vote for its nice color on your voice. It's a clean sound, but with a musical quality. Kinda NPR. The [RE20] and [SM57] get winning votes for their nice midrange clarity and full sound. The [PR40] ranked high with me as well; a condenser-like clarity.
Danny

I preferred the [RE20] as well, it seemed most neutral and really can't take overly bright or dark voices on podcasts, it might work for some songs, but for podcasts, i like it when it sounds like you are in the room.
Jay Walsh

So, let me put it this way, for a big radio sound I'd vote for the [RE320-Scoop] ([the M99-PE] was just a tad too boomy).

For good narration or documentary readings I'd go with either the [RE320] or [RE20] (maybe leaning just a tad towards the [RE320]).

But who'd I vote for here? The [PR40] – great bottom end punch and a lot of presence to cut through. Yeah, it may sound a tad shrill in headphones, but I'm guessing it would sound pretty good in my car driving to work… where I listen to 75% of my podcasts.
I'd also like to point out that my pal Ryan Canestro from the Home Recording Show picked out the SM7B in the blind test. Ryan loves the SM7B, even when other people speak through it!
Listener Survey Results
137 voters ranked these mics as follows:
Electro-Voice RE-20
beyerdynamic M 99 (PE)
Heil PR-40
Electro-Voice RE-320 (flat EQ)
Shure SM7B (flat EQ)
Shure SM57
beyerdynamic M 99 (flat EQ)
Sennheiser MD-421
Electro-Voice RE-320 (scoop)
It was a close race — the top two mics were separated by only 3 votes. They were tied for some time, until the RE-20 pulled out in front in the last day.
The M380 and BCM-705 received too few votes to rank here.
Crowning The Winners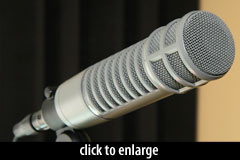 The listeners have spoken! Over 200 votes were cast. Electro-Voice RE-20, I crown ye the Ultimate Podcasting Microphone!
The RE-20 defines the standard for voice broadcast. It is neutral, clean, and authoritative. It is forgiving of sources that move off-axis. It is all but immune to sibilance and plosives. And you'll never overload it, not even with a kick drum.
The #2 mic in the poll is the one I voted for, the beyerdynamic M 99 (PE). It is a newer mic than the RE-20, and it incorporates a modern Neodymium magnet, delivering higher output and a brighter sound. Its three-way passive EQ network provides three distinct sonic profiles, allowing the mic to be more easily adapted to different sources or working distances.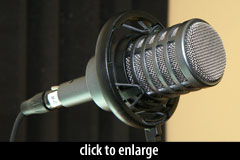 The M 99 (PE) was the most flattering mic on my voice. Its high end is detailed without sounding harsh, edgy, or sibilant. The mids are clean. The lows are full without being too heavy, at least until I got too close.
In short, the M99 (PE) makes me sound how I'd like to sound. beyerdynamic M 99, I crown ye the Editor's Choice Podcasting Microphone!
I found these two mics to provide two distinct voices. The RE-20 is controlled and neutral and, thanks to Electro-Voice's "Variable-D" porting design, does not overload the low end as sources get closer. One could move around within a range of 3–8 inches with little audible change in the track.
The M 99 produces considerably more proximity effect, but provides controls for preventing it. Its sound, especially in the "PE" or "presence" EQ mode, is more intimate, or perhaps less veiled, than the RE 20 — which admittedly is not to everyone's taste.
Putting my money where my mouth is
The point of the survey is that I would buy whichever mic wins. Now that I've gone and named two microphones as winners, I get to buy one of each. 🙂
What about the preamp?

(Updated section, added July 2012)
All the dynamic mics in this test are relatively low in output, which means you'll need a decent amount of preamp gain (50+dB) to get an adequate signal level out of a speaking voice.
Fortunately, we are now in a position to recommend specific preamp/interface hardware that will give you enough clean gain to make any of these mics sing. Take a listen to Jason Miller's Budget audio interface shootout, which names two inexpensive USB preamp devices that sounded the best of a lineup of 8 — including hardware from Presonus, Apogee, Avid, M Audio, Focusrite, Mackie, and more.
Disclaimers
Most of the mics in this review were provided specifically for evaluation. Usually I write "unfortunately I don't get to keep them," but in this case I am keeping the M 99. Unfortunately, I do have to pay for it. The rest of the mics have been returned to their respective owners. (I have a new RE 20 on order.)
Thanks
Bringing these microphones together required cooperation from way too many people to name, but I'm going to name them all anyway because they're all awesome:
Rick Belt of Bosch/Electro-Voice for the loan of the RE-20 and RE-320
Gabriel Whyel of beyerdynamic for the loan of the M 99
Adam Sullivan of Great Magnet Recording for the loan of the SM7B
Scott Daley of Sebastopol Sound and Harry Gale of Route 44 for the loan of two MD-421-IIs
the folks at Sennheiser USA for the loan of the BCM-705
the folks at Heil Sound for graciously accepting the PR-40 for return
Special thanks to the 130+ people who voted in the survey, and especially to those who posted thoughtful comments to record their blind choices for all the world to see!
How to pick a podcasting microphone
Do you need a mic just for voice, or will you put it to use on other instruments and sources?
How much ambient noise is there in your recording location?
Do you like a flatter, neutral sound for your voice, or do you prefer some presence boost?
What's your budget?
Somewhere along these four axes, there's a dynamic mic that will make your podcast sound great. The analyses and audio clips in this review should help you decide. Feel free to ask for recommendations, and to leave suggestions, in the comments area below!
See also our latest contribution to this dialog, the new (Nov 2012) RecordingHacks Editors' Choice: Podcasting Gear
Where to Buy
Shootouts like this take dozens of hours to produce. Sure, we do it for the joy, but we wouldn't turn down the occasional commission, especially if this article helped you identify your perfect podcast microphone.
The microphone profile pages on this website link to mic sale prices at 15 different online stores. For your convenience, we've bundled some of the best prices right here:
Your browser does not support iFrame.
See the little arrows on the sides to scroll through the full list.
And be sure to let us know what mic you ended up with, and how you like it!
Posted in Microphones, Reviews, Shootouts, voiceover | 46 Comments »
---
---
---