beyerdynamic M380
Bidirectional Dynamic Microphone
Resistant to feedback
High SPL
Insensitive to structure-borne noise
Hum compensation
Zinc diecast housing
The M380 is especially qualified for the pick-up of instruments which create a high sound pressure so that transmission free from distortion is difficult. For this reason and because of its frequency response reaching 15 Hz, the M380 is suited for the pick-up of bass drums. The suspended system is insensitive to structure-borne noise and has a windscreen. Its bidirectional polar pattern avoids acoustic feedback. A zinc diecast housing guarantees the mechanical stability of the M380 which is necessary for stage performance. The mic is equipped with an effective hum compensation in order to avoid interference of magnetic fields which can be caused by stage equipment.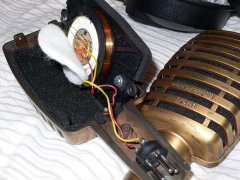 The moving-coil transducer in the M380 is essentially a speaker driver from a particular model of Beyerdynamic headphone, possibly the DT770/990. The driver was wrapped with a humbucking coil. There was no output transformer.
The M380 is suited to kick drum, double bass, tuba, trombone, sousaphone, and bass guitar cabinets.
The microphone exhibits a strong proximity effect. At 1m, the response is -10dB at 20 Hz. At 2cm, the response is +14dB at 20 Hz.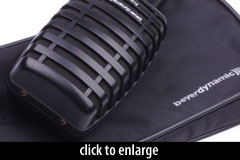 The M380 utilizes the beyerdynamic MKV8 stand adapter. The mic was available in at least two colors: bronze and black.
Steve Albini lists the M380 as one of his favorite mics for bass cab and kick drum.
The beyerdynamic M380 is also known as: M380N(C), M380NC, M380N, 380, M-380.
Specifications
Frequency Response - Bidirectional

Click Graph to Compare!
| Pickup Patterns | Pads & Filters |
| --- | --- |
| Bidirectional (5 mV/Pa; 15 - 20,000 Hz) | |
| Coil Diameter | Impedance | SPL/Noise |
| --- | --- | --- |
| n/a | 600 Ohms (Low) | Max SPL: 140 dB |
| Weight | Length | Max Diameter | Interface(s) |
| --- | --- | --- | --- |
| 370g (13.05oz) | 160mm (6.30'') | 66mm (2.60'') | |
Did we get anything wrong on this page? Please let us know!