Electro-Voice RE320
Dynamic Microphone
The RE320 is a next-generation RE20 — a large-format end-address moving-coil dynamic microphone equally suitable for broadcast vocals and instrument miking.
Like its sibling the RE27N/D, the RE320 uses Neodymium magnets within the moving-coil cartridge. These rare-earth magnets are said to increase transient response and high-frequency detail as compared to non-rare-earth magnets. Yet the RE320 has a slightly less forward high-frequency response curve — whereas the RE27N/D shows a +5dB peak from 4kHz–9kHz, the RE320 (in "voice" mode) peaks under +5dB, and across a smaller range of 5–6kHz.
Owing to its predecessor's multiple varied applications around the broadcast and recording studio, the RE320 has been tailored to better serve what might be considered two disparate use cases. Specifically, the mic has two passive filter circuits that can be individually selected via an external switch:
Voice/instrument mode - creates a nominally flat frequency response from 150–3kHz, with a presence peak just under +5dB from 5–6kHz.
Kick Drum mode - cuts the low-mids with a -4dB filter centered at 300Hz; raises the HF presence peak to +8dB at 4kHz.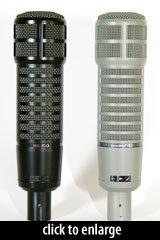 The use of Electro-Voice's Variable-D design helps control the mic's cardioid pickup pattern, which is consistent from 250Hz–4kHz with only a slight growth in rear-lobe (180°) sensitivity within that frequency range. At higher frequencies (8kHz and above), the mic's response becomes increasingly directional. See the plots in the datasheet PDF (linked from right sidebar).
The RE320 was designed and developed in the US, by E-V's staff in Burnsville, MN.
The mic includes a stand clamp (Electro-Voice p/n 81715) and a padded storage case.
Optional accessories include a foam windscreen (p/n WSPL-2) and two types of shockmount (p/n SASM-20, 309A),
Permalink: Electro-Voice RE320
The mic was released in 2011.
Specifications
Frequency Response - Cardioid (Kick Drum mode)

Click Graph to Compare!
Frequency Response - Cardioid (voice mode)

Click Graph to Compare!
Pickup Patterns
Pads & Filters
Cardioid (2.5 mV/Pa; 30 - 18,000 Hz)
Cardioid (2.5 mV/Pa; 45 - 18,000 Hz)

| Coil Diameter | Impedance | SPL/Noise |
| --- | --- | --- |
| n/a | 150 Ohms (Low) | SPL n/a |
| Weight | Length | Max Diameter | Interface(s) |
| --- | --- | --- | --- |
| 681g (24.02oz) | 217mm (8.54'') | 49mm (1.93'') | |
Did we get anything wrong on this page? Please let us know!