---
Monday, February 8th, 2010 | by matthew mcglynn

The Cloudlifter is an inline mic "pre-preamp." It was designed by ribbon microphone expert Stephen Sank to give low-output dynamic microphones — especially including passive ribbon mics — 20dB boost of clean, transparent gain.


It is essentially the "active electronics" section of Stephen's new JRS-34 ribbon microphone. The Cloudlifter pairs two of these amplifier circuits into a bulletproof steel box, providing two independent channels of portable gain.
Read on for a full review.

The device is a great match for passive ribbon microphones, for two reasons:
Passive ribbon mics typically have relatively low output, and need lots of preamp gain (or really loud sources) to produce comfortable signal levels. For example, the Royer R-121 has a sensitivity rating of 3.9 mV/Pa. The Crowley & Tripp Naked Eye, aka Shure KSM313, is rated the same as the SM-57 — about 1.9 mV/Pa. In contrast, most modern condenser mics are rated above 10mV/Pa — for example, the average sensitivity of all the MXL mics we've cataloged in the microphone database is 18.6 mV/Pa.
The Cloudlifter is phantom-powered, but won't pass 48V through to the microphone inputs. In other words, the Cloudlifter protects your ribbon mics from phantom power. (Read more about phantom power and ribbon microphones.)
I'd wager that everyone who has used a passive ribbon mic on an acoustic instrument or voice has wished for more gain. Cranking the gain on a preamp up to its highest setting is not usually a good idea on inexpensive pre's, which in my experience pack a lot of noise in the top quarter of the gain pot. The Cloudlifter seems like an ideal solution to underpowered, noisy preamps.
Physical Inspection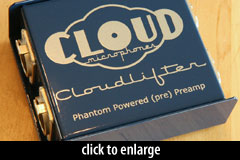 The Cloudlifter is a heavy (1 lb./450g) steel box measuring 4.5 x 3.75 x 1.75 inches (115 x 95 x 45mm).
Two Neutrik XLR-3F input jacks are riveted onto the left side of the device. Two Neutrik XLR-3M output jacks are riveted onto the right. The top input and output provide one channel of gain; the bottom pair of jacks provide a second channel.
There are no buttons or switches on the device.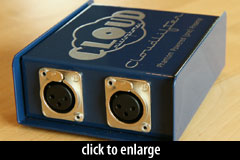 In the hand, the Cloudlifter feels very solid. It seems capable of taking abuse (or causing it, if you throw it at someone). I can imagine these things outliving their owners.
The only thing I don't like about the physical packaging is the four panhead screws protruding from the bottom of the case. Be sure to install the rubber feet that ship with the device, or the screwheads will scratch the surface of whatever the Cloudlifter sits on.
Electronics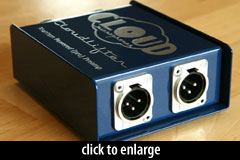 Designer Stephen Sank claims that the Cloudlifter will produce 18–20dB of gain. Cloud Microphones, having completed additional testing since this review was initially published, says that 20.5dB is the minimum amount of gain a user could expect from the Cloudlifter.
Sank says further that the Cloudlifter will isolate the microphone(s) from frequency-response changes that might result from variances in preamp input impedance.
Stephen Sank

I designed the Cloudlifter with a 3000Ω input load resistor. This will load pretty much any ribbon or dynamic mic to a low-enough impedance to make the mic's output transformer happy (i.e., give its expected frequency response), whether an old RCA or a modern Chinese microphone.
According to Sank, the 3kOhm resistive input load is ideal for most passive ribbon microphones. Mics plugged into the Cloudlifter will see this 3kOhm load, regardless of the downstream preamp's input impedance. A side-effect of this design is that if your preamp offers variable input impedance — the point of which is to color (or, arguably, to uncolor) the sound of the microphone — then the Cloudlifter will essentially disable this feature.
A second notable feature of the Cloudlifter circuit is the lack of capacitors and resistors in the signal path.
Stephen Sank

The Cloudlifter is entirely direct coupled.
Undersized, low-grade capacitors can be a source of unwanted sonic coloration (which is why the first step of nearly every Chinese mic mod is to upgrade the coupling capacitor). The Cloudlifter bypasses this risk entirely.
In Use
Plug a mic cable into one side, and run a second cable from the Cloudlifter's output into your preamp. Enable phantom power for that channel of the preamp. No further configuration is necessary. Just plug and play.
I see four useful applications for the Cloudlifter:
First, and obviously, to raise the signal level of a quiet acoustic instrument above the noise floor of the signal chain.
Secondly, the Cloudlifter can be used to reduce the amount of preamp gain needed to achieve any desired signal level, even for loud sources; this is an effective way to hear less of a preamp that doesn't sound good for a particular application.
Third, for providing a passive ribbon mic with an appropriate impedance load regardless of the input impedance of downstream preamps.
Fourth, as mentioned, the Cloudlifter prevents potential ribbon damage due to phantom power.
There is one thing to be cautious of when using the Cloudlifter. I tended to keep it near my DAW, with a short output cable and a long input cable. That configuration is problematic. It will work fine in many cases, but during one test I heard a hum through the Cloudlifter. It wasn't a bad cable, bad preamp channel, or bad mic. I swapped everything, and moved all the power cables around. The final resolution? I set the Cloudlifter at the base of the mic stand, with a short (2m) high-quality (Mogami) XLR cable to the ribbon microphone. Minimizing the cable run for the unamplified signal made the noise go away. This recommendation will be made clear in the product's User Guide, according to Cloud Microphones.
Test 1: What does the Cloudlifter sound like?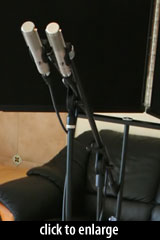 I put up two TnC ACM-3 ribbon mics side-by-side, above and in front of the soundboard of a hammer dulcimer. I plugged both into a Presonus Digimax FS preamp. One of the two mics had the Cloudlifter inline, so I adjusted the gain pot for that mic on the DigiMax until Pro Tools registered equal gain from both mics.
I recorded a short passage, then swapped the Cloudlifter to the other mic, reset gain levels, and repeated the test.
To be fair, these tests are terribly flawed. The two mics are in slightly different positions. The ribbon tensions (stock Chinese-factory installations) are probably not exactly equal. The mics have different output transformers.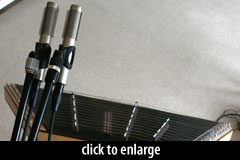 So, in the sense that I was trying to prove that the Cloudlifter creates "transparent" or "neutral" gain, this test basically fails, because by all rights each pair of samples should sound different.
But, after close listening, it's clear to me that the Cloudlifter sounds at least as good as my own preamps. Listen for noise within the tail end of each sample… there is not enough there to worry about, on any of these tracks.
Pair one:
[audio:http://recordinghacks.com/wp-content/uploads/2010/02/a1.mp3]
[audio:http://recordinghacks.com/wp-content/uploads/2010/02/a2.mp3]
Pair two:
[audio:http://recordinghacks.com/wp-content/uploads/2010/02/b1.mp3]
[audio:http://recordinghacks.com/wp-content/uploads/2010/02/b2.mp3]

Next, I set up a single mic — in this case, an ACM-2 whose ribbon and transformer had been upgraded by Stephen Sank. I recorded a short melody on the hammer dulcimer, with and without the Cloudlifter. Therefore the following two performances are different.
The gain of the recorded tracks was within 1/2 dB of equal — which of course means that one track has about 24dB less preamp gain. For the samples below, I boosted the quieter track slightly in Pro Tools so that the level of the peaks would match.
[audio:http://recordinghacks.com/wp-content/uploads/2010/02/dulc_cl.mp3]
[audio:http://recordinghacks.com/wp-content/uploads/2010/02/dulc_nocl.mp3]
(24-bit WAVs: with CL, without CL)
I don't hear any frequency-response difference that might accompany the change in input impedance, but I do hear a higher noise floor in the track without the Cloudlifter. Listen to the "silence" before the first note; the non-Cloudlifter track is 8-10dB louder!
Which is which? In each of the above three pairs of tracks, the Cloudlifter sample is first.
Test 2: How much gain does the Cloudlifter generate?
To test the device's gain, recorded a 1kHz test tone with a passive ribbon mic, with and without the Cloudlifter inline. The preamp gain pot was fixed for both takes. I then measured the level difference between the two digital audio tracks.
I found, and Stephen Sank confirmed, that the Cloudlifter's gain depends on the input impedance of the preamp. Following are the results of my own testing:
| | | |
| --- | --- | --- |
| Preamp | Input Impedance | Cloudlifter Gain |
| Digimax FS | 1600 Ohm (XLR) | 23dB |
| Digi-002 Rack | 2000 Ohm (XLR) | 23.9dB |
[2010-07-06 — Previous versions of this document showed the Digimax FS input impedance incorrectly; we had inadvertently used the line and instrument TRS input values, rather than the XLR value.]
The difference in gain is not large (< 2dB), but it suggests that 20dB is the least you could expect to see.
Test 3: Why can't I just record at low levels and then crank up the gain digitally in my DAW?
I put together an audio demonstration of why this is a bad idea, even in a 24-bit session. In short, the Cloudlifter amplifies the signal from the mic, whereas adjusting digital gain in the DAW will "amplify" the noise floor of the entire input signal chain.
For this test, I recorded ambient noise from my office, with and without the Cloudlifter. Preamp gain (again on the Digimax FS) was the same for both takes; the pot was at about 2 o'clock. I then used Pro Tools to add 23dB of makeup gain to the non-Cloudlifter take.
In this sample, you'll hear 3 seconds of ambient noise as recorded with the Cloudlifter, followed by 3 seconds of ambient noise as recorded by the Digimax FS (plus 23dB of digital gain). Check out the ugly hash of white noise in the second half of this sample; that would be part of your mix if your solution to low-output mics is to crank up the gain in your DAW:
[audio:http://recordinghacks.com/wp-content/uploads/2010/02/noise_sample.mp3]
Competitive Analysis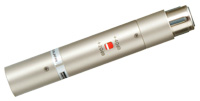 The Cloudlifter is not the first inline preamp; Rode's D-Power Plug, Triton's Fethead, and Sanken's HAD 48 are functionally similar.
The only online references I can find to the Rode unit are from people reporting secondhand that they've heard that the D-Power Plug is really noisy. I could not find a single recommendation. I couldn't find any useful discussion of the HAD 48 either.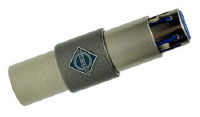 The Fethead fares better; our friend and associate Michael Joly has had good results with it.
I considered arranging a shootout between the Cloudlifter and Fethead, but quickly decided that trying to measure which inline preamp is more transparent sounding would be about as much fun as finishing my 2009 income taxes.
The following table summarizes some of the notable differences between these devices:
Rode D-Power Plug
Triton Fethead
Sanken HAD-48
Cloud Microphones Cloudlifter
Input impedance
100,000 Ohm
22,000 Ohm
10,000 Ohm
3000 Ohm
Gain
20dB
20–30dB1
20 or 40 dB
20–24dB1
Topology
n/a
direct coupled
n/a
direct coupled
Made in
Australia2
Netherlands
Japan2
USA
Warranty
10 years
2 years
1 year
Lifetime3
MSRP
$129
$99
$229
$329
Street price
Front End: $99
$99
$229
Amazon: (varies)
Musicians Friend: $249
Zzounds: $249
Per-channel street price
$99
$99
$229
$124
Notes:
Gain depends on input impedance of downstream preamp.
As far as we know.
As of April, 2011, Cloud began offering a non-transferable lifetime warranty on the Cloudlifter, with product registration.
The input impedance difference among these pre-preamps deserves additional explanation. As noted in the table, the Cloudlifter's input Z, 3000Ω is much lower than in competing products. I asked Stephen Sank about it:
[3000Ω] is a range much more friendly to the vast majority of ribbon mic transformers than [is] a 22k load. So, [the Cloudlifter will have a] more even response from at least 90% of ribbons, and 99% of classic ribbon mics.
As in all things audio, opinions vary. I received this response from Triton Audio about the Fethead's high input impedance.
Peter-Paul Wijte

The 22k input impedance was decided after extensive listening; it gives dynamic and ribbon microphones a more open character.
Conclusion
I listened to the Cloudlifter on quiet acoustic instruments and on my own voice. I tested it with three different ribbon mics and two different mid-fi preamps. In all cases, the Cloudlifter gave me a ton of gain and no problems with noise. It sounds cleaner than both my preamps.
The Cloudlifter is a winner. It solves problems some ribbon-mic owners don't even know they have. It does exactly what it claims to do, and does so well. The box is smartly designed and will last forever. I think it's a must-have for anyone who records quiet sources with ribbon mics.
Disclaimer
I have no affiliation with Cloud Microphones, and received no compensation for this review. The Cloudlifter was loaned to me for review purposes, but unfortunately I have to send it back.
Tags: Stephen Sank
Posted in Microphones, Reviews | 33 Comments »
---
---
---