Crowley and Tripp Naked Eye Roswellite
Ribbon Microphone
The Roswellite edition of the Naked Eye mic promised to deliver the same sound as the "Classic" edition, but with the added benefit of the near-indestructible Roswellite ribbon. It was introduced at Winter NAMM in January, 2008.
Both versions of the Naked Eye provided two distinct sounds. Although this is not unusual for a ribbon mic, in other cases (such as the Royer R-121) the difference in voicing from front to back comes from offsetting the ribbon slightly within the magnetic gap. This produces a slightly brighter sound from one side.
The Naked Eye used a different approach. The two voices of the mic were tuned by "selectively [matching] the acoustic impedance of the soundwave" to the ribbon.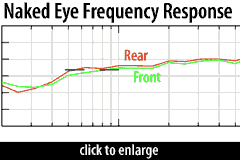 The two voices of the Naked Eye were modeled after the company's Studio Vocalist (on the rear) and Proscenium (on the front) ribbon mics. The two frequency plots track fairly closely from 80Hz–3000Hz, but vary widely above and below. For example, the -3dB points on the front are 80Hz and 7kHz for the front, vs. 55Hz and 10.5kHz for the rear.
The above comparison graph was produced from the Naked Eye, with an aluminum ribbon. The differences between front and back for the Roswellite mic are believed to be similar.
See also the polar graph.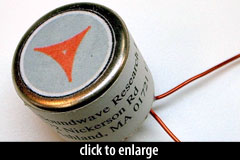 Crowley and Tripp were self-described fanatics when it came to squeezing every possible bit of performance out of their microphone designs. Their output transformers provide an instructive example. Rather than using any of the variety of ribbon-mic transformers available, the company designed and built its own, customizing a basic design to suit the voicing of each of their microphone models. It was heavily shielded to reduce noise and interference, and designed to be as efficient as possible.
The Naked Eye Roswellite shipped in a wood storage box with Crowley and Tripp's unique "monacle" stand mount and a lifetime warranty.
All Crowley and Tripp microphones were built by hand in the USA, at Soundwave Research Laboratories' Ashland, MA facility.
The product line was sold to Shure in 2009, and the Crowley and Tripp microphone line was officially retired on June 24, 2009. The Naked Eye Roswellite microphone lives on as the Shure KSM313.
The frequency-response graphs below were produced for the Shure KSM313; Naked Eye Roswellite mics would perform identically.
Permalink: Crowley and Tripp Naked-Eye-Roswellite
The mic was released in 2008.
Specifications
Frequency Response - Bidirectional (Front of ribbon)

Click Graph to Compare!
Frequency Response - Bidirectional (Back of ribbon)

Click Graph to Compare!
Pickup Patterns
Pads & Filters
Bidirectional (1.88 mV/Pa; 55 - 11,000 Hz)
Bidirectional (1.88 mV/Pa; 55 - 11,000 Hz)

Ribbon Construction
Impedance
SPL/Noise
Front of ribbon
270 Ohms (Low)
Max SPL: 146 dB
Self-noise: 14.0 dB(A)
| Weight | Length | Max Diameter | Interface(s) |
| --- | --- | --- | --- |
| 400g (14.11oz) | 135mm (5.31'') | 43mm (1.69'') | |
Did we get anything wrong on this page? Please let us know!