Neumann U47 fet
Supercardioid Condenser Microphone
The 47fet was intended to be a phantom-powered, FET version of the U47 tube microphone, designed a few years after the VF14 tube at the heart of the U47 became unavailable.
Like the U 47, the fet model used Neumann's K47 capsule, variously referred to as the K 47, K 47/49 and K 47fet. (Read more about the K47/K49 capsule.)
This is a dual-diaphragm, large diaphragm (34mm OD) capsule with a single, shared backplate and center-terminated 6-micron Mylar diaphragms. Because the U47 Fet was a fixed Cardioid microphone, Neumann used K47 capsules (designed "K47Fet") whose rear sides did not meet specifications for use in multipattern mics. Therefore, unlike a multipattern K47 mic, a dirty or abused U47Fet capsule cannot be rotated 180°.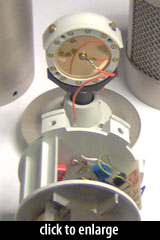 The mic had a transformer-coupled output, although the design of transformer differed from the BV8 found in the tube U 47.
Oliver Archut

Aside from the ratio of the BV8 you find in the U47, the winding technique of the fet 47's transformer differs too. The Fet47 [transformer] is more [closely] related to the BV12 you find in the U67.

There are a couple of different BV8 revisions, but all of them share the multiple-chamber winding technique, [whereas] the Fet47 [transformer] and the BV12 are just plain old mantle [transformers].
Two versions of the microphone were sold:
U47 fet i - male XLR connector
U47fet - male DIN 41524 (Tuchel) connector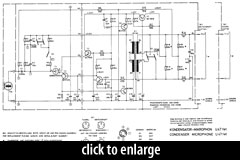 (Each of the above was also available in a "dark matt finish," specified U 47 fet i mt or U 47 fet mt.)
The capsule is shockmounted within the headbasket to reduce mechanical interference. It sits high within the headbasket, with the face of the diaphragm partially shadowed by the top ring of the headbasket grille.
The mic was manufactured from 1969 through 1986. Then in 2014, Neumann reintroduced the microphone at the AES show in Los Angeles.
The new, 2014 edition of the Fet 47 is made to the identical specifications of the original, although it uses what Juergen Breitlow (Neumann's director of Research & Development) refers to as the most recently used, "6th version" of the microphone's schematic. Circuits are hand-soldered and hand tested.
U47 FET exploded view: photo courtesy Hansén Audio, Sweden
The Neumann U47 fet is also known as: 47fet, U-47-FET, fet47, U-47fet.
The mic was released in 1969.
Specifications
Frequency Response - Supercardioid

Click Graph to Compare!
Pickup Patterns
Pads & Filters
Supercardioid (8 mV/Pa; 40 - 16,000 Hz)


Pad: -10dB (Via Switch)
Filter: HPF @ 200 Hz (Via Switch)
| Capsule Dimensions | Impedance | SPL/Noise |
| --- | --- | --- |
| Capsule diameter: 34mm | 150 Ohms (Low) | |
| Weight | Length | Max Diameter | Interface(s) |
| --- | --- | --- | --- |
| 710g (25.04oz) | 160mm (6.30'') | 63mm (2.48'') | |
Power Specifications
Requires phantom power
Phantom voltage: 48v
Did we get anything wrong on this page? Please let us know!