Crowley and Tripp El Diablo
Bidirectional Ribbon Microphone
The El Diablo was the first ribbon mic from Crowley and Tripp to use their acoustic nanofilm ribbon material, later trademarked "Roswellite." The mic was created following a challenge from Fletcher of Mercenary Audio to produce a ribbon mic tough enough to work for a kick drum: "the sound of a 421 inside the drum and a 47fet out by the hole."
The ribbon material is a thin, superelastic composite material that is capable of withstanding extreme SPL without deformation. It has industry-leading "shape memory," which essentially means it is impervious to blowouts due to wind blasts or even inadvertent application of phantom power.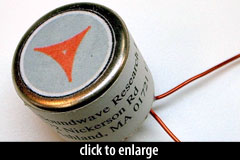 Crowley and Tripp were self-described fanatics when it came to squeezing every possible bit of performance out of their microphone designs. Their output transformers provide an instructive example. Rather than using any of the ribbon-mic transformers available from Cinemag, Lundahl, Sowter, etc.,, the company designed and built its own, customizing a basic design to suit the voicing of each of their microphone models. It was heavily shielded to reduce noise and interference, and designed to be as efficient as possible.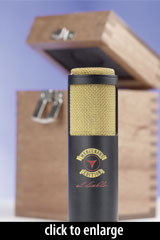 The El Diablo was available in two finishes: polished stainless steel, or black with the Mercenary logo and a yellow blast filter. Both shipped in a padded wooden storage box and include an elastic suspension mount.
All Crowley and Tripp microphones were built by hand in the USA.
Shure acquired the Crowley and Tripp line of microphones in April, 2009, and rereleased the El Diablo as the Shure KSM353.
Sound On Sound, 2008

The El Diablo was completely at home with the immense pressure waves coming from the kick. And I have to say that the tonality is spot-on — it really does have a lot of the character that Fletcher requested. There is a lovely crisp attack, coupled with a lot of low-down weight and body, all perfectly balanced in a homogenous kick-drum sound. Astonishing!
Permalink: Crowley and Tripp El-Diablo
The mic was released in 2008.
Specifications
| Pickup Patterns | Pads & Filters |
| --- | --- |
| Bidirectional (2.11 mV/Pa; 50 - 12,000 Hz) | |
| Ribbon Construction | Impedance | SPL/Noise |
| --- | --- | --- |
| | n/a | Max SPL: 146 dB |
| Weight | Length | Max Diameter | Interface(s) |
| --- | --- | --- | --- |
| 633g (22.33oz) | 157mm (6.18'') | 48mm (1.89'') | |
Did we get anything wrong on this page? Please let us know!