Soundelux ifet7
Condenser Microphone
The ifet7 is a large-diaphragm FET condenser with two separate electronic packages inside the case. Users can select the "V" mode via the case-mounted switch to access a U87-like sound, or the "I" mode to access a fet47-like sound.
The Soundelux ifet7 introduced a new line of "Interpretive" microphones, indicated by the "i" prefix. According to Transamerica, the company's distributor (in 2002), "The I Series enables Soundelux to combine multiple vintage recreation elements into one microphone, enabling a broader variety of product answers to vintage mic replacement."
In a different context, mic designer David Bock has said that Soundelux' "i" product prefix indicates FET mics, whereas the "e" prefix indicates tube mics.
TransAudio Group

The ifet7 has both a "V" (vocal) and "I" (instrument) mode which represent the two completely different sets of internal mic amplifiers used in attaining the fet47 or 87fet sound. In the "V" mode, minimal Class A electronics are employed for a more seductive vocal sound than the original 87fet… In the "I" mode, the mic employs Class AB electronics and exhibits the same behavior as the original with improved headroom.

Unlike most modern fet mics,the ifet7 is fully transformer coupled (as were the originals) and sports an improved larger core transformer for improved low frequency headroom rivaling modern transformerless specs. The benefit is that it offers the best known level of performance without the frequency response artifacts and time variant drawbacks of modern transformerless microphones. The overall ifet7 difference is that it possesses a clearer top and bottom without sounding boxy plus delivers the essential dynamic characteristics of the original vintage models.

The "V" mode has a LF contour with no rolloff and HF contour with a rolloff starting @15kHz to lessen sibilance. The V mode is the essential 87fet sound including its lower SPL capability, but offers a "warmer," less sterile character. For instruments, the ifet7 "I" instrument mode will likely be the choice. This mode provides a built in LF rolloff to reduce the bass heavy nature of close up mic work, and no HF rolloff for extended high end and improved definition. The "I" mode offers high SPL capability just like the fet47 and may be used close up on a snare drum, toms or kick drum.
ProAudioReview
Soundelux really outdid themselves when they incorporated two circuit sets to accomplish this goal. The "i" position (this is the 47) sounds to me like the cleanest, unaltered 47fet I have come across. It truly has that sound. I know you are thinking that there is no way it is true, but it is.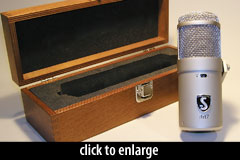 Note that the published specs for the ifet7 changed over time; e.g., in 2004 the mic's frequency response was given as 20-16k, whereas in 2006 is was gives as 15-18k. We're not sure whether this represents a correction in testing or a revision in the mic's circuitry and performance.
Permalink: Soundelux ifet7
The mic was released in 2002.
Specifications
Frequency Response - Cardioid (I mode)

Click Graph to Compare!
Frequency Response - Cardioid (V mode)

Click Graph to Compare!
Pickup Patterns
Pads & Filters
Cardioid (9 mV/Pa; 15 - 18,000 Hz)
Cardioid (12 mV/Pa; 15 - 18,000 Hz)

| Capsule Dimensions | Impedance | SPL/Noise |
| --- | --- | --- |
| Diameter n/a | 200 Ohms (Low) | Max SPL: 135 dB |
| Weight | Length | Max Diameter | Interface(s) |
| --- | --- | --- | --- |
| 725g (25.57oz) | 166mm (6.54'') | 63mm (2.48'') | |
Power Specifications
Requires phantom power
Phantom voltage: 48v
Did we get anything wrong on this page? Please let us know!