---
Thursday, April 21st, 2011 | by matthew mcglynn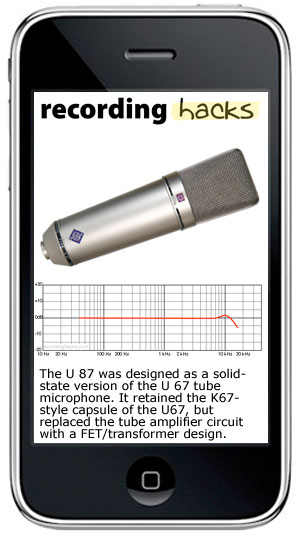 We're researching the possibility of creating an iPhone app for the Microphone Database. If you think you'd use it, please vote below so we can try to predict the audience size.
The idea of the app is to create a literal pocket reference for 950+ microphones. Each mic profile in the app would contain the same data as the RecordingHacks website — a detailed description of the mic, color photos, specifications, etc.
I needed this the other night, while setting up mics in a session. I needed to look up the values of the EQ switches for a couple microphones, but didn't have the documentation available. Sure, the Mic Database can be browsed over the web from a mobile device, but accessing specific details would be significantly faster with a native iOS application.
If you can imagine using such an app, please respond to the poll question below. If you have feature ideas, please leave a comment.
We could have this out in a month, if there's enough interest. So, if you want it, this is your chance to make it happen!
By the way, forgive me the ridiculous mockup shown above. 🙂 Clearly I will have to hire someone to handle the app's visual design.

Posted in Colophon | 21 Comments »
---
---
---