---
Wednesday, April 27th, 2011 | by matthew mcglynn
I first used the Sabra-Som SSM-1 Universal Shockmount when Michael Capella pulled one out during our BLA-mod Digi 002 DAW shootout. We needed to put two SDCs as close together as possible. The SSM1 let us do it without resorting to duct tape.
I bought one of these shockmounts after that day, figuring it would bail me out again at some point. And it definitely has.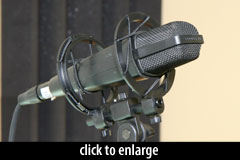 Here's a photo of the most recent episode — a borrowed MD-421 showed up without its widely-loathed proprietary clip. Once again, I avoided the curse of duct tape.

The elastic bands on the SSM-1 are superior to most of the Far East imported shockmounts I've seen. These stretch more, and they don't break. (Don't take that for granted! It's less common than you might think.)
The hoops can slide along the shaft, adjustable from 0mm (directly side-by-side) to about 90mm (3.5''), to better accommodate mics of different lengths.
Also, the entire device can be disassembled to lay flat for easier storage.
Finally, I like the fact that it has a low acoustic profile, unlike the shockmounts that are made from lengths of PVC pipe.
The SSM1 shockmount is a winner. It has neatly and effectively solved a problem for me on numerous occasions. It has more than earned its place in my mic locker.
Sabra-Som SSM1 Shockmount prices (as of 2011-04):
Disclaimer: I paid full retail for my SSM1. This is an unsolicited endorsement, because the product kicks ass. 🙂
Posted in Reviews | No Comments »
---
---
---