---
Friday, May 29th, 2009 | by matthew mcglynn
Jon at Audio Geek Zine asked a question about the microphone database that I've been wondering about for a long time myself: "Where the hell is the search function?"
The most correct, if not particularly useful answer was "buried somewhere on my to-do list." I mean, there's been a search feature in the mic database forever, but there was no way to search by name.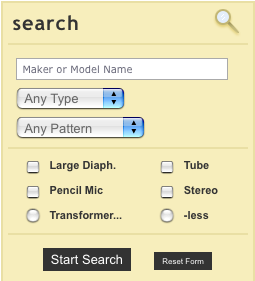 Until tonight. Beginning about 15 minutes ago, the db can be easily searched by mic name/model number or manufacturer name.
Better still, these criteria work in combination with the rest of the form. So if you want all the transformer-coupled MXL mics, you can list those. If you want Beyerdynamic's hypercardioid dynamics, you can do that too. If you want to see BLUE's multipattern large-diaphragm condensers, you can't do that, because there is a bug in the code. Hmph. Well, it's the Kiwi and the Cactus, so don't try that search. [Update: this works now.]
Also if you put in two search terms, like "Shure SM57," you probably won't like the results. Damn.
Otherwise, this is the easiest way to jump to a specific mic. Just type the name and hit your keyboard's Return key, and if we've got it in the database we'll show it to you.
This feature will get a little smarter soon.
Posted in Colophon | 1 Comment »
---
---
---