SE Electronics 4400a
Multi-Pattern Condenser Microphone
The sE4400a is a multipattern FET condenser in a compact, familiar form factor — it looks a lot like AKG's C414.
The slim body (0.75'' thick) contains a dual-diaphragm version of the company's 2200a capsule, a center-terminated, one-inch gold-plated Mylar design. The rear diaphragm provides the mic with multiple pickup patterns, switchable from the front of the mic body.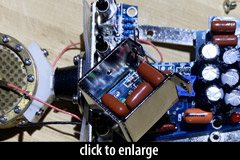 The pattern switching mechanism utilizes two controls. The left control allows selection of three patterns: omni, cardioid, figure-of-8; when set to cardioid, a second switch controls the directionality (standard or hypercardioid).
Two more switches provide a 3-way pad (flat, -10dB, -20dB) and a 3-way high-pass filter (flat, 60Hz, 120Hz).
sE has a new shockmount design for the 4400a; it had a sliding mechanism that allows the mic to be extended beyond the mount for additional positioning options.
The mic is finished in a nonreflective, rubberized black coating to reduce reflections in lighted stage or set locations.
The sE4400a ships in a steel-reinforced black aluminum flight case with the aforementioned elastic shockmount. The mic is also available in matched stereo pairs.
MusicTech

The 4400a performed admirably in every one of our tests… the fact that such a usable, practical and versatile microphone is available in this price bracket is one of the most exciting developments in the microphone market that we've seen for some time.
Electronic Musician, 2009

Unlike vintage mics designed for the tape era, the sE4400a was specifically calibrated to work well with digital gear. I liked the detail in the top end, which was present but never harsh.
SoundOnSound, 2009

[T]he frequency plot is somewhat more revealing and shows a nominally flat response, but with a gentle presence peak at around 10kHz. This type of response tends to produce a largely natural sound, but with an extra sense of clarity at the high end… Its presence peak gives it a slightly flattering, larger-than-life vibe, but in a pretty subtle way that doesn't make things sound too harsh, and the low end gains useful support from a little added warmth…

Given that the mic is based on a derivation of two back-to-back SE2200a capsules… [I] wasn't surprised to discover that they sound very similar. So if you only need a cardioid mic, the SE2200a is clearly going to save you a lot of money.
The SE Electronics 4400a is also known as: 4400.
Specifications
Frequency Response - Omnidirectional

Click Graph to Compare!
Frequency Response - Cardioid

Click Graph to Compare!
Frequency Response - Hypercardioid

Click Graph to Compare!
Frequency Response - Bidirectional

Click Graph to Compare!
Pickup Patterns
Pads & Filters
Omnidirectional (14.1 mV/Pa; 20 - 20,000 Hz)
Cardioid (14.1 mV/Pa; 20 - 20,000 Hz)
Hypercardioid (14.1 mV/Pa; 20 - 20,000 Hz)
Bidirectional (14.1 mV/Pa; 20 - 20,000 Hz)


Pad: -10dB (Via Switch)
Pad: -20dB (Via Switch)
Filter: HPF @ 60Hz (Via Switch)
Filter: HPF @ 120Hz (Via Switch)
Capsule Dimensions
Impedance
SPL/Noise
Diaphragm diameter: 25mm

50 Ohms (Low)
Max SPL: 130 dB
Self-noise: 17.0 dB(A)
| Weight | Length | Max Diameter | Interface(s) |
| --- | --- | --- | --- |
| 280g (9.88oz) | 145mm (5.71'') | 57mm (2.24'') | |
Power Specifications
Requires phantom power
Phantom voltage: 48 ± 4v
Did we get anything wrong on this page? Please let us know!