TapeOp Issue #22/March, 2001 | by Larry Crane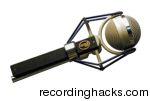 See specifications, reviews, & mods for the Blue Microphones Dragonfly
Ever since I had to return my review copy of the Audio Technica 4047, I'd been feeling that there was a hole in my mic collection. I needed a good quality condenser mic with the sort of pronounced mid-range response that my Manley tube mic didn't have.
Well, the Dragonfly is it. It's ripping on guitar amps, slightly pushy for rock vocalists, shimmering but meaty on acoustic guitar and really clear as a room mic for drums in my weird live room. It's a strange looking beast — a round pivoting head on a small, square stick body with a crazy suspension that resembles wings, hence the name. But its funky-ness fits my studio perfectly, and people always ask about it when they see it up.
The pivoting capsule design is no joke either — you can swivel it slightly for different vocal timbres and amp sounds. A really great sounding, versatile and affordable ($800) mic that would probably get a lot of use at any studio. (B.L.U.E. Microphones)
Read more about the BLUE Dragonfly condenser microphone.