TapeOp Issue #61/September, 2007 | by Steve Silverstein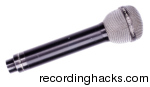 See specifications, reviews, & mods for the beyerdynamic M 88 TG
The M 88 is an easy microphone to overlook. It lacks the instantly-recognizable visual profile of its closest competitors, the Electro-Voice RE20/PL20 and the Shure SM7, and it cannot rival the RE20 in studio ubiquity (which falls only slightly short of the notorious SM57 and D 112). Tape Op reviewed the SM7 all the way back in 2003 but is just catching up with the M 88 now. At $400, the M 88's street price is comparable to these microphones'.
I appreciate my M 88 for its versatility and ease of use. Legend has it that the mic was designed to add a bit of low-mid richness to female vocalists without losing high-frequency clarity. While I cannot prove or disprove this notion, the low-mid emphasis tends to be flattering and not overpowering in a broad range of applications. The M 88 serves well on vocals (male singers, too) and bass cabinets (including the bottom speaker on a Leslie). Its transient detail, which is surprisingly precise for a moving-coil dynamic, can prove especially helpful on kick drum (and interestingly enough, the M 88 is now predominantly marketed as a kick drum mic, where it indeed excels). Its hypercardioid pattern leads to good rejection of off-axis sounds.
While I often reach initially for more glamorous mics whose character might have appeal, the M 88 is a favorite workhorse when these mics fail me (we all know that it happens). I also love having it nearby when a take is hurried and I might not have time to experiment.
There have been a few versions of the M 88 with different color schemes and letters at the end of the name — it's currently sold as the M 88 TG, part of Beyerdynamic's Tour Group series. Look out for the stylish, all-silver Classic, too. Mine is the M 88 N(C) with a black body and silver grill (a.k.a. the "Phil Collins" version). No matter the variant or color, the M 88 is a classic, reliable mic. ($489 MSRP; Beyerdynamic)
Read more about the Beyerdynamic M 88 microphone.