beyerdynamic M 88 TG
Hypercardioid Dynamic Microphone
The M88 is a classic dynamic microphone, originally introduced in 1962. It has a hypercardioid pickup pattern.
The current shipping model, the M 88 TG or "Tour Group" model, differs from the original primarily in that it has a stronger grille, making the mic more robust for live applications.
The mic's capsule uses a thin diaphragm material called Hostapahan, which is a PET (polyester) plastic not unlike Mylar.
The M88's moving-coil element is more sensitive than many dynamic mics. For example, its sensitivity is measured at 2.3-2.9 mV/Pa (depending on vintage), as compared to the Shure SM57 at 1.9 mV/Pa.
The sensitivity changed with the introduction of Neodymium magnets, which were incorporated into the M88 design around 2003.
Beyerdynamic

The main difference between M 88N(C) and the TG version was the grille: while the older one had a fine meshed silver coloured stainless steel grille, the TG had (and still has) the far more rigid (and black) wide meshed one, which also made the microphone less sensitive to pop noise. Shortly after inventing the first TG-X 180 up to TG-X 580 models… we started to convert several models from ferrite to NdFeB magnets without changing their tonal character… [the] M 88TG was converted around 2003/2004.
This element is also notable for its extended frequency response. At 10cm, the mic's proximity effect puts its LF -3dB point below 40Hz. The HF -3dB point is above 15kHz.
The M88 was replaced in the Beyerdynamic product line by the M88 TG, for "Tour Group;" the TG version was designed to be more robust. It is visually distinguished by its black grille; the original mic had a silver grille.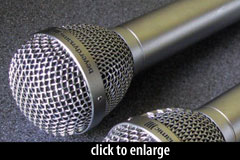 Around early 1997, Beyerdynamic introduced the "M88 Classic," which was the original M88 (aka M88 N(C)) in a new color scheme — the steel basket and brass body were chromed. These mics were engraved with serial numbers; this was a limited-edition run of 999 microphones.
Scott Dorsey

I have heard a lot of different M88s over the years… from the original N(C) to the TG. And I can't hear a damn bit of difference between them.
The beyerdynamic M 88 TG is also known as: M88 Classic, M 88 N(C), M88.
The mic was released in 1962.
Specifications
Frequency Response - Hypercardioid

Click Graph to Compare!
| Pickup Patterns | Pads & Filters |
| --- | --- |
| Hypercardioid (2.3 mV/Pa; 30 - 20,000 Hz) | |
| Coil Diameter | Impedance | SPL/Noise |
| --- | --- | --- |
| n/a | 200 Ohms (Low) | SPL n/a |
| Weight | Length | Max Diameter | Interface(s) |
| --- | --- | --- | --- |
| 320g (11.29oz) | 181mm (7.13'') | 49mm (1.93'') | |
Did we get anything wrong on this page? Please let us know!