CAD Audio Trion 8000
Multi-Pattern Tube Condenser Microphone
The Trion 8000 is a large-diaphragm tube condenser microphone with 3-way pattern switch. The circuit uses a pentode tube and an output transformer.
A switch on the body (not on the power supply, as in some tube condensers) allows selection of omni, cardioid, or figure-of-8 pickup patterns.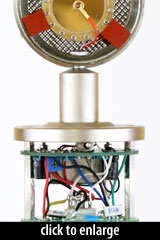 The dual-diaphragm capsule is a 35.1mm (O.D.) K67 type, with dual backplates. The diaphragm diameter is 28.6mm. Based on what we know of the factory that manufactures this capsule, we would assume that the membrane material is 6 microns thick. The capsule is suspended via three plastic/rubber U-shaped brackets that attach via screws to the backplate of the capsule. These brackets do not attach to the microphone chassis, and can therefore move around if the microphone is jostled.
There is no low cut or pad feature on this microphone.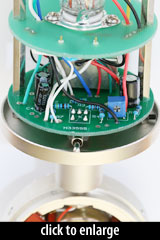 The circuit is a Class A design, with relatively high self-noise of 21dBA. The output is transformer-coupled.
Our internal lab test of the mic reveals that the circuit is essentially linear; it drops off gradually below 1kHz to -1dB @ 25Hz, but otherwise flat to 20kHz.
ProAudio Review

The impedance converter in the 8000 uses a type 6J1 tube … the only data sheet I could find for it is entirely in Chinese. It's a pentode with similar operating characteristics to the 6AU6, a more common tube used in this sort of microphone. The 6AU6 can indeed be used with a minor wiring change at the tube socket… CAD tests and selects the 6J1 used in the Trion 8000, and they are gearing up to supply tested replacements.
StudioForums

It uses a 6J1 tube. This is a pentode tube and you can switch it with the following equivalents. A 6AK5 may be called a EF95 or a 5654 tube… Mullard, GE and Philips make these equivalents.
The dual gold-sputtered diaphragms measure over an inch in diameter. The actual size of the capsule has been reported at 1.12'' (28mm) by StudioAuditions, 1.2'' (30mm) by PAR, and at 1.25'' (32mm) by Front End Audio and by mic modder Dave Thomas.
StudioAuditions
The ultimate strength of this mic is its peerless use as a lead vocal mic, capturing detail with stunning realism.
Ships in a metal case with spider shockmount and 115V/230V switchable power supply. CAD provides a 2 year warranty.
Weighs 2lbs, 13.5oz with shockmount — this is a heavy microphone.
Warren Dent

In omni position the Trion8000 on vocals is an absolute force to be reckoned with. It opens up the sound a bit more, the upper mids are more detailed sounding…really nice!
Resolution, 2007

Moving on to acoustic guitar was a little unwieldy… although not in sE Gemini territory, [the Trion 8000] is still a sizeable chunk of hardware. At about 12 inches away there was plenty of bass extension, good high-frequency detail and much more in the way of harmonic definition in the low and high mids [than with the Trion 6000].

The 8000 is a thoroughly versatile performer with plenty of character on its own; it should give the competition a good run for the money.
Electronic Musician, 2008

The Trion 8000 is a multipurpose microphone that sounds quite good on vocals and a variety of instruments. It can handle high SPLs without flinching… [it] delivers ample versatility at a good price, and its three polar patterns only enhance its flexibility and value.
The CAD Audio Trion 8000 is also known as: Trion8000, 8000.
The mic was released in 2006.
Specifications
Frequency Response - Omnidirectional

Click Graph to Compare!
Frequency Response - Cardioid

Click Graph to Compare!
Frequency Response - Bidirectional

Click Graph to Compare!
Pickup Patterns
Pads & Filters
Omnidirectional (14 mV/Pa; 20 - 20,000 Hz)
Cardioid (14 mV/Pa; 20 - 20,000 Hz)
Bidirectional (14 mV/Pa; 20 - 20,000 Hz)

Capsule Dimensions
Impedance
SPL/Noise
Diaphragm diameter: 28.6mm
Capsule diameter: 35.1mm

n/a
Max SPL: 143 dB
Self-noise: 21.0 dB(A)
| Weight | Length | Max Diameter | Interface(s) |
| --- | --- | --- | --- |
| 830g (29.28oz) | 233mm (9.17'') | 65mm (2.56'') | |
Power Specifications
Includes tube power supply
Did we get anything wrong on this page? Please let us know!