Avantone Pro BV-1
Multi-Pattern Tube Condenser Microphone
The BV-1 is a multipattern tube condenser microphone, announced at NAMM 2009. The model number contains the series identifier (B for Buttercream), a tube/fet designator (V for valve), and a numeric model.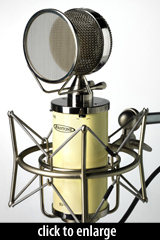 This mic represents a step toward higher-end, no-compromise microphones for Avant. The BV-1 utilizes numerous name-brand components, exotic capacitors, and so on.
The tube is a Russian 6072a. The transformer is custom-wound specifically for this circuit and capsule, and is manufactured by Cinemag. XLR connectors are from Switchcraft.
Although prototyped with a 35mm, center-terminated capsule, the retail product was subsequently modified for a 34mm (capsule diameter), side-terminated design with 3-micron diaphragm material. It is a dual-diaphragm, multipattern design. A switch on the power supply allows selection between nine polar patterns.
The BV-1 ships in a tweed suitcase (with "faux alligator" trim) with a suspension shockmount, Gotham power cable, power supply with pattern-selection switch, perforated metal (screen) pop filter, plus a velvet-lined wooden storage case for the microphone.
Like all Avant microphones, the BV-1 is individually tested in the US prior to shipping. Additionally, the tubes are pre-screened before installation.
ProAudioReview, 2010-06

[T]he biggest reason for the BV-1's popularity was its "flattering neutrality," based on a response curve that worked well with all voices. It sounds flat and uncolored on the bottom end (with workable proximity effect at four inches and deep hugeness at two inches) with just a hint of pleasant brightness on the top and a small, well-placed dip between 400 Hz to 600 Hz; this response tends to nullify any nasal problems and offers a very musical, yet realistic recording.
Electronic Musician, 2010

On male vocals, I heard a more forward midrange and a smoother, less-hyped top end than on either the Blue Microphones Bottle mic with a B6 capsule or the Mojave Audio MA-200.
The mic was discontinued in the transition from Avant Electronics to Avantone Pro, but revived and reintroduced in 2013 at the Winter NAMM show.
The Avantone Pro BV-1 is also known as: BV1.
The mic was released in 2009.
Specifications
Pickup Patterns
Pads & Filters
Omnidirectional (17.8 mV/Pa; 20 - 20,000 Hz)
Cardioid (17.8 mV/Pa; 20 - 20,000 Hz)
Bidirectional (17.8 mV/Pa; 20 - 20,000 Hz)


Pad: -10dB (Via Switch)
Filter: HPF: -6dB/octave @ 80Hz (Via Switch)
Capsule Dimensions
Impedance
SPL/Noise
Capsule diameter: 34mm
Diaphragm gauge: 3 microns
200 Ohms (Low)
Max SPL: 144 dB
Self-noise: 17.0 dB(A)
| Weight | Length | Max Diameter | Interface(s) |
| --- | --- | --- | --- |
| 1300g (45.86oz) | 250mm (9.84'') | 64mm (2.52'') | |
Power Specifications
Includes tube power supply
Did we get anything wrong on this page? Please let us know!