TapeOp Issue #44/November, 2004 | by Henry Robinett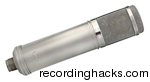 See specifications, reviews, & mods for the Peluso Microphone Lab 22 251
I was spoiled rotten a few months ago. I did a session with a wonderful jazz vocalist with a smoky, classic voice. In past sessions with her I had used ribbons like the RCA 77-DX and AEA 44C, which worked out great. Then I tried something different, a Telefunken USA ELa M 251. I loved it. No way could I afford it.
Then I found a small company called Peluso that had a remake of the classic 251 for around a grand. Hmm… let's see, one of those Chinese mics, right? Well, yes but with a major difference it turns out. I gave John Peluso a call. He's been doing repair and restoration on those classic Telefunkens, Neumann, etc., mics for years. He explained to me that the work done in China is limited to the brass metal work for the body and the precision machine work for the capsule. The diaphragm and gold sputtering is done in the US or Germany. The transformer is done to his spec and made by Tom Reichenbach of CineMag in the US. Everything is put together and fine tuned by John Peluso himself, guaranteeing quality control for each component of each microphone that leaves his laboratory. Let's see, a nine polar pattern tube mic that's based on the 251? I was definitely intrigued, and John offered to send me a mic for evaluation.
There's something great about the smell of a brand new mic. I immediately unpacked it and tested it out on my voice and Taylor acoustic guitar. Wonderful. Warm. Crisp highs. Round mids. It definitely had the flavor of the 251 I had fallen in love with. Already this was a higher-class mic than most anything else in my mic locker. But the real test had to be conducted with my aforementioned singer and a comparison with some other mics including the Telefunken 251.
I tested the mic out on my singer. Just for tricks I also positioned my favorite AEA R84 in case the Peluso was a turkey. Well the long and short of it is that the Peluso 22 251 won out. Granted these two mics are like comparing apples and oranges, but the 22 251 had much crisper highs and round warm mids compared to the 84 ribbon. That characteristic upper sheen I'd come to expect was there too. Wow. My vocalist clearly preferred the Peluso as well.
Next I borrowed the previously mentioned Telefunken 251 and placed it against the Peluso 22 251. I played acoustic guitar and sang. I'm a guitarist by profession and not a singer, so this fact must be clearly taken into consideration here. I wish I could say that the Peluso won out, but I can't honestly say so. But its frequency curve and sonic characteristics are definitely in the same ballpark. It didn't handle the SPL's as well, and the Telefunken was a bit more round and warm. There was a slight (very, very slight) distortion in the Peluso in the high end.
The Peluso is very round and full. It sounds great on acoustic guitar and the three voices I tested it on. Short of the real 251, this is a great mic on it's own and is very reminiscent of its older and more distinguished cousin. I think the world is going to stand up and take notice of this microphone soon. I feel fortunate that I've been among the first to check it out and put it through its paces for a review. ($1050, Peluso Microphone Lab)
Read more about the Peluso 22 251 microphone.