TapeOp Issue #40/March, 2004 | by John Baccigaluppi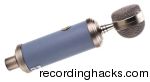 See specifications, reviews, & mods for the Blue Microphones Bluebird
I'll be right up front about the fact that I really like Blue mics.
I own four of their mics and they all sound great — I mean good enough to stand next to vintage mics costing six times more — and they all sound different from one another. The Bluebird is no exception.
We've been using it around the studio for the past month or so, and it's ended up on quite a few keeper tracks, mostly as a vocal, acoustic guitar and room mic. As it's very similar to the Baby Bottle in size, cool retro styling and price, I wanted to do a careful comparative listening test with the two mics.
As I expected, they sounded somewhat different from each other. While I found the bottom end very similar, the midrange and top end character is different. I would characterize the Baby Bottle as a very natural sounding mic with a pretty flat response, while the Bluebird seems to have a slight boost on the upper mids and top end. I like this response for most of the uses previously mentioned, especially on backing vocals. This would be an excellent all purpose large diaphragm condenser whether it's your first mic or an addition to a mic collection.
As a bonus, the Bluebird comes bundled with a nice wooden box, a well designed and integrated shock mount and pop filter and one of Blue's premium Blueberry Mic cables. Here's the catch: you can only get a Bluebird when you buy certain Focusrite and Digidesign products as a specially priced bundle. [Ed. note — BLUE has since packaged the Bluebird for individual sale.] So, you're thinking of buying a Focusrite/Digidesign box that offers the bundle, is it worth a bit more to get the mic or should you just buy the box? Definitely get the bundle, this mic is a keeper!
Read more about the Blue Bluebird cardioid condenser microphone.