Recording Magazine: July, 2010 | by Paul Vnuk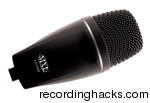 Click to see specifications & reviews for the MXL A-55 Kicker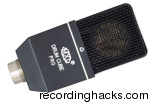 Click to see specifications & reviews for the MXL Drum Cube Pro
Cool new looks and hot new sounds on a budget
Ten years ago, if you could not afford a large-diaphragm condenser microphone, MXL got you in the game and got you tracking.
As MXL grew, the company added better internal components (Mogami wiring, anyone?), custom tweaking, and US quality control. Today its products range from sub-$100 beginner mics like the MXL 990 to high-end multi-pattern tube mics like the $1200 Revelation (review coming soon).
With over 40 available models, MXL has a mic for everyone and every source. Since this is our drum issue you can guess what we are looking at this month — a mic that MXL promotes as a Drum Condenser Mic.
The Drum Cube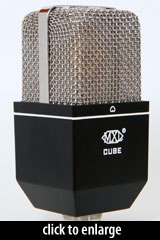 The Drum Cube (also called the MXL Cube on the company's literature and website) is a small-bodied, cardioid, large-diaphragm condenser microphone with a matte black finish, a shiny chrome grille (official color of metal finish: "champagne"), and a 32mm/6 micron gold-sputtered diaphragm. It features a balanced FET transformer output and has a 20 Hz–20 kHz frequency response with a 6 dB bump starting around 3 kHz, peaking at about 9 kHz and then rolling off. It can handle a max SPL level of 132 dB.
Its 4.75'' x 2'' rectangular body weighs in at almost a pound and is of the "hammer nails with it" build quality. It comes with a vinyl pouch and a hard mic mount, with an optional shock mount available.
Before its current release, the Cube was first presented as an all-purpose mic a few years ago. It seems to have found its destiny as a drum mic.
The kit, the whole kit and slightly more
In a world where most drum mics are dynamic, the Drum Cube's condenser status carries a few caveats. From my tests it is much more sensitive to physical blasts of air, and due to its ultra-wide cardioid pattern, no matter what drum you put it on, it will most likely pick up the snare, hats, other toms, cymbals and even that squeaky throne you have been meaning to oil (see the polar pattern diagram).
That means this is a great mic if you are cool with a little classic bleed and a blended sound. If you are a person who prefers tight, dry separation in your drums, then maybe not so much.
Cube placements
The Drum Cube's size, profile and the fact that it is a side-address mic means only a few inches protrude onto the drummer's playing surface, making its placement more convenient than standards such as a Shure SM57 or Sennheiser MD421.
On kick drum I instantly found that it did not work on the inside batter head, nor the sound hole, where the sharp blasts of air made the mic sound distorted. Anywhere from 3'' to 1' from the outer head it captured a very full round tone and blended nicely with a typical dynamic on the beater, for a simply huge sound.
Toms is what this mic does best! It captures the thwacky attack yet retains the low overtones. Even if you only buy one (which is all I had for review) it could live on your floor tom and never leave. The Drum Cube also works well as a hi-hat mic, with an aggressive, forward presence. As overheads or even as a room mic, it should work well (again — I only had one…). It may not be as magical here as it is on toms, but it ain't no slouch either.
The snare is the one area where I was not crazy about the Drum Cube; it was just too full and aggressive, especially with a hard player. It was better as an under-snare mic for grabbing snare rattle, but in a kit this is the last place I would use it.
The rest
Part of what makes the Cube such a good buy is that it also works well in a pinch on vocals, acoustic guitar and bass cab. As you might guess, it is also a very nice percussion mic, excelling in the studio on djembe, tabla and conga; placement and isolation will need to be considered carefully in an ensemble situation, since due to its wide pattern and frequency response it picks up much of the entire band.
For drum kit duties this microphone is a winner in almost every way, especially on toms and outer kick. Don't be surprised when the Drum Cube starts popping up as a new percussive secret weapon, especially at such a killer price.
The A-55 Kicker
Designed for the kick drum, the A-55 Kicker is a front-address, cardioid, dynamic mic with a frequency range of 30 Hz–15 kHz. It has about an 8dB boost in the low end from 80 Hz–120 Hz as well as some significant boosts and notches from 2 kHz–12 kHz, wth a -76 dB sensitivity. The body is made of metal with an attached plastic mic mount and is rugged and ready for kickin'.
Kickin' thumpin' & bumpin'
I used the A-55 Kicker in the studio and live, on a 22'' and a 20'' kick drum. I tried it in the sound hole, next to the batter head, and on the outer head.
The A-55 Kicker is unlike most other kick drum microphones I am used to. It has a touch less top end, a tighter low end and is significantly less aggressive than some of the new kick-drum standards like the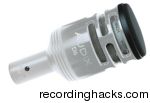 Audix D6. The A-55 Kicker captures a woollier, chestier hit that is a touch more thump than boom.
My favorite position for the A-55 Kicker was on the batter head right by the beater where it captures an almost 1970's classic rock sound or Motown, sock-it-to-ya funk thunk. When coupled with a Shure Beta 52 in the sound hole or a Yamaha SubKick or MXL Drum Cube outside the kick, the result can get very huge. It fits very nicely with these other mics — like a sonic puzzle piece.
Conclusions
Bottom line, two very solid kit choices from MXL that will not break the bank. Both mics street very affordably, and you can always use some extra flavors at the low end!
Prices (as of July, 2007):
The Drum Cube, $159.95
A-55 Kicker, $149.95
| Comments Off on MXL Drum Cube and A-55 Kicker Review