Peluso Microphone Lab R 14
Bidirectional Ribbon Microphone
The "R 14" is a passive ribbon microphone.
Microphone bodies and some components of the ribbon motor are imported from China, but this mic has little in common with imported ribbon microphones other than the basic dimensions of the body and ribbon motor.
The ribbon motor frame is machined from brass by a Chinese manufacturer. The use of brass helps reduce the stray magnetic fields that would result from a steel frame. It is fitted with Neodymium magnets, then shipped without ribbons to Peluso's facility in Virginia.
The ribbon material is aluminum, made to the RCA spec of 1 microgram per square inch. This equates to 1–2 microns in thickness, according to John Peluso. The bulk aluminum foil is tempered according to the original RCA specifications.
The material is cut, corrugated, and tensioned on proprietary jigs built by Peluso to match the blueprints of RCA's machines. Ribbon tension is set to 200Hz.
The R14 shares a "long-ribbon" geometry with numerous other mics; see Michael Joly's analysis (linked in the sidebar).
The output transformer is a 40:1 unit built to Peluso's specs by Tamura.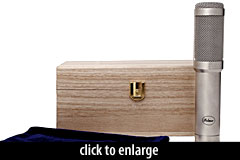 Henry Robinett

My first test pitted the R14 against the R-121 and R84 on two of my acoustics, both Taylors. One a Dreadnought 25th Anniversary — a beautiful guitar, but because it's a Dreadnought, it tends to boom in the lower register. The other a 414CE — not the highest-end Taylor, but it gives a beautiful, crisp, rounded tone. Frankly I was blown away by the Peluso. All three mics sounded very similar in the upper mids. The R84 was a tad brighter in the top. The R14 was looser in the lower end and I'd say much warmer than either of the other mics. Bigger bottom.
The mic ships with a soft pouch, a padded wood box, and a suspension shock mount.
The Peluso Microphone Lab R 14 is also known as: R14.
Specifications
| Pickup Patterns | Pads & Filters |
| --- | --- |
| Bidirectional (2.5 mV/Pa; 30 - 16,000 Hz) | |
| Ribbon Construction | Impedance | SPL/Noise |
| --- | --- | --- |
| ~1.8-micron ribbon | 200 Ohms (Low) | Max SPL: 149 dB |
| Weight | Length | Max Diameter | Interface(s) |
| --- | --- | --- | --- |
| 496g (17.50oz) | 176mm (6.93'') | 36mm (1.42'') | |
Did we get anything wrong on this page? Please let us know!