Peluso Microphone Lab TR 14
Bidirectional Tube Ribbon Microphone
The TR14 is a "long-geometry" ribbon microphone with a tube preamplifier circuit.
It is a taller, active version of the Peluso R14 microphone. It shares a ribbon motor design and a 40:1 Tamura transformer with the R14, but amplifies the resulting signal via an internal tube amplifier.
The amplifier circuit runs at very high impedance, essentially unloading the ribbon. This insulates the ribbon transducer from impedance mismatches with outboard preamps that would otherwise potentially color the mic's output. As a result, like any active ribbon the TR14 can be used with any available preamplifier.
The tube is an EF732 type, a subminiature pentode wired as a triode. The specific model varies based on available stock, from the 5840 to 5744 to 6J1.
As with the R14, some of the metalwork and ribbon-motor components are imported from China, then assembled in Virginia. The ribbon material is made to match RCA's spec for weight (1 microgram per square inch) and hardness, then cut, corrugated, and tuned on replicas of original RCA tools.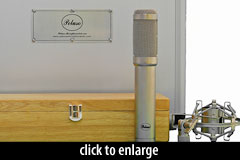 The TR-14 ships in a padded wooden storage box with a tube power supply, cable, and elastic shockmount, packed into a metal flight case.
The Peluso Microphone Lab TR 14 is also known as: TR14.
Specifications
| Pickup Patterns | Pads & Filters |
| --- | --- |
| Bidirectional (17.7 mV/Pa; 30 - 16,000 Hz) | |
| Ribbon Construction | Impedance | SPL/Noise |
| --- | --- | --- |
| ~1.8-micron aluminum ribbon | 200 Ohms (Low) | |
| Weight | Length | Max Diameter | Interface(s) |
| --- | --- | --- | --- |
| 450g (15.87oz) | 210mm (8.27'') | 36mm (1.42'') | |
Power Specifications
Includes tube power supply
Did we get anything wrong on this page? Please let us know!