Neumann KMS 105
Supercardioid Condenser Microphone
The KMS 105 is a lightweight condenser designed for handheld use, on stage or in the studio. It is the older sibling to the KMS 104, differing only in pickup pattern, and the replacement for Neumann's older KMS 150.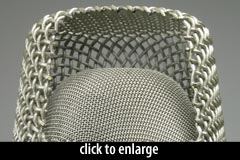 The condenser capsule in the KMS 105 provides a supercardioid pickup pattern; it is based on the Neumann K50 capsule (from the earlier KMS150 and related mics). The capsule assembly is shockmounted within the headbasket, and protected by multiple layers of metal mesh, but no foam.
ProAudioReview reports that both the KMS-104 and KMS-105 "have a very thin, screened fabric directly over the diaphragm."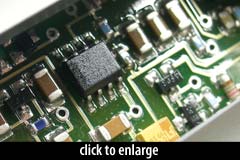 The mic has a built-in (non-switched) high-pass filter, providing a -3dB cutoff below 120Hz.
The mic's amplifier circuit is transformerless, and is built with surface-mount components (SMC). It contains a hard-wired equalization filter to reduce the capsule's proximity effect.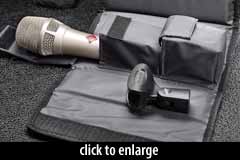 The KMS 105 is available in two colors:
KMS 105: nickel, p/n 008454
KMS 105 bk (pictured): black, p/n 008455
The mic ships with a padded nylon bag and a mic clip (p/n SG 105). A foam windscreen (p/n WSS 100) is available separately.
SoundOnSound

The KMS105 is a delightful microphone, both to use and to listen to. It is a comfortable size and shape for both large and small hands, and is relatively immune to handling noises. The polar response is extremely tight and well-defined, providing superb resistance to feedback from monitors and front-of-house PA. On axis, there is considerable sensitivity when used in a typical handheld, close-mic fashion, but this falls away very rapidly with increasing distance — this is ideal for capable performers with well-honed technique.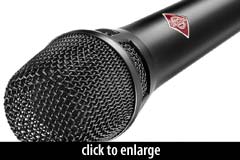 MIX

The capsule provides an uncolored sound with a wide, even frequency response. A slightly rising HF peak centered around 12 kHz brings out the sound of the voice, rather than the mic. But the 105 does not have the huge upper-midrange boost that's common to many handheld vocal mics, and singers that depend on that presence punch will probably be disappointed with the 105's sound-or lack of "sound." However, for the performer with clarity and articulation, the open and natural character that the 105 imparts to an outstanding vocal will be appreciated by those with the ears to hear it.
Onstage Magazine, 2001

This is one of the best — if not the best — handheld vocal microphones I have ever encountered.
The Neumann KMS 105 is also known as: KMS105.
The mic was released in 1999.
Specifications
Frequency Response - Supercardioid

Click Graph to Compare!
| Pickup Patterns | Pads & Filters |
| --- | --- |
| Supercardioid (4.5 mV/Pa; 20 - 20,000 Hz) | |
Capsule Dimensions
Impedance
SPL/Noise
Diaphragm diameter: 18mm

50 Ohms (Low)
Max SPL: 150 dB
Self-noise: 18.0 dB(A)
| Weight | Length | Max Diameter | Interface(s) |
| --- | --- | --- | --- |
| 300g (10.58oz) | 180mm (7.09'') | 48mm (1.89'') | |
Power Specifications
Requires phantom power
Phantom voltage: 48 ± 4v
Did we get anything wrong on this page? Please let us know!