TapeOp Issue #43/September, 2004 | by John Baccigaluppi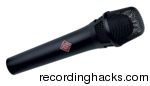 See specifications, reviews, & mods for the Neumann KMS 105
I first became interested in the KMS 105 condenser mic at TapeOpCon 2004 in New Orleans when both Ian MacKaye of Fugazi and The Evens along with Don Zientara of Inner Ear studios, mentioned it as one of their favorite vocal mics. Ian mentioned that he likes to cut vocals listening to the studio monitors, sitting at the console, and holding the 105.
I'd always thought of the handheld 105 as a 'live' mic, not really suited to studio applications, as this is what it was designed for. But Ian and Don piqued my interest as I've been doing a lot of 'live in the studio' recordings lately and not finding a mic I really liked for recording live vocals within the context of a loud band playing, without everyone being all baffled up and isolated.
Back in Sacramento, I bought a 105 to use on a live recording of a very loud three piece band called The Biters, with Rusty Miller of Jackpot fame playing bass (very loudly). I used it on vocals with great success. The vocals had good isolation despite the noise and also sounded excellent: present without too much sibilance, and a full bottom end without too much of Rusty's bass bleeding in.
Several other visiting engineers have used the 105 with great results on snare and guitars. It is also great for singers who are uncomfortable singing into some big, intimidating condenser mic on a stand and want to scream into a mic they're holding. The 105 can really handle SPL and still sound good. I almost always use it for scratch vocals now as well. If I get something great on the scratch it will hold up in the final mix.
The 105 has become an essential part of my mic collection and gets used on almost every session. (On a side note, I had the pleasure of meeting up with Don Z. in New Smyrna Beach, Florida after TapeOpCon and doing a bit of surfing. Don had brought a guitar, a recorder and his KMS 105 to do a bit of solo recording. I noticed an interesting modification he'd made to his 105 by carefully covering two of the four ports with foil tape to give the mic less of a cardioid, and more of an omni pattern.)
Read more about the Neumann KMS 105 handheld condenser microphone.