Microtech Gefell UM 92.1 S
Multi-Pattern Tube Condenser Microphone
The UM92.1S is a large-diaphragm, multipattern tube microphone with Gefell's trademark PVC-diaphragm M7 capsule.
The M7 capsule is a center-terminated, dual-diaphragm design, and supports three polar patterns. A switch on the power supply allows selection of Cardioid, Figure-of-8, or Omnidirectional patterns.
The amplifier circuit is similar to some of Gefell's historical models, the CMV 563 and UM 57, but has been updated with modern components. The tube is an EF 86 pentode, reportedly of Russian origin, wired in triode configuration.

The ".1" Gefell mics, including the M92.1S and UM92.1S, include RF/EM protection circuits required for CE compliance. Although US restrictions on electromagnetic radiation are less strict, Gefell does not currently provide US-only circuits.
According to Oliver Archut of TAB-Funkenwerk, these EMI protection circuits "choke" the sound and introduce phase shift. He has provided instructions for removing the EM/RF circuitry of the UM92.1S. See also this clarification.
We've archived Mr. Archut's schematic here: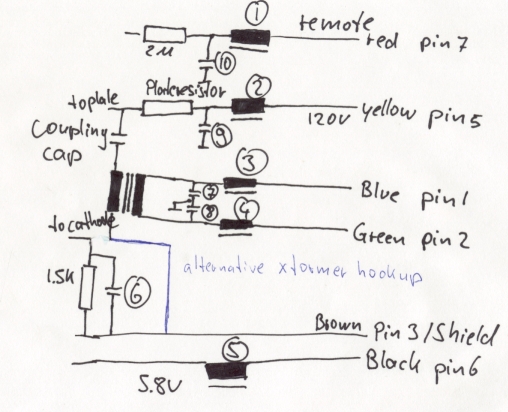 Barry Hufker

Using Oliver's suggested modifications, I changed my stock UM92.1S by: clipping the 1.5k resistor and sending the cathode wire to ground; installing a Telefunken EF86 tube with hilumin shield; installing the same x-former that is used in the UM75.

The difference in sound quality is amazing! I am now finally satisfied with the sound I get from this microphone.
Disclaimer: proceed at your own risk! We take no responsible for fried microphones or fingertips.
The mic ships in a metal suitcase and includes a dedicated power supply (p/n UN 920.1), power cable (p/n C 92.1), elastic suspension mount (p/n EA 92), and gray foam windscreen (p/n W 92).
The mic is available in three finishes:
satin nickel (p/n 211138)
matte black (p/n 211139)
24K gold anniversary edition
Note that the frequency-response graphs on the MTG website for the UM 92.1 S (and M 92.1 S) are identical to those of the UM75, UMT70S, and MT71S, despite the wild variation in topologies, circuitry, and headbasket design among those microphones. The graphs linked below are samples from an individual UM 92.1 S, and are therefore much more predictive of this mic�s performance.
EQ, 2003

the UM92.1S has a fat, round tone, with a lot of midrange complexity and solid, full low end. There's plenty of presence, but without any associated harshness. The top end is smooth, but well detailed…

All in all, the UM92.1S excels at any application where you'd normally use a large-diaphragm tube mic — I wouldn't hesitate to use it on just about anything in the studio.
The Microtech Gefell UM 92.1 S is also known as: UM92.1S, UM92.1.
Specifications
Frequency Response - Omnidirectional

Click Graph to Compare!
Frequency Response - Cardioid

Click Graph to Compare!
Frequency Response - Bidirectional

Click Graph to Compare!
Pickup Patterns
Pads & Filters
Omnidirectional (15 mV/Pa; 40 - 18,000 Hz)
Cardioid (15 mV/Pa; 40 - 18,000 Hz)
Bidirectional (15 mV/Pa; 40 - 18,000 Hz)

Capsule Dimensions
Impedance
SPL/Noise
Diameter n/a

200 Ohms (Low)
Max SPL: 120 dB
Self-noise: 17.0 dB(A)
| Weight | Length | Max Diameter | Interface(s) |
| --- | --- | --- | --- |
| 430g (15.17oz) | 197mm (7.76'') | 42mm (1.65'') | |
Power Specifications
Includes tube power supply
Did we get anything wrong on this page? Please let us know!