TapeOp Issue #36/July, 2003 | by Pete Weiss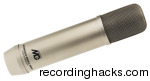 See specifications, reviews, & mods for the Microtech Gefell UM 92.1 S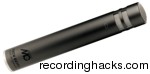 See specifications, reviews, & mods for the Microtech Gefell M 300
I recently had the chance to try out a couple of mics by Microtech Gefell. For those not in the know, this German company has been handmaking world class mics since the late 1920's, when it was Neumann. World War II split Neumann into two manufacturers and Microtech Gefell continues to share a reputation for meticulous design and attention to detail in fabrication. While Neumann is now owned by Sennheiser, Microtech Gefell still makes its mics by hand. Gefell has been employing the same capsule — the legendary M7, which is extremely similar to that used in the original Neumann U47 — in a number of its mics over the years.
The UM 92.1S large diaphragm tube condenser is one such mic and delivers on all expectations. Its attractively minimalist housing (available in satin nickel or flat black finish) and heavy duty mesh windscreen inspire confidence. Unlike some of the budget mics that are so popular lately, when you pick up the UM 92.1S you just know it's going to perform and not give you any trouble — it just feels right.
The external power supply, in addition to housing the seven-pin and XLR jacks, has a three-way switch for selecting between omnidirectional, cardioid, and figure-8 pickup patterns. The power switch is marked "ein" for "on." No need to brush up on your German other than that one word; the owner's manual is printed in English. The birdcage-style shockmount that is supplied with the UM 92.1S is of excellent quality. Rather than using a clamping device, the shockmount has a threaded base that the mic screws directly onto. I liked this, as I'm always a bit nervous that heavy (and expensive) tube condenser mics will be apt to fall out of an overtaxed clamp.
I used the UM 92.1S on a variety of material with stellar results. Male and female vocals sounded clear, with a focused midrange that goes missing from all but the most expensive condenser mics. Acoustic guitar had a realism that was startling. Ditto for mic'ing the top of a drum kit (about a foot above the drummer's head). I was not struck with a colored, stylized sound to the UM 92.1S; rather, it seemed to have the ability to capture the natural character of instruments and vocals. This is not to say it was sterile, it did have a nice musical "warmth" to it (the EF86 tube powering its internal amplifier perhaps?)
One minor quibble was the lack of a pad or low-frequency roll off switch. I suppose it's ingrained in my mind that a high-end mic should have these features, but in practice I found I didn't miss them on the UM 92.1S; it never overloaded while I was using it (even as the drum overhead) and breath pops never became pronounced.
A different, yet equally impressive animal was the Microtech Gefell M300 small diaphragm condenser. The M300 uses technology developed by Gefell's Test & Measurement division — the division that develops mics that can accurately capture ridiculously loud SPL's, like jet planes, explosions etc. Intended by its designers to perform consistently in a variety of environments such as television and recording studios, sound reinforcement, churches, and in harsher outdoor situations, this mic employs ceramic components and optical isolation for superior stability and RFI rejection.
The cigar-sized mic is phantom-powered and has a fixed-cardioid polar pattern. It comes in a nice wooden box and has an extremely good-looking dark bronze housing. Again, like the UM 92.1S, you can just tell this mic is very well made using top-of-the-line materials.
The M300 has a mostly flat frequency response up until about 5kHz, where it gently rises up through about 12kHz. I had great luck using it on cymbals and acoustic guitars; the top end boost enhanced these instruments without sounding unrealistic. And, yes, this is one quiet mic; when I cranked up the preamp, all I heard was room tone, not a hint of audible self noise on any practical level. Perfect for this digital age we're in.
On the other side of the VU meter, the M300's spec sheet claims a maximum SPL of 147dB (yow!) before distorting, so I figured I should try it on a rock snare drum. It was great; it never overloaded, and the brightness really brought out some of the snare's detail that would normally be lost with a dynamic mic. It also excelled on a brushed snare. Right up there with industry standard small diaphragm condensers like the Neumann KM84 and Shure SM 81, the M300 sounds great and could likely survive a nuclear blast. It's a mic that deserves to become a classic. (UM92.1S: $3200 MSRP; M300: $850 MSRP)
Read more about the UM 92.1S large diaphragm tube condenser microphone.
Read more about the Gefell M300 small-diaphragm condenser microphone.