JZ Microphones BH-1
Multi-Pattern Condenser Microphone
The first commercial product from JZ Microphones, the Black Hole introduced several JZ innovations:
Variable-sputtering technique on capsule diaphragm
Dual, opposing 27mm condenser capsules
Unusual body design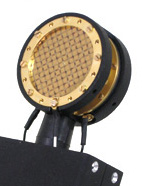 The capsule design, later named GDC2, incorporates twin single-diaphragm capsules mounted back-to-back.
The picture at right shows an early version of JZ's "Golden Drops" variable sputtering technique, in which drops of the company's proprietary gold alloy are applied to the film substrate used in the diaphragm. Current production "Golden Drops" capsules use dots of differing sizes.
Note that the capsule is edge-terminated; unlike the more common center-terminated design, this approach keeps the lead wires out of the mic's acoustic field.
The unique body construction is made from powder-coated aluminum. The mic has two circuit boards, one located in each of the narrow outside tubes.
The hole in the microphone body is designed to reduce unwanted reverberation of sound waves off the front of the microphone body.
Resolution

Two metal nubs inside this cut-out act as the anchor points for an equally unusual-looking clip — best described as a string of rubber beads that you squeeze together, position in the hole and then release. The ends then clamp onto these nubs to secure the clip to the microphone… In practice though, this seems to be a case of form over function, as a 414 XLS in a more traditional suspension mount proved far more effective in suppressing thumps and mechanical vibrations.
The dual-capsule design allows switching between Cardioid, Omni, and Figure-of-8 pickup patterns, via a switch inside the "hole" in the body.
EQ Magazine

The Black Hole is truly stunning on acoustic instruments. In fact, in cardioid mode, it produced perhaps the best acoustic guitar sound I've ever squeezed out of a mic.
Pro Audio Review

After using the mic for several weeks, I think the large price tag is easily justifiable. The mic is a perfect option for anyone looking for a versatile high-end mic that will work well in almost any situation.
Resolution

There is a familiarity to the Black Hole's sound that suddenly strikes me — it sounds far more like a U87 than a 414, with the same softness in the mid range without the loss of clarity. Ditching the 414 in favour of a U87 Ai showed that my memory wasn't playing tricks on me and they are quite similar sounding, although the U87 seems to have a slightly more elevated HF response than the Black Hole does.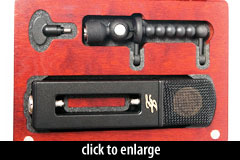 All the Black Hole mics are packaged identically: with the original BH-1 spring shockmount, in a padded hardwood box that seals shut magnetically.
AudioMedia

It all comes in a beautiful wooden box, but you nearly didn't get this review as it took two of us to work out how to open it. There's no clasp or lock; instead it's held shut with an immensely powerful magnet, and wrenching it open nearly took my fingernails off. Clearly you'd need to exercise the same caution when putting this down near tapes and hard drives as you would with a ribbon microphone.
Electronic Musician, 2008

I absolutely love the sound of these mics. They have a very open, natural quality, which is achieved by a boost in the high mids and the top end, with a dip in the boxy low midrange.
The JZ Microphones BH-1 is also known as: Black Hole, BH1.
The mic was released in 2007.
Specifications
Frequency Response - Omnidirectional

Click Graph to Compare!
Frequency Response - Cardioid

Click Graph to Compare!
Frequency Response - Bidirectional

Click Graph to Compare!
Pickup Patterns
Pads & Filters
Omnidirectional (17 mV/Pa; 20 - 20,000 Hz)
Cardioid (17 mV/Pa; 20 - 20,000 Hz)
Bidirectional (17 mV/Pa; 20 - 20,000 Hz)

Capsule Dimensions
Impedance
SPL/Noise
Diaphragm diameter: 27mm

50 Ohms (Low)
Max SPL: 134 dB
Self-noise: 7.5 dB(A)
| Weight | Length | Max Diameter | Interface(s) |
| --- | --- | --- | --- |
| 300g (10.58oz) | 203mm (7.99'') | 51mm (2.01'') | |
Power Specifications
Requires phantom power
Phantom voltage: 48 ± 4v
Did we get anything wrong on this page? Please let us know!