JZ Microphones BH-1S
Multi-Pattern Condenser Microphone
The BH-1S is a multipattern FET condenser based on JZ's first mic, the Black Hole BH-1. Both are three-pattern mics with a unique body shape and back-to-back cardioid capsules.
What is the difference between the JZ BH-1 and BH-1S microphones?
The BH-1S has a pad (3-way, 0dB/-10dB/-20dB).
The BH-1S has a more durable body.
The BH-1S uses higher-grade, selected electronic components.
The BH-1S has a lifetime warranty.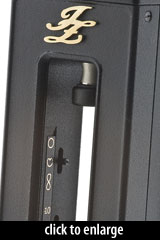 JZ Mics

Electronic components selected to fit our products have [a] maximum difference of 1.5% in their technical specifications. Only 35% of electronic components can pass [this] test.

[The] BH1S and BT301 series microphones use custom-made components [with a] maximum allowed difference is 0.4%; therefore JZ Microphones gives a lifetime warranty for BH1s and BT301 microphones.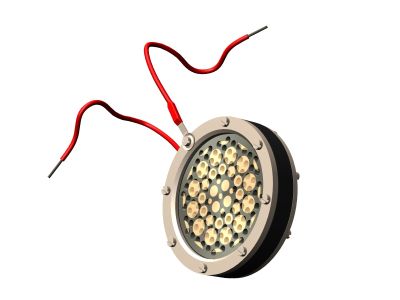 Both mics use JZ's "Golden Drops" variable sputtering technique, in which the polyester diaphragm is metallized with discrete dots of gold alloy, rather than an edge-to-edge coating. Pictured at right is an early example of the "Golden Drops" sputtering technique, since refined; see more information about the GDC2 capsule used in the BH-1 and BH-1S.
The BH-1S has a 3-position pad, with 0, -10dB, and -20dB options. A second switch allows selection of one of three polar patterns: cardioid, bidirectional, omnidirectional. Both switches are built into the inside wall of the hole in the microphone body.
The BH-1 series mic clip holds the microphone from behind, via a pair of spring-loaded tabs that grip the top and bottom of the hole in the mic body. This approach allows the mic to be more easily placed close to sound sources, as there's no mounting hardware obstructing the face of the microphone; further, the BH-1S can be rotated slightly around the clip, allowing some degree of adjustment without touching the mic stand.
The BH-1S amplifier circuit is transformerless, as in the BH-1.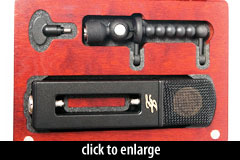 All the Black Hole mics are packaged identically: with the original BH-1 spring shockmount, in a padded hardwood box that seals shut magnetically.
The mic was first shown at the AES show in New York in October, 2009.
Permalink: JZ Microphones BH-1S
The mic was released in 2009.
Specifications
Frequency Response - Omnidirectional

Click Graph to Compare!
Frequency Response - Cardioid

Click Graph to Compare!
Frequency Response - Bidirectional

Click Graph to Compare!
Pickup Patterns
Pads & Filters
Omnidirectional (18 mV/Pa; 20 - 20,000 Hz)
Cardioid (18 mV/Pa; 20 - 20,000 Hz)
Bidirectional (18 mV/Pa; 20 - 20,000 Hz)


Pad: -10dB (Via Switch)
Pad: -20dB (Via Switch)
Capsule Dimensions
Impedance
SPL/Noise
Diaphragm diameter: 27mm

50 Ohms (Low)
Max SPL: 134 dB
Self-noise: 7.5 dB(A)
| Weight | Length | Max Diameter | Interface(s) |
| --- | --- | --- | --- |
| n/a | 203mm (7.99'') | 51mm (2.01'') | |
Power Specifications
Requires phantom power
Phantom voltage: 48 ± 4v
Did we get anything wrong on this page? Please let us know!