Gauge Microphones ECM-87 Stealth
Cardioid Condenser Microphone
The ECM-87 Stealth is a reissue of the company's popular ECM-87 large-diaphragm condenser. It uses a 32mm K67 capsule and a transformerless circuit, the latter based on Schoeps' original design.
It differs from the original ECM-87 in its exterior finish; the Stealth is black and chrome, whereas the ECM-87 is a matte silver. The grille on the Stealth version is a nicer chrome than we've seen on most low-cost microphones.
Current production versions of both ECM-87 models, as of 2012, use a polystyrene coupling capacitor, which creates a more transparent sound and less distortion than the ceramic capacitors commonly found on mics of this design.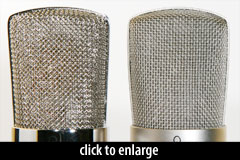 Further, the mics use an "open headbasket" design, comprised of 2 layers of metal mesh rather than the usual 3-layer design. The outermost grille on these mics is a heavier-gauge mesh than is usually found on such microphones, affording a distinctive look as well as reducing audio reflections inside the headbasket. The photo at right shows the ECM-87 Stealth on the left, vs an otherwise similar mic from another brand on the right.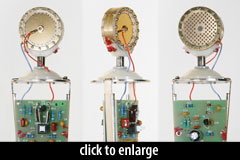 Both ECM-87 models have a high-pass filter, engaged via a miniature switch on circuit board. To access the switch, remove the lower housing and slide off the body sleeve to reveal the PCB. In the photo at right, the switch is visible in the center of the circuit board.
The mic ships with a padded bag and an elastic shockmount.
For more information, see the ECM-87 profile (linked from the sidebar).
Permalink: Gauge Microphones ECM87-Stealth
The mic was released in 2012.
Specifications
| Pickup Patterns | Pads & Filters |
| --- | --- |
| Cardioid (12.5 mV/Pa; 20 - 20,000 Hz) | Pad: HPF: -6dB/octave @ 100Hz (Via Switch) |
Capsule Dimensions
Impedance
SPL/Noise
Diaphragm diameter: 25mm
Capsule diameter: 32mm
Diaphragm gauge: 6 microns
200 Ohms (Low)
Max SPL: 128 dB
Self-noise: 17.0 dB(A)
| Weight | Length | Max Diameter | Interface(s) |
| --- | --- | --- | --- |
| n/a | n/a | n/a | |
Power Specifications
Requires phantom power
Phantom voltage: 48v
Did we get anything wrong on this page? Please let us know!