CAD Audio GXL3000
Multi-Pattern Condenser Microphone
The GXL3000 is a multipattern FET condenser, offering three pickup patterns via a switch on the mic body: cardioid, omni, figure-of-8.
The capsule in the mic we've seen is a copy of the Neumann K67. This variant has a 35mm outside diameter, 28mm diaphragm diameter, and we assume it has 6-micron diaphragms. This mic uses a dual-diaphragm capsule, as the rear diaphragm is required to produce Figure-8 and Omnidirectional patterns.
The amplifier circuit offers a high-pass filter (cutting the LF response by 6dB/octave below 100Hz when engaged) and a -10dB pad. In all the mics we've seen, this circuit is implemented with through-hole components.
The FET is another Chinese standard, the 2SK170.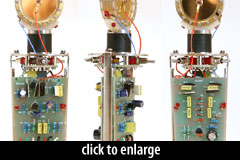 The voltage multiplier supplies the capsule with 0V, 60V, and 120V, selectively (depending on pattern). The audio circuit is a 2-stage design, with the 2SK170 JFET feeding an emitter follower — a second transistor stage — that allows the use of a very low-ratio output transformer, in the neighborhood of 2:1.
The mic has three metal switches arranged around the bottom of the headbasket. The front switch controls polar pattern: Cardioid, Figure 8, Omni. One of the rear switches enables a -10dB pad, via a ~330pF capacitor mounted to the switch PCB. The second switch on the rear of the body enables a high-pass filter.
The mic includes an elastic shockmount and a storage pouch.
Sound On Sound

The multi-pattern GXL3000 sounds pretty neutral, which is perhaps what you'd expect after seeing the nominally flat frequency plot with its subtle presence peaks. The omni mode sounds more open and natural than the cardioid and figure-of-eight modes, as is to be expected, but overall the sound is smooth and fairly classy with no obviously hyped characteristics, making this a good choice of mic if you need to use it as an all-rounder with different singers and different instruments.
The CAD Audio GXL3000 is also known as: GXL-3000.
The mic was released in 2005.
Specifications
Frequency Response - Omnidirectional

Click Graph to Compare!
Frequency Response - Cardioid

Click Graph to Compare!
Frequency Response - Bidirectional

Click Graph to Compare!
Pickup Patterns
Pads & Filters
Omnidirectional (13 mV/Pa; 35 - 20,000 Hz)
Cardioid (13 mV/Pa; 35 - 20,000 Hz)
Bidirectional (13 mV/Pa; 35 - 20,000 Hz)


Pad: -10dB (Via Switch)
Filter: HPF: -6dB/octave @ 100Hz (Via Switch)
Capsule Dimensions
Impedance
SPL/Noise
Diaphragm diameter: 28mm
Capsule diameter: 35mm
Diaphragm gauge: 6 microns
200 Ohms (Low)
Max SPL: 135 dB
Self-noise: 20.0 dB(A)
| Weight | Length | Max Diameter | Interface(s) |
| --- | --- | --- | --- |
| 550g (19.40oz) | 194mm (7.64'') | 45mm (1.77'') | |
Power Specifications
Requires phantom power
Phantom voltage: 48v
Did we get anything wrong on this page? Please let us know!