Apex Electronics 480
Multi-Pattern Condenser Microphone
The Apex 480 is a tripolar FET condenser microphone with a large-diaphragm capsule. It uses the same 2-stage transistor circuit as the CAD GXL3000 and Golden Age FC3, with a low-ratio output transformer.
A switch on the front of the microphone allows selection of three polar patterns: Cardioid, Omni, Figure-of-8.
Two switches on the back of the microphone enable a -10dB pad and a high-pass filter (80Hz).
Brian Fox of Fox Audio Research has published test results showing that the microphone's DC multiplier does not provide sufficient power to implement the Figure-8 pattern correctly, resulting in lower sensitivity and higher noise than the mic is actually capable of.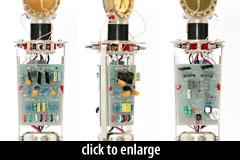 The 2SK170 JFET and 2SA1015 transistor are commonly found in inexpensive condenser microphones. In the Apex 480, as in most inexpensive microphones, neither transistor is biased for high performance, resulting in distortion under moderate to high SPL.
The output transformer has a ratio of approximately 2:1.
The mic's capsule is a 32mm K67 type, common to most inexpensive condenser microphones.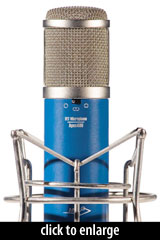 The 480 has been sold in two colors, silver (natural) and blue. The sample microphone we have inspected shipped in a large plastic suitcase with an elastic shockmount.
The Apex 480 has been discontinued by Yorkville, and as of summer 2013 is no longer in stock at any of the retailers we checked.
Permalink: Apex Electronics 480
Specifications
Pickup Patterns
Pads & Filters
Omnidirectional (20 mV/Pa; 20 - 20,000 Hz)
Cardioid (20 mV/Pa; 20 - 20,000 Hz)
Bidirectional (20 mV/Pa; 20 - 20,000 Hz)


Pad: -10dB (Via Switch)
Filter: HPF @ 80Hz (Via Switch)
Capsule Dimensions
Impedance
SPL/Noise
Diaphragm diameter: 25mm
Capsule diameter: 32mm

200 Ohms (Low)
Max SPL: 134 dB
Self-noise: 18.0 dB(A)
| Weight | Length | Max Diameter | Interface(s) |
| --- | --- | --- | --- |
| 635g (22.40oz) | 192mm (7.56'') | 53mm (2.09'') | |
Power Specifications
Requires phantom power
Phantom voltage: 48v
Did we get anything wrong on this page? Please let us know!